Beginning in the fall, my monthly budget starts to favor home décor. Through January, maybe February, the allure of cozying up means breaking out blankets, layering all the faux fur pelts, and of course, decorating with candles.
During this short season of comfy, soul-soothing bliss, I'm anxious to take advantage of all that the colder months have to offer. Forever a glass-half-full kind of gal, while others dread the bleak winter, I embrace it with a grateful heart. How do I make that happen? Hygge has taken hold of the design-driven zeitgeist for years now—and for good reason. While others might write it off as a trend of the times, a love of all things cozy is key to staying warm, well, and happy throughout the winter and fall.
Featured image of Ashley Robertson's dining room by Danielle Sabol.
So… candles. Nothing illuminates a space with more drama or intimacy than a candlelit vignette. As a lover of vessels and votives, decorating with candles is one of my favorite low-lift ways to celebrate the season at home. Whether you're loading up on tea lights and tapers for your next fall gathering or you simply want to create a relaxing backdrop for your fall nesting, decorating with candles is the easiest way I know to set a mood. The perfect, restorative mood.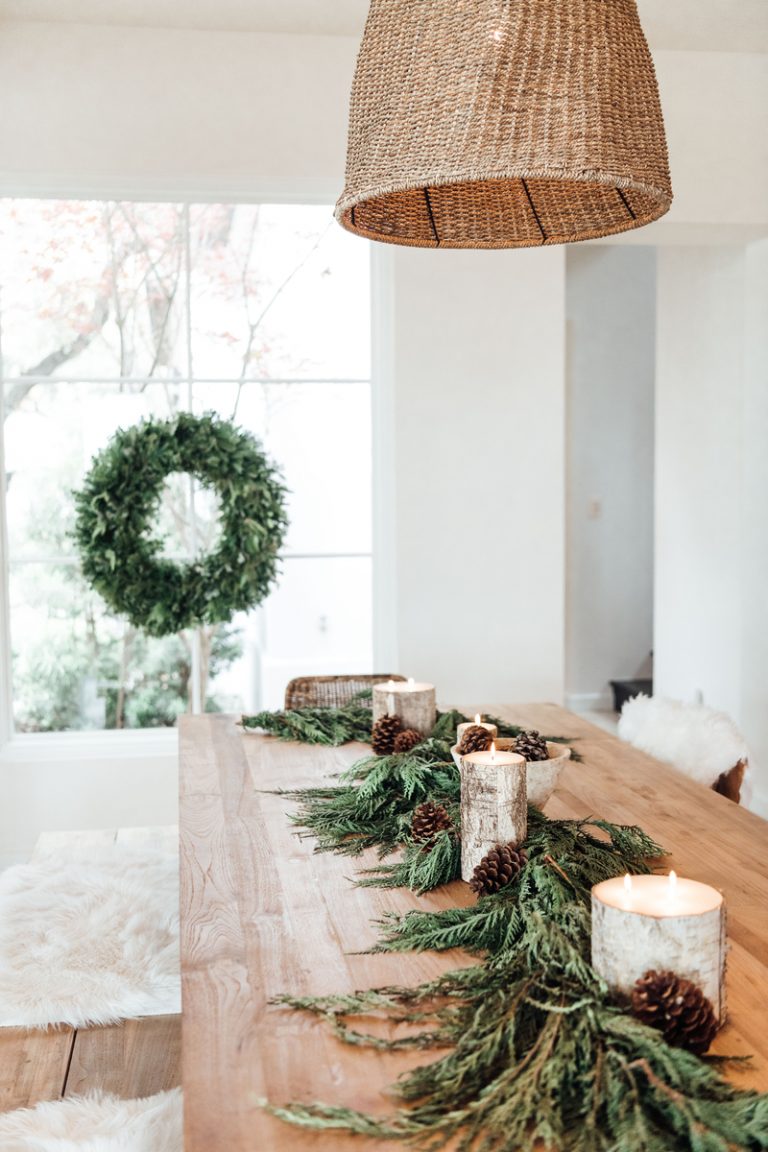 16 Ideas for Decorating With Candles
Every product is curated with care by our editors. If you buy something through our links, we may earn a small commission at no cost to you.
1. Pair Birch-Wrapped Pillars With Greenery
Could your home use a few more… homey elements? Birch-wrapped candles are a simple and stunning solution. Growing up in New England, we'd hunt in the woods for fallen strips of birch, bringing them home to secure around our once winter-white pillar candles. Now that I live in Chicago (and there's less of an opportunity to forest-frolic), I've made my way to the internet. Thankfully, there are plenty of options to purchase these woodland treasures online. Opt for a collection in a couple different heights. It's the best way I know to bring the outdoors in.
2. Stagger candles in hurricanes for drama
I love the striking appeal of a large pillar candle placed inside a hurricane. This styling tip creates a captivating ambience in any space. I like placing mine on the mantel, media console, or a low bookshelf. Bonus: In the warmer months, your hurricane can double as a vase to fill with a fresh bouquet.
3. Incorporate statement lanterns
This is a genius way to bring a little more light to the darker corners of your home. I place two or three candle lanterns together, opting for different sizes so the display isn't too symmetrical.
4. Create a Faux Fireplace With Candles
It was Emily Schuman's home tour for Glamour that first turned me on to the idea of filling your fireplace with pillar candles of varying heights. The Cupcakes and Cashmere founder is the master of upgrading any outfit or space with a thoughtful touch of character. And clearly, she's also a creative mastermind when it comes to decorating with candles. If you have a nonworking fireplace, this is the perfect way to bring a little warmth to your home and give your living room a major glow-up.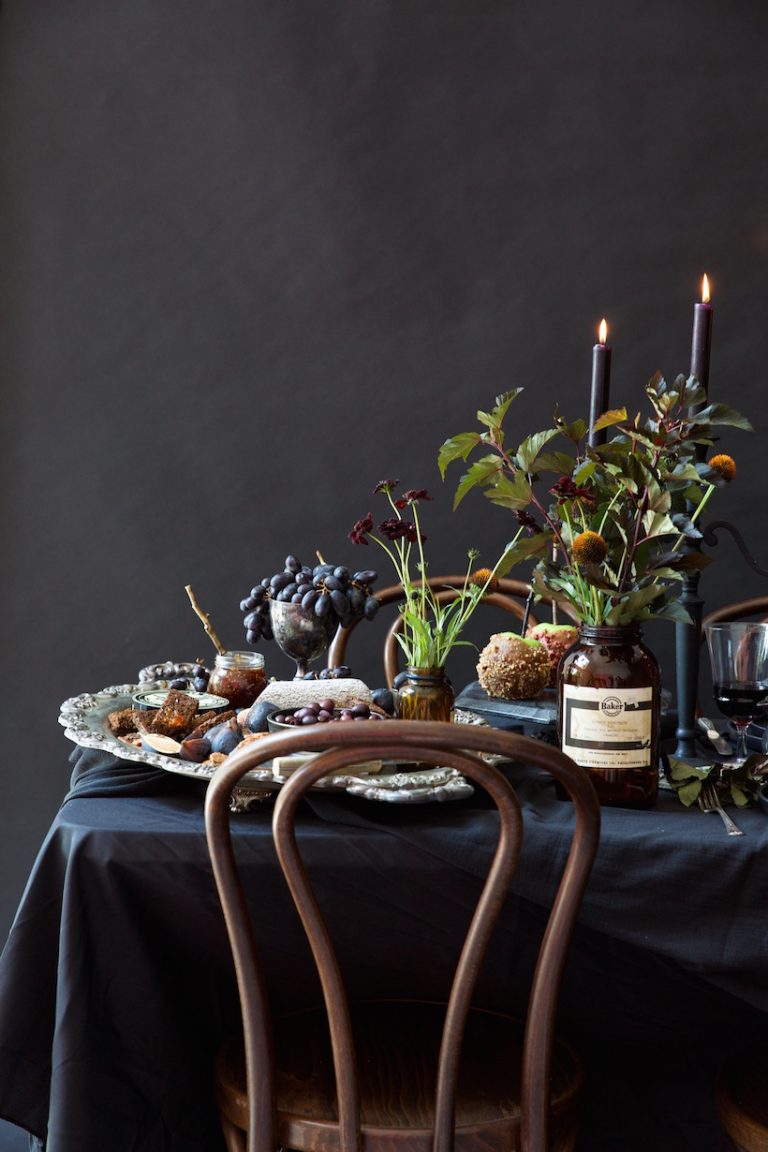 5. Go Tall on the table
While I agree with Ina Garten's tip to keep your flower arrangements low on the table when you're entertaining, I like to go high with my candles. No one wants to strain their neck trying to talk over a bouquet of lilies, but tall, thin candlesticks punctuate the table with small, shimmering flickers of flight. Plus, they won't get in the way of your dishes. That said, I also like the casual feel of a scattering of well-placed tea lights. Just be sure to keep the scented candles away from the table. Food and a laundry-fresh scent? Not a pleasant combo.
6. Arrange in Threes
This is one of my favorite, hardworking home decor tips. The "guideline of threes," as broken down by Apartment Therapy, says that when objects are styled in odd numbers, the impact is "more appealing, memorable, and effective than even-numbered groupings." And while three is the sweet spot, any odd number is great. This interior design trick works for styling a centerpiece on the dining table, coffee table, or to bring a little candlelight to your entryway.
7. Embrace the Whimsy With Vintage Candle Holders
When it comes to candle decorating, it's all about bringing a touch of magic and whimsy to your space. Vintage candle holders create a lovely, bohemian atmosphere. Go hunting for thrifted vessels at a consignment store, your local Goodwill, or at a yard sale. The more unique, the better!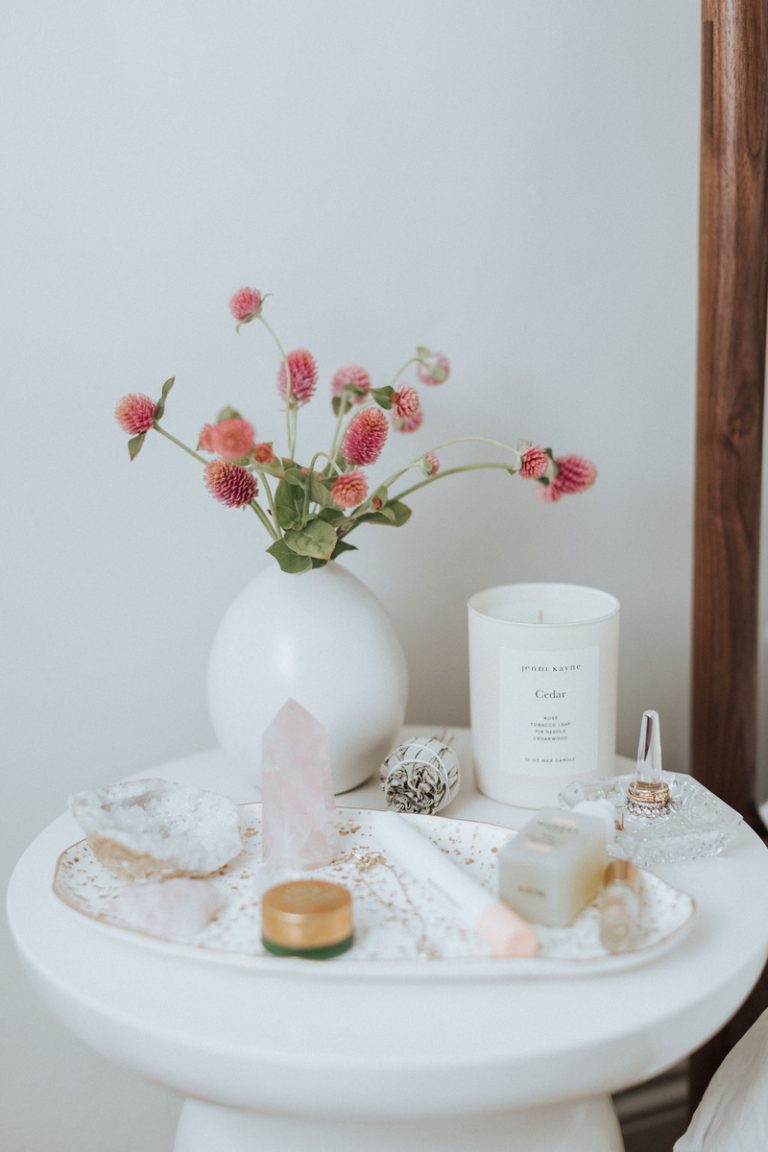 8. Create Calm With a Monochromatic Color Palette
There's no question: candles belong by your bedside. On perfect evenings, my ideal nighttime routine consists of hopping into bed early, lighting a candle, and settling in with a good book. To create a relaxing environment, I like to match a white or cream candle with my nightstand display. The soothing, sleep-inducing effect is real.
9. Try a Mirrored Candle Tray
Do you have an old mirror lying around? Or perhaps one that you're not ready to part with but aren't willing to let go? Swap out your coffee table's wooden tray for a mirror and place a group of pillar or jar candles as you please. The mirror will reflect the candles' light softly, but fully illuminating the room.
10. Flank Your Mantel
When the holidays roll around, my mantel becomes the subject of many a fall and winter-themed display. Things currently lean on the spooky side right now, but soon, I'm envisioning a winter wonderland of greenery, pinecones, and small candles flecking the scene. There's nothing sweeter to watch while you're curled up on the couch.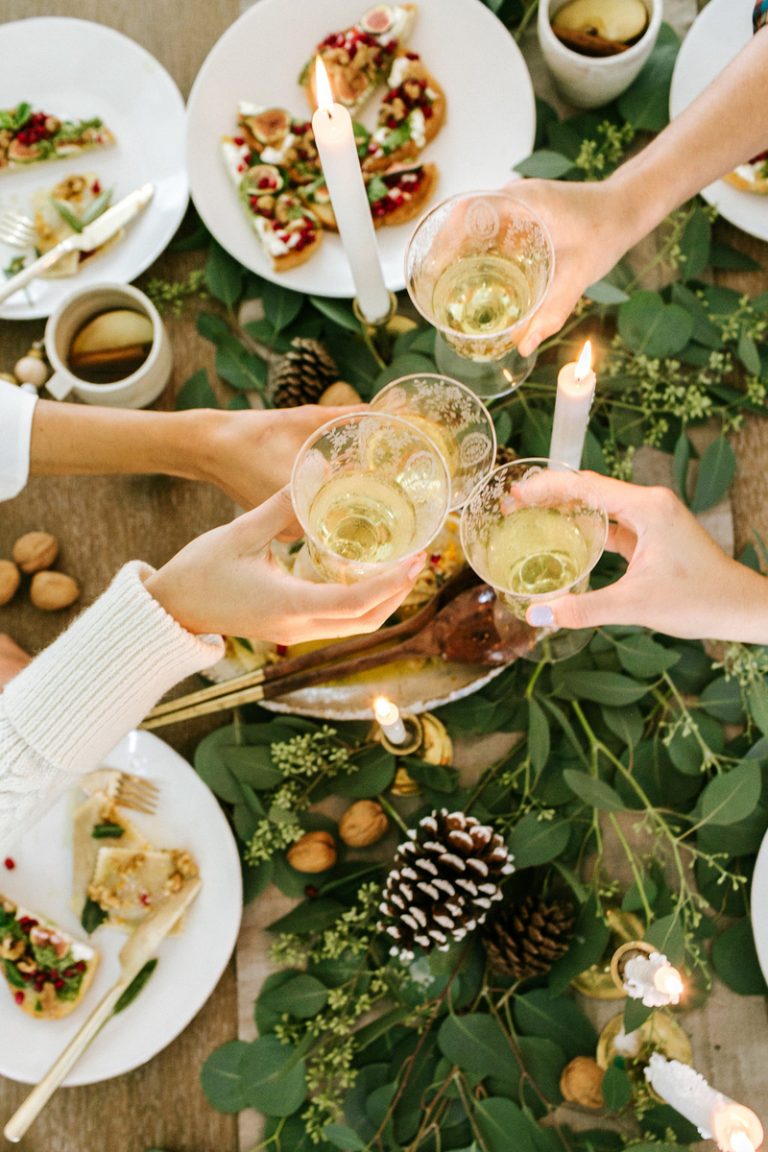 11. Set a Woodland Scene
Continuing on the previous candle decoration idea, there shouldn't be anything stopping you from taking things a step further. Create a stunning winter scene with layers of eucalyptus, the aforementioned pinecones, some wintry figurines (I'm partial to miniature deer), and a few luminaries for your favorite tea lights to illuminate.
12. Make it Minimalist
Sometimes, things are better pared back. While there's a time and a place for glitz and glam, you can create comfort and ease with a simple mix of textures and materials. I like to design a cozy corner of my living room by draping a faux throw over an armchair with a stack of my favorite coffee table books on the side. Topped, of course, with a favorite scented candle. My current faves? Vanilla, eucalyptus, lavender—and I have to admit—I've fallen down the pumpkin spice candle rabbit hole.
13. Pick a Wooden Wick
If you don't have a fireplace and want that cozy, crackling sound, a wooden wick candle is the perfect inexpensive option. Target has plenty of affordable picks—in fact, I'm burning one now.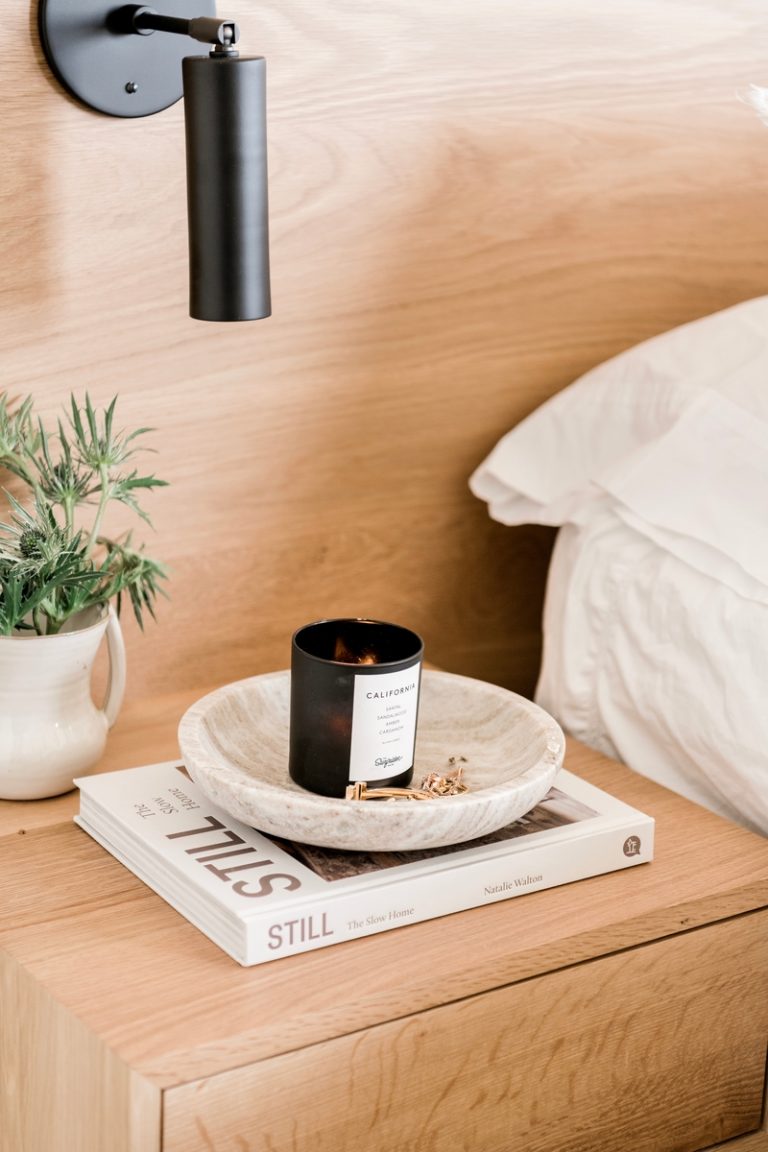 14. Layer With Accessories
Candles infuse any room with touching sentimentality. The best way to up the ante? Bring a few special and nostalgic pieces into the mix. Surround your candle with a wooden bowl purchased abroad, a special book, and a plant for an organic touch.
15. Go Modern
If you're feeling bold, think outside the box. Geometric, squiggly shapes are in. When you bring the trend to your candlesticks, there's no better way to soften up your table's other accents.