While we're still looking forward to Thanksgiving, it's clear that the Christmas season is already in full swing. Some might not like it, but I'd argue that we're all deserving of some holiday cheer. (Personally, I don't mind embracing all things Christmas come November 1, and I get a thrill when I hear Mariah Carey singing All I Want for Christmas on my grocery store run.) You can bet I've been planning my holiday cheeseboard for weeks, and this year, I'm going all out with the always show-stopping Tarte Soleil.
When it comes to the holidays, I take a maximalist approach. It's the time of year where everyday moments are infused with magic, and we revel in the joy of spending time with those we love the most. With holidays having gotten a shake-up in recent years, it feels especially exciting to celebrate the return of some traditions while adjusting to new ones as well. One tradition that I'm very excited to continue? A stellar cheeseboard upgraded for any kind of gathering. Y'all know I love a cheese board, and I'm always looking for fun ways to make them feel new and special. So for this year's version, I found inspiration in the always show-stopping Tarte Soleil.
This French-inspired puff pastry dish has fun and interesting filling combinations. Whether sweet with a chocolate spread or cinnamon roll filling or savory with tomato sauce or pesto, the flavor options for a Tarte Soleil are truly endless. Plus, they make for an incredibly easy holiday appetizer.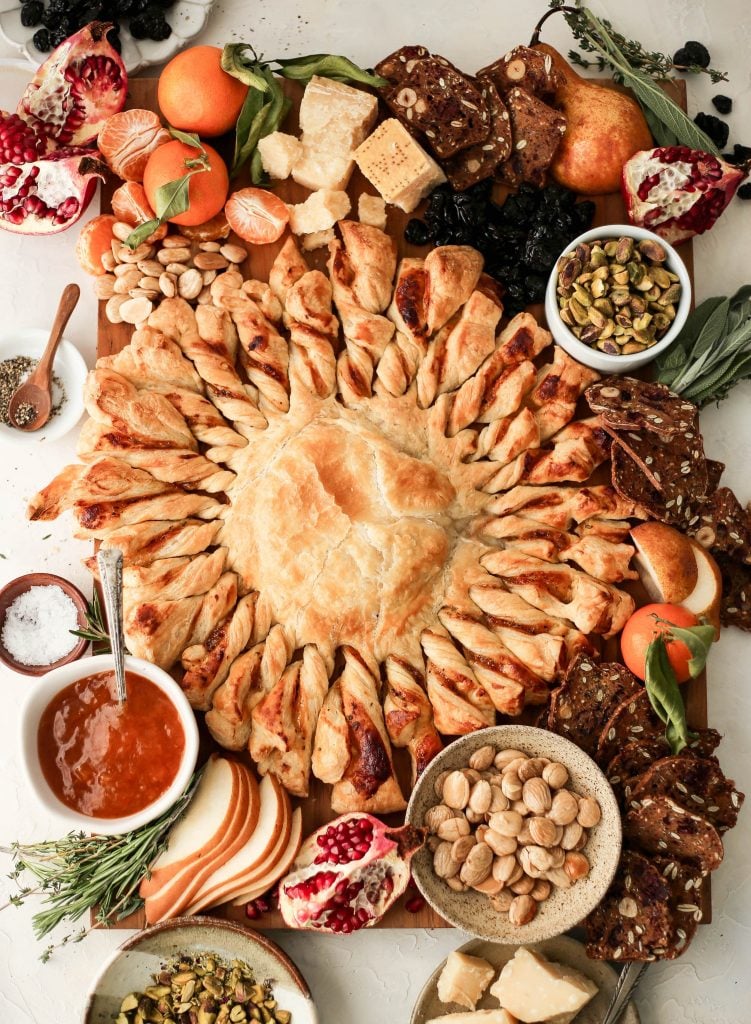 How to Create a Flavorful Tarte Soleil
I wanted to play around with a sweet and savory version that would pair nicely with other bites and nibbles. So I grabbed my favorite jar of apricot preserves and sprinkled on a hefty serving of fresh herbs and spices that complement the sweet apricot perfectly. And to take things over the top, I stuck a wheel of brie in the center of the pastry to get it all melty and gooey.
While the end result may look fancy, it couldn't be easier to pull together. Bonus: You only need a handful of ingredients to make this recipe.
Tips for Perfecting Your Puff Pastry
The puff pastry is obviously the base of everything here. After messing around with my fair share of puff pastry treats, I have a few tips and tricks to help y'all out.
Work with COLD pastry. Warm puff pastry becomes sticky and next to impossible to use. So work quickly and methodically to make things as easy as possible.
To roll out puff pastry, I've found that using floured parchment paper on the top and bottom of the pastry helps prevent sticking as well.
Sticking to the cold pastry theme, I roll out my puff pastry as needed and keep it in the parchment paper in the fridge until I'm ready to use.
Once your pastry is assembled, I recommend sticking your finished ensemble back in the fridge or freezer for at least 10-15 minutes. Like pie crust, this will help your pastry dough keep its shape, and when you place cold pastry into the oven, the temperature shock helps it puff more.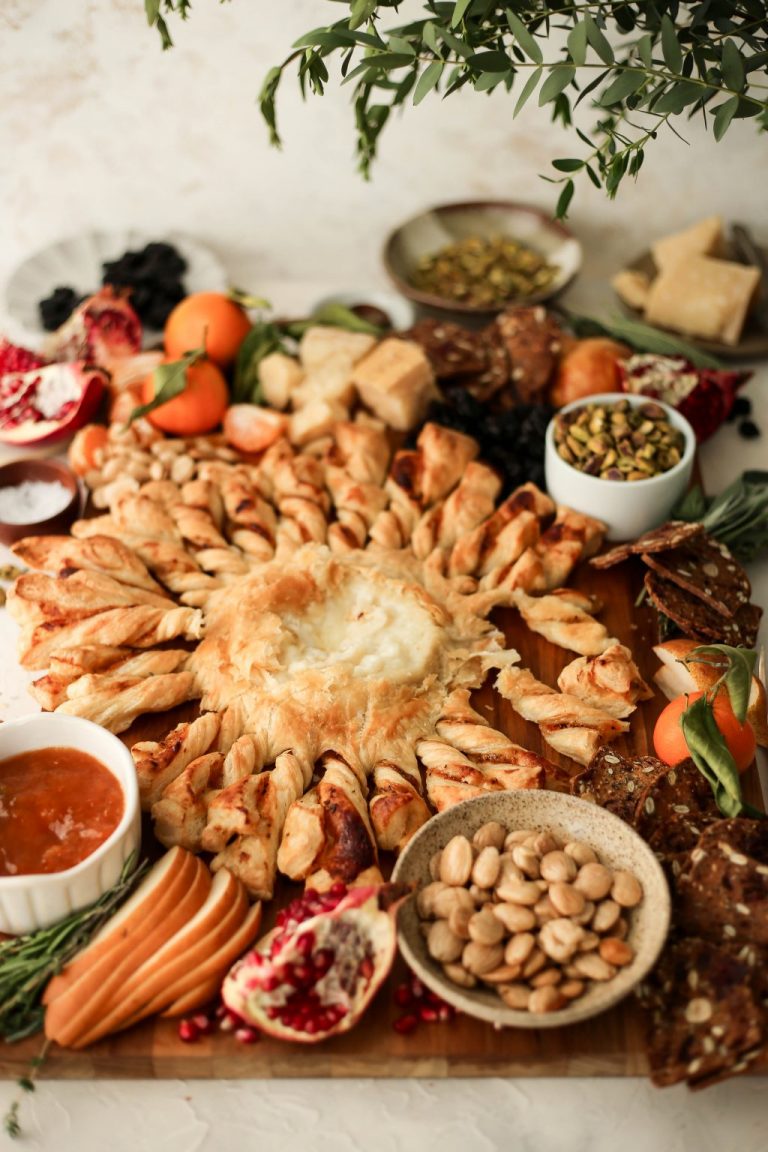 Tarte Soleil Flavor Combinations
The combinations are endless when it comes to this recipe. Here are a few I'll be trying this season:
Goat Cheese and Pesto
Olive Tapenade or Onion Chutney and Parmesan
Garlic Butter and Tomato Sauce With Mozzarella
Chocolate Spread With Sugar
Serve on its own as part of your Thanksgiving appetizer table, over the holidays when guests stop by, as part of a giant cheese board, or on a Wednesday night. Happy snacking!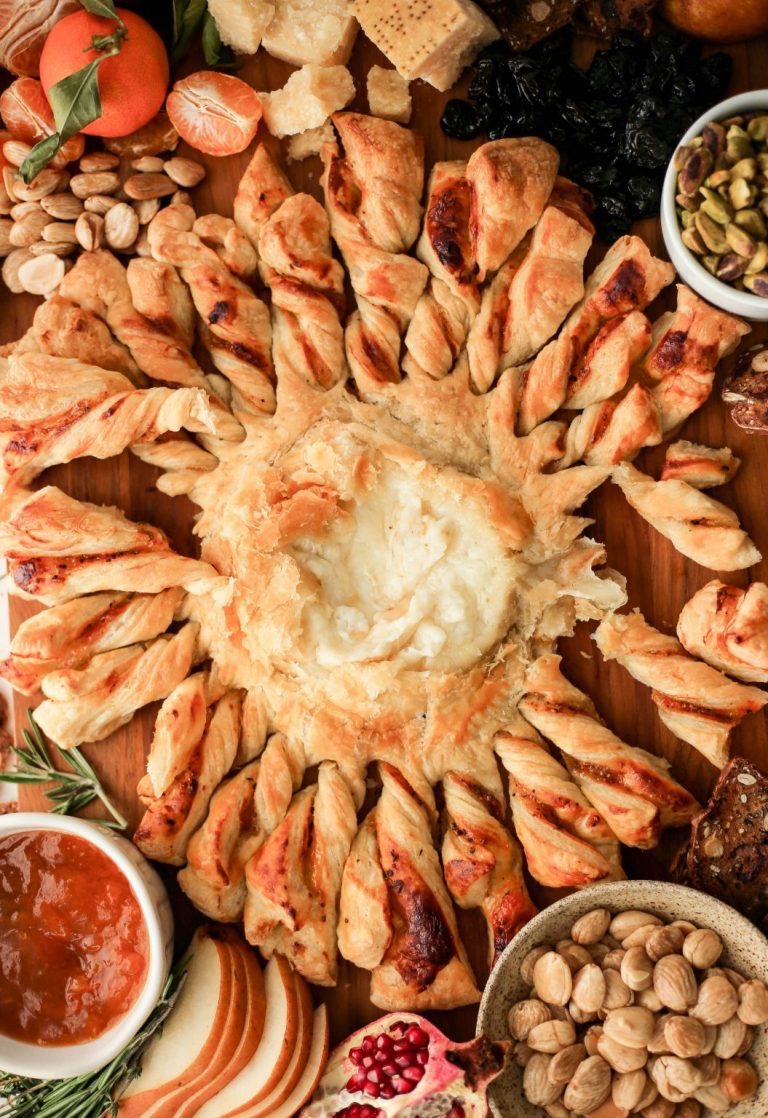 This post was originally published on November, 10, 2021, and has since been updated.
---
Ingredients
2 sheets of puff pastry, thawed in fridge
1 wheel of brie cheese
1/3 cup of apricot preserves (or any flavor you have on hand)
big sprinkle of sea salt
3/4 tsp fresh ground black pepper
1-2 sprig of fresh rosemary, leaves chopped
3-4 sprigs of fresh thyme, leaves chopped
big pinch of red chili powder (optional)
1 egg for egg wash
---
Instructions
Prep your puff pastry. Flour two large sheets of parchment paper. Unfold one sheet of the puff pastry and cover with another floured sheet of parchment paper. Roll out to about 13 inches wide. Set in the fridge while you do the same for the second sheet of puff pastry.
Preheat oven to 350 degrees F.
To assemble, take one sheet of the puff pastry and shape into a circle with knife by cutting off the corners of the rolled out dough. It doesn't need to be a perfect circle. Place onto a large parchment lined sheet tray to assemble.
Remove the top rind of the brie cheese wheel and place in the middle of the dough on the sheet tray.
Spread the apricot preserves into an even layer around the brie on the dough and leave about 1/2 inch border at the edge of the dough. Sprinkle on the salt, pepper, rosemary, thyme, and chili powder.
Remove the second sheet of dough from the fridge, shape into a circle, and place on top of the brie and apricot preserves.
Using a fork, press a border into the dough around the brie, it doesn't need to be completely sealed.
Then using a knife, cut from the border around the brie to the edge of the dough at the 12, 3, 6, and 9 o'clock positions, dividing the circle into quarters. Then cut each quarter in half. Then cut each 1/8 into 3 sections.
Twist each strip 2-3 times, it's okay if some of the filling comes out. (for visual example of assembly - see video here!)
Make an egg wash with the egg and a splash of water. Using a pastry brush, brush over the dough.
If possible, chill the prepared tarte for 10-15 minutes.
Place in middle rack of oven and bake for 30-35 minutes until golden brown. Optional to broil for 2 minutes at the end for extra crisp.
Remove from oven and serve warm so the cheese in the middle is still melty.
Enjoy!