Hosting is many things. Fun, stressful, exciting, time-consuming, joyful, and… a lot! It can be exhausting—in the best way—to invite people into our homes. But I've found nothing offers greater gratification than to sit at my dining room table and look around at my friends, family, and loved ones. They're relaxed and at ease, enjoying thoughtful conversation between bites of lovingly made food. At the end of all our efforts is the satisfaction that comes from bringing people together over food and our devotion to sharing with others. This is what the best hosting advice affords you.
image above by Michelle Nash.
During this season of celebrating and reveling in others' company, we might all be wanting a little support. To help with your hosting efforts during the holiday season and throughout the new year, we tapped the people who know how to throw a party best. In our How I Gather series, we go behind the scenes with the tastemakers and foodies who understand the importance of connection and aim to make it a part of their everyday lives.
Below, these entertaining experts are sharing their best hosting advice. From ways to skip the small talk to tips for preparing in advance, these women offer up go-to tricks for hosting a gathering to remember.
The Best Hosting Advice From Entertaining Experts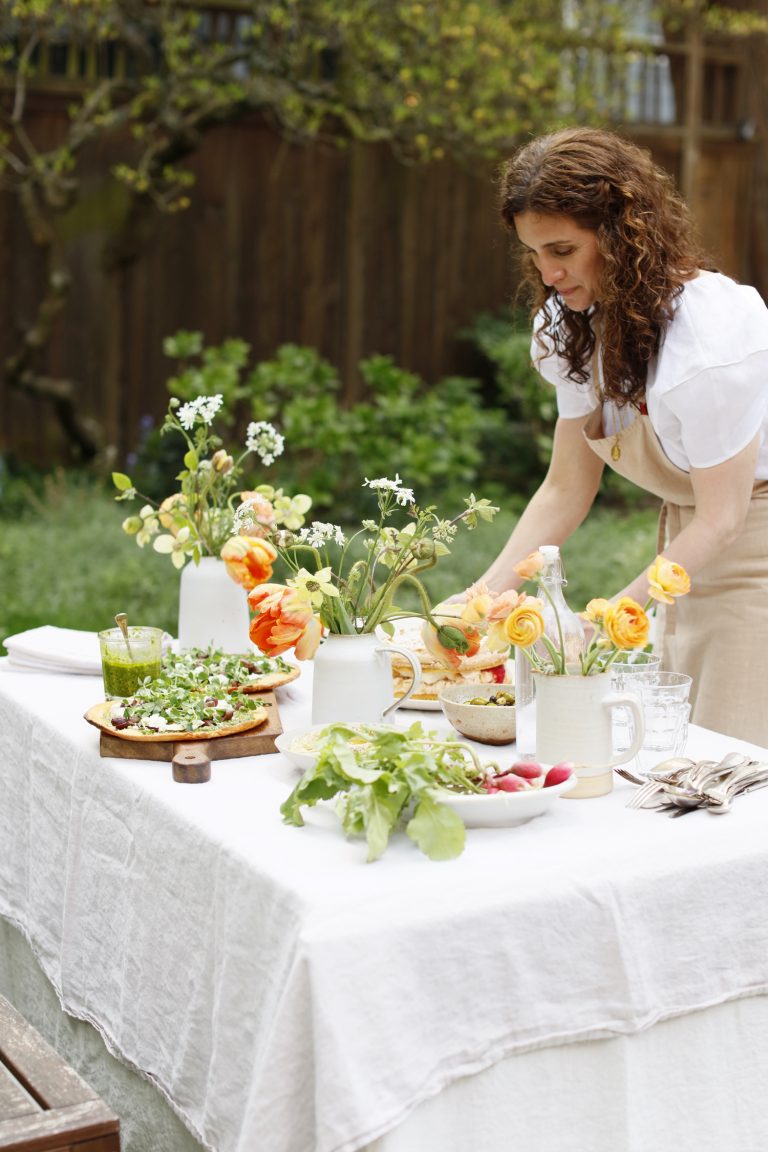 They Know How to Host on a Budget
In these inflation-influenced times, more and more of us are looking for ideas to help us cut down on costs—without sacrificing the special feeling of gathering with those we love. Our experts' advice? Keep it casual. When you focus less on the fussy details and let the party unfold organically, a good time is guaranteed.
1. "It doesn't need to be a sit-down meal for people to have fun! Also, don't be afraid of a wine store. The salespeople are always so helpful at picking out wines on a budget." — Sophie Collins, lifestyle entrepreneur and co-founder of One Wednesday
2. "Ask the guests to chip in and bring something potluck-style!" — Laurel Gallucci, co-founder and CEO of Sweet Laurel Bakery
3. "Have guests bring a side and a bottle of wine! People are always asking what they can bring, so take them up on it." — Sarah Smith, co-founder of Walden Retreats
4. "Splurge on just one great cheese and fill your charcuterie board with fruits and veggies." — Ashleigh Amoroso, photographer, food stylist, and educator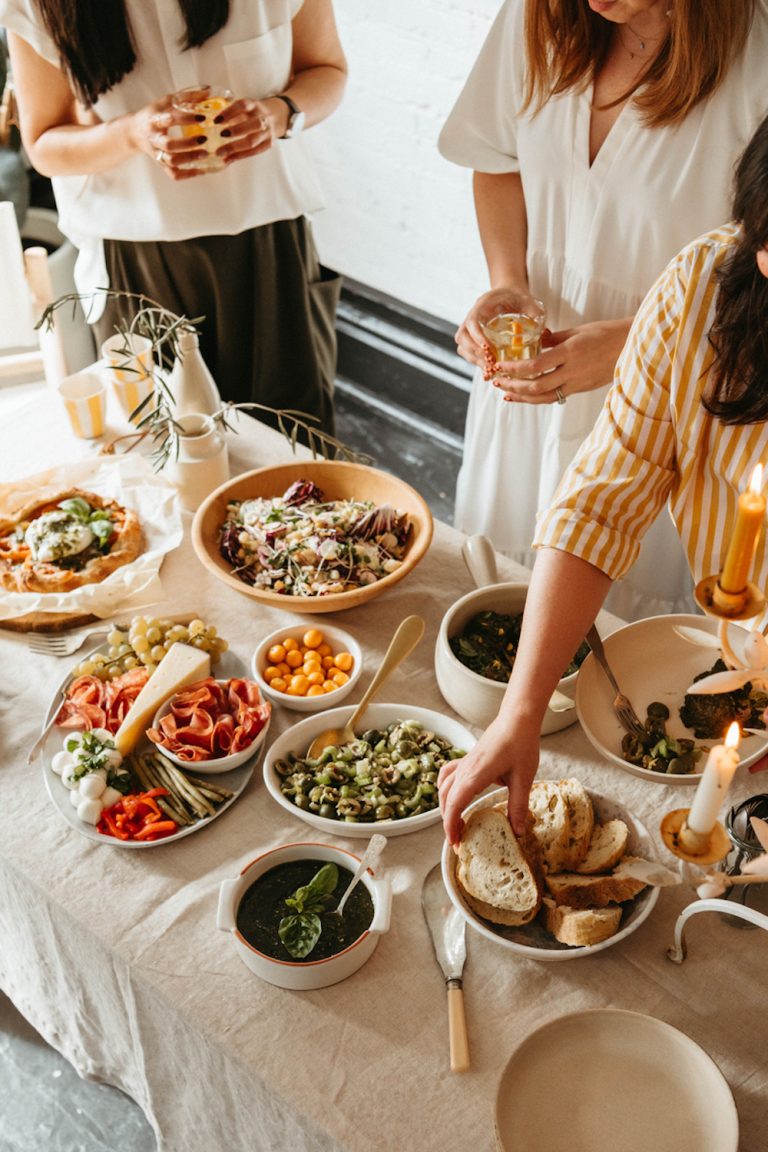 They Prioritize Guests' Comfort
Along with the casual, unfussy feel, expert hosts put the focus where it belongs: on their guests. Instead of stressing about the main course and relegating themselves to the kitchen to turn out the perfect meal, they know the magic that comes with setting everyone at ease. Spontaneous conversation is encouraged, the music gets turned up, and everyone is welcome at the table.
5. "The most important thing to me is for my guests to feel comfortable. That means creating an environment where friends can show up and know that they'll be taken care of." — Cassandra LaValle, interior stylist and founder of Cassandra LaValle
6. "I style an unfussy table with candles and little haphazard flower arrangements in mismatched vessels. I like it when the music doesn't go with the food: a cheese soufflé and Dr. Dre, sushi and ska music, Yorkshire pudding and Beastie Boys. I absolutely love it when someone busts out the guitar and the dinner veers toward music." — Olivia Joffrey, owner of Olivia Joffrey designs
7. "There is nothing more gratifying to me than feeding people. I love mismatched tableware, wrinkled linen pieces, vintage silverware and serveware…. nothing that feels precious. But above all, I love a good conversation that flows. I even welcome peaceful and respectful arguments where people can say things without feeling judged." — Aran Goyoaga, author of Cannelle et Vanille and Cannelle et Vanille Bakes Simple, food stylist, and photographer
They Know How to Start an Engaging Conversation
No small talk here! Our hosts cut through the career clutter and shift straight to the deeper topics. After all, a memorable gathering is about bringing people together and underscoring our human need for connection. Read on for their favorite conversation starters and questions that get to the heart of who someone is. (Psst… don't be afraid to bring out the conversation cards! And no, they aren't cheating.)
8. "The party connector is a great place to start, asking 'How do you know… ?' I try to stay away from the standard what-do-you-do focus and hit more on the elements of the person. Just plain old curiosity has been the driver in the deepest, most real conversations" — Ashleigh Amoroso, photographer, food stylist, and educator
9. "What have you been thinking about lately?" — Jessie De Lowe, manifestation coach and founder of How You Glow
10. "I have conversation cards that I use for my Supper Club. The questions range from thoughtful to cheeky, like, what is your favorite quality in a man/woman or what is your favorite curse word?" — Olivia Muniak, chef and entertaining expert
11. "How are you really?" — Sophie Collins, lifestyle entrepreneur and co-founder of One Wednesday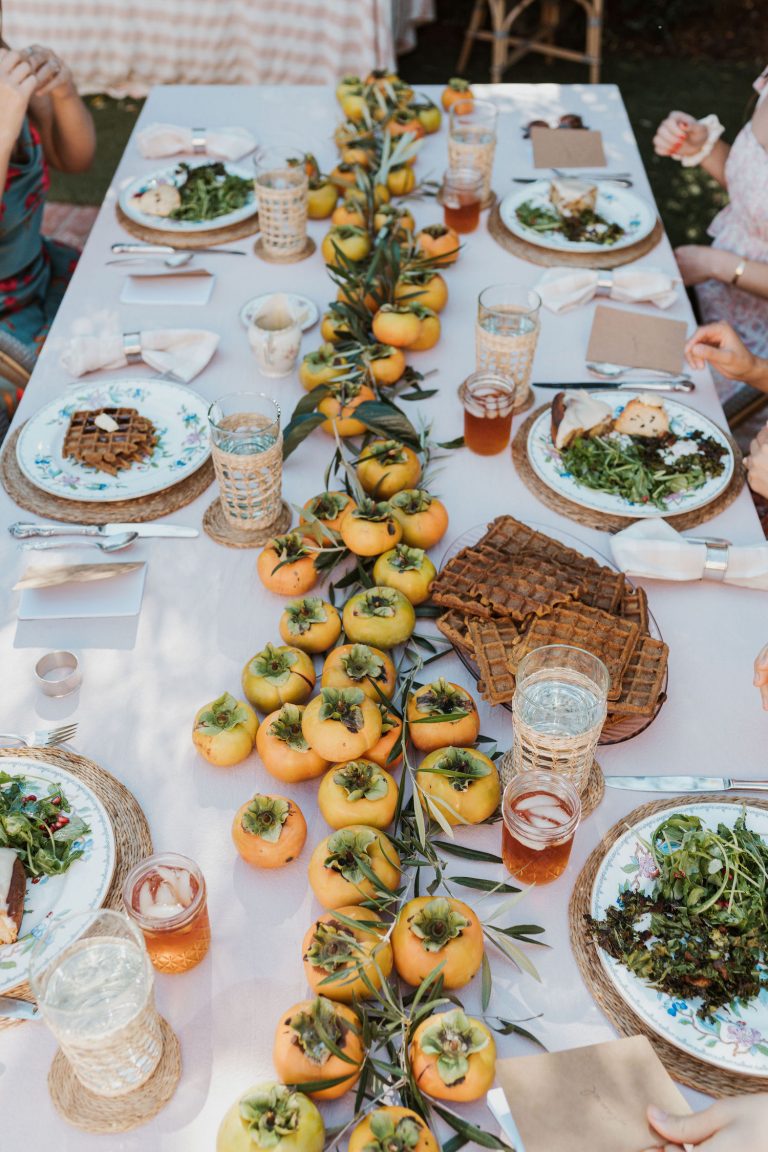 They Face Their Entertaining Fears
We've all been there. With the prep and planning that goes into throwing a party—not to mention the potential social anxiety—there's plenty of opportunity to feel some doubt. Our hosts' advice? Feel the fear and push past it! Do what you can to prepare and let the rest happen as it will. You'll enjoy yourself more if you focus instead on having a good time.
12. "Whenever I host something where I'm bringing different groups of people together, it initially makes me nervous—but it always turns out great! I scan the room and see who needs to meet who and who is feeling a little on the outs and then go scoop them into a conversation. I strive to be a connector and community builder." — Ashleigh Amoroso, photographer, food stylist, and educator
13. "Timing everything correctly [scares me the most about entertaining]! I don't want to burn anything but also want to be present and attentive to guests so I try to make dishes that can be prepped ahead of time and assembled when it's time to eat." — Jessie De Lowe, manifestation coach and founder of How You Glow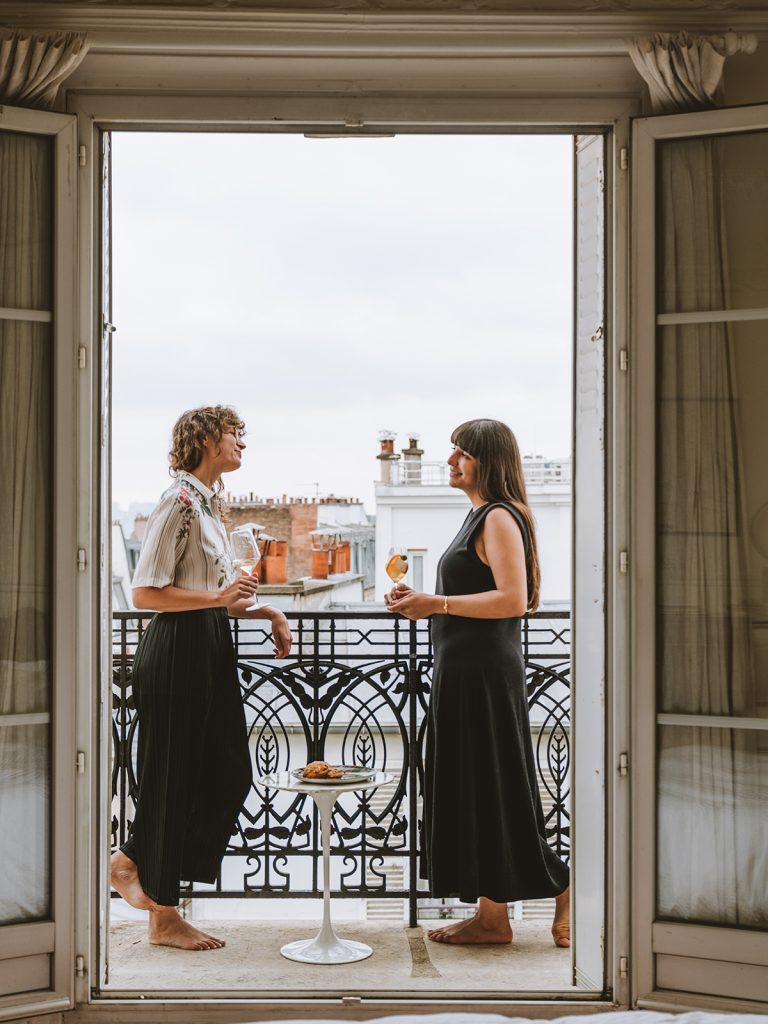 They Stay Present and Soak up the Moment
What's the point of a party if you can't kick back and connect with loved ones yourself? As much as we want things to be at their best and for everyone to be happy, guests won't enjoy themselves if you're not having a good time. (Just think back to when you attended a gathering and the host never left the kitchen.) Be warm, be inviting, but once the table is set and the food is out on display, it's time to pour yourself a drink and laugh a little.
14. "I love when the meal is over and everyone is sated and leans back in their chairs. There is a palpable little community feeling that some secret was shared between us." — Olivia Joffrey, owner of Olivia Joffrey designs
15. "Great company is more than just laughter for us. It's thoughtfulness, being intentional to ask the hard questions to one another, and being able to share the journey of life together." — Sarah Smith, co-founder of Walden Retreats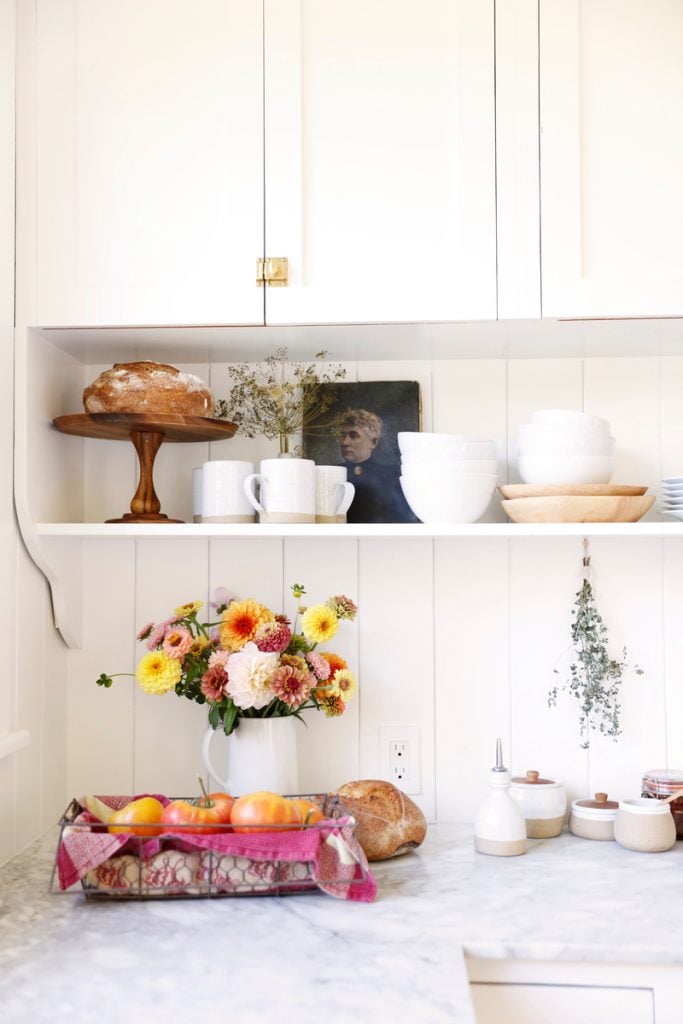 They Lean on Tried-and-True Cookbooks
What's the saying: never cook anything for a dinner party if you haven't made it twice already? (Maybe it's just my mother who says that… ) Regardless of whether you follow recipes to a tee or like to branch out on your own, our hosts enjoy flipping through their pages as a source of inspiration. With their cookbooks' help, entertaining experts have the building blocks of a balanced and exciting menu.
16. "Our three most-used cookbooks are Dishing up the Dirt, Tartine, and The Minimalist Kitchen. Andrea Bemis' recipes are delicious and I love her close-to-earth approach to cooking. I'm a sourdough baker and Tartine is my bible. And Melissa Coleman's, The Minimalist Kitchen cookbook is full of beautiful recipes and amazing tips to simplify the cooking process and to help you stay organized." — Cathy Poshusta, co-founder of The Grit and Polish
17. "I love cookbooks that both transport and teach. Right now that has been Hetty McKinnon's To Asia, with Love and Ripe Figs by Yasmin Khan. I also have a special place in my heart for Madeleine Kamman's When French Women Cook. It's a memoir mixed with recipes and each chapter is dedicated to a woman (and a different region in France), whose kitchen she learned in." — Rebekah Peppler, author of À Table and APÉRITIF: Cocktail Hour the French Way, writer, and food stylist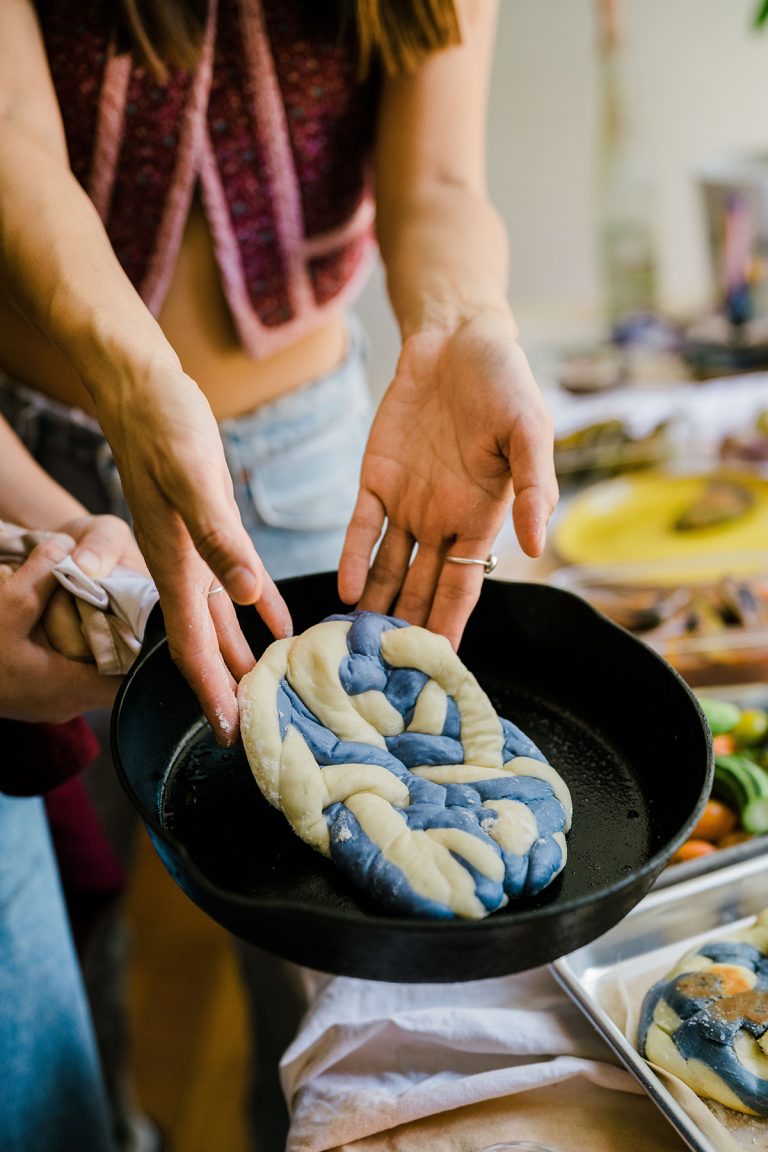 They Serve Dishes Worthy of a Celebration
Last but not least, the showstopper woven throughout it all. Dishes are deeply personal, often drawing upon family histories, personal preferences, and culture. As such, the recipes our hosts share tell a little about each of them—the flavors that bring comfort and the textures that evoke a certain nourishing quality that they want to share with everyone they bring into their homes. Scroll through to find our favorite recipes that'll hold their own on the table at any gathering.