We made it, y'all. The days are longer, the temps are warmer, and sangria season has officially arrived. Make that rosé sangria season—and this strawberry rosé sangria recipe is exactly what your next warm-weather gathering needs. All it takes is a good bottle of wine, seasonal fruits, fresh herbs, and bubbles. What more could your glass want?
While I'm a margarita-loving gal, I'll occasionally opt for something a little more festive than tequila, (though as we all know, tequila can get pretty festive). So when I'm in charge of mixing up drinks for the group, you can bet I'm making this crowd-pleasing cocktail. Because when the sun's out, there are few things more refreshing (and fun!) than a big pitcher of bubbly, fruit-filled sangria. Plus, I love a batch drink that basically makes itself.
This rosé sangria recipe involves just a handful of easy-to-prep ingredients, so you can spend less time mixing and more time sipping. Pair it with some sunshine, tapas, and a picnic blanket, and you're well on your way to a mental vacation to Spain. Is it happy hour yet?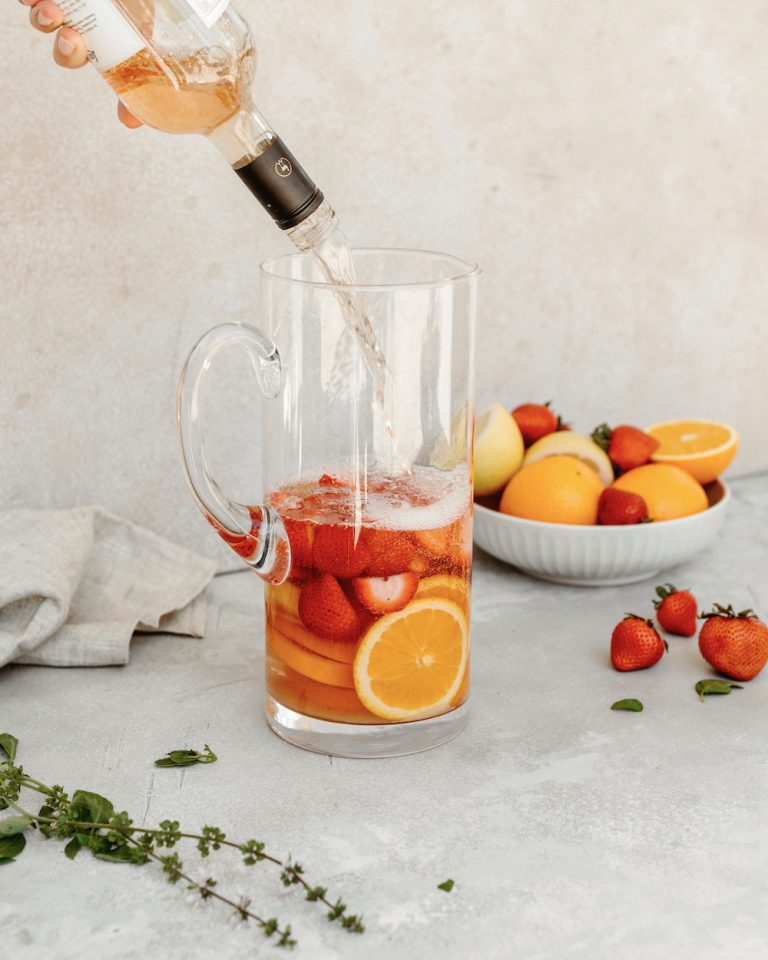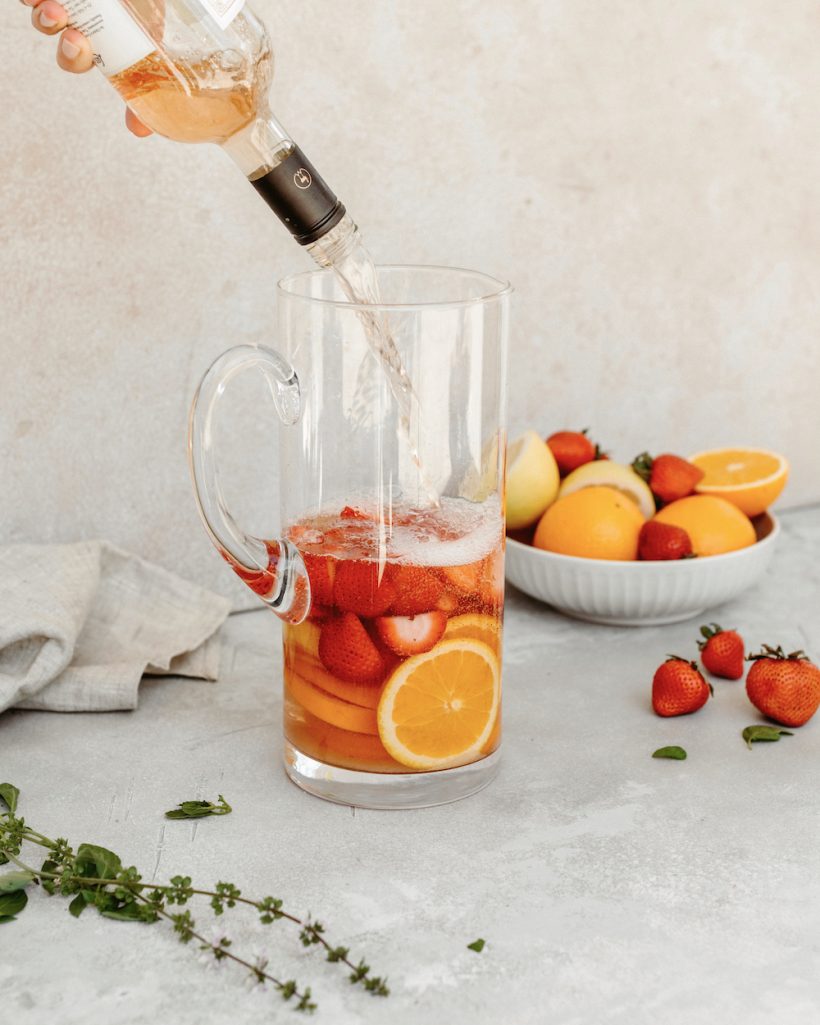 What you'll need to make this strawberry rosé sangria:
A good pitcher
Your favorite rosé (we love these)
Grand Marnier (brandy works too)
Sparkling water (I used Topo Chico)
Cane sugar
Fresh fruit (I used strawberries, oranges, and lemons)
Herbs (mint and basil are my faves)
Ice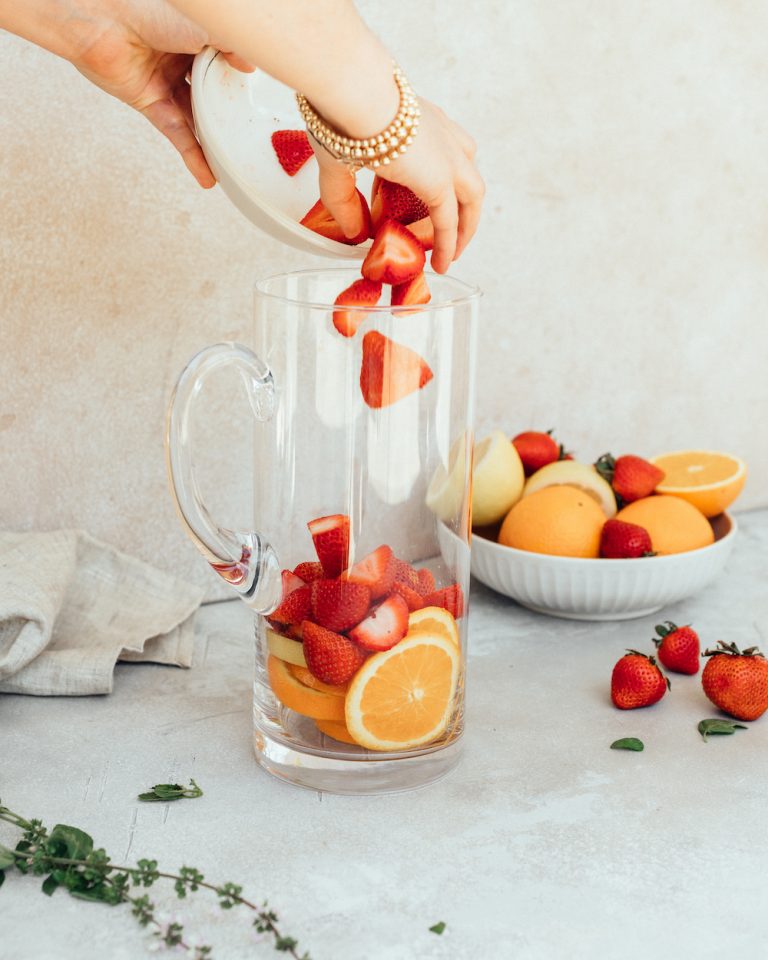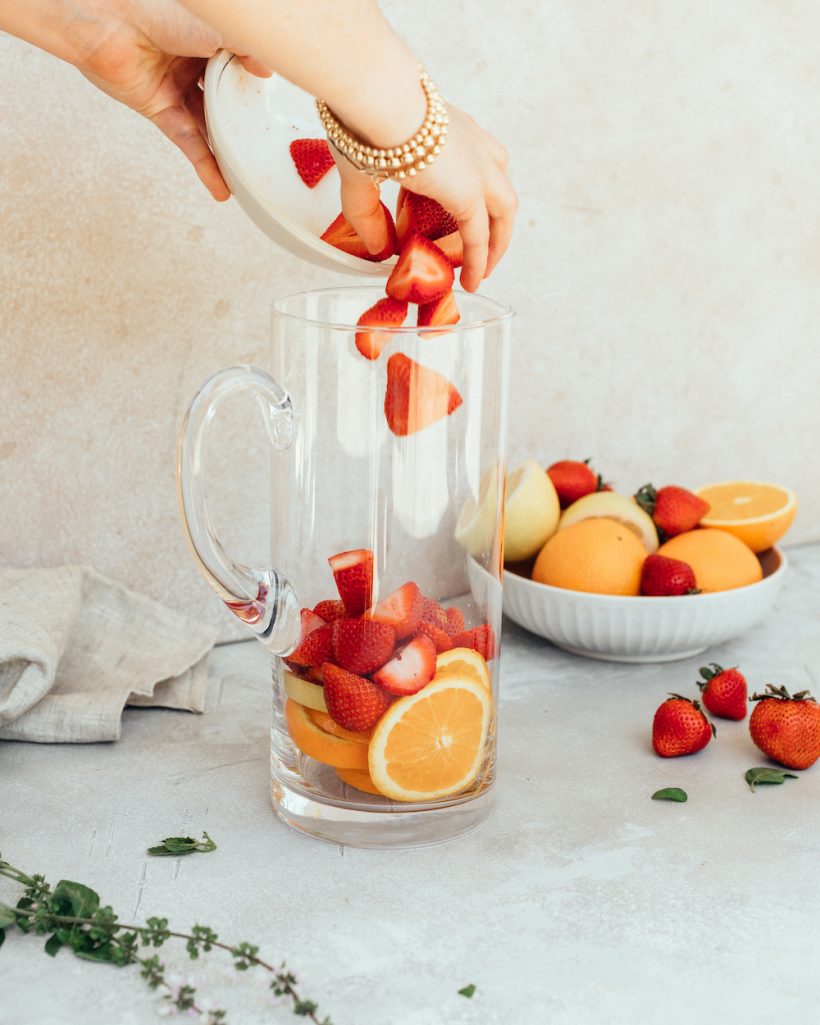 What is traditional sangria made of?
I first tried sangria at a local tapas restaurant, and I won't lie—my tastebuds were transformed. Our server, who was from Spain, stopped us in our tracks when we were contemplating ordering a bottle of Pinot Noir in the middle of summer. Their argument made perfect sense: why drink red wine on its own when you can enjoy it in a sangria? It was the upgrade we didn't know we needed. One pitcher later, we couldn't wait to try and recreate this delicious drink at home.
While traditional Spanish sangria varies by region and type, it generally consists of wine, chopped fruits, some sort of liqueur (usually brandy), and a sweetener. Sometimes fruit juice and sparkling water are thrown in there too, but overall, sangria is a wine-based punch that's been enjoyed in Europe for centuries. After drinking it myself, I can see why.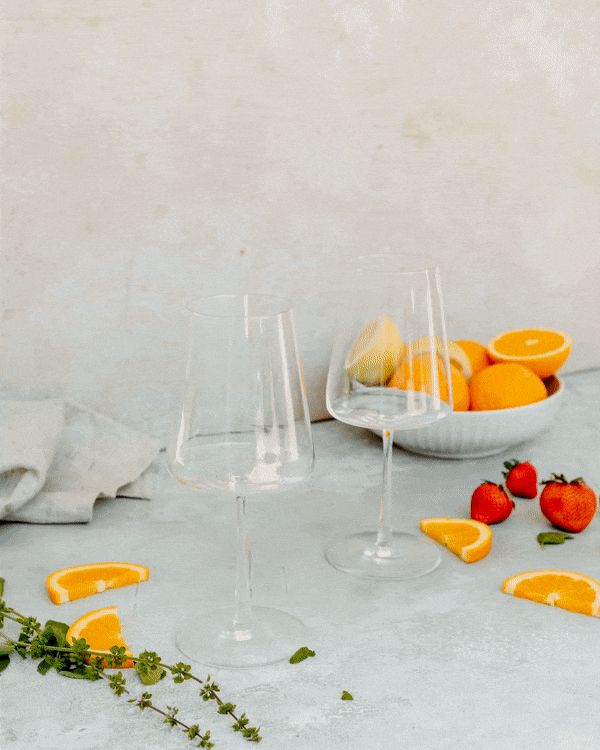 What's the best wine for sangria?
While red wine is most commonly used in sangria, white wine, and of course, rosé, work just as well. In general, it's better to opt for lighter, more fruit-forward wines with low tannins. Rosé is usually my wine of choice in a sangria because it's slightly drier and a little bit acidic while maintaining hints of sweetness that complement the fruit.
If you're enjoying a more traditional sangria, Pinot Noir is the most popular. When it comes to white wine, any varieties that are less oaky or buttery are usually fair game. Lastly, sparkling wines are a great option, too! I'll usually skip the soda at the end when using sparkling wine.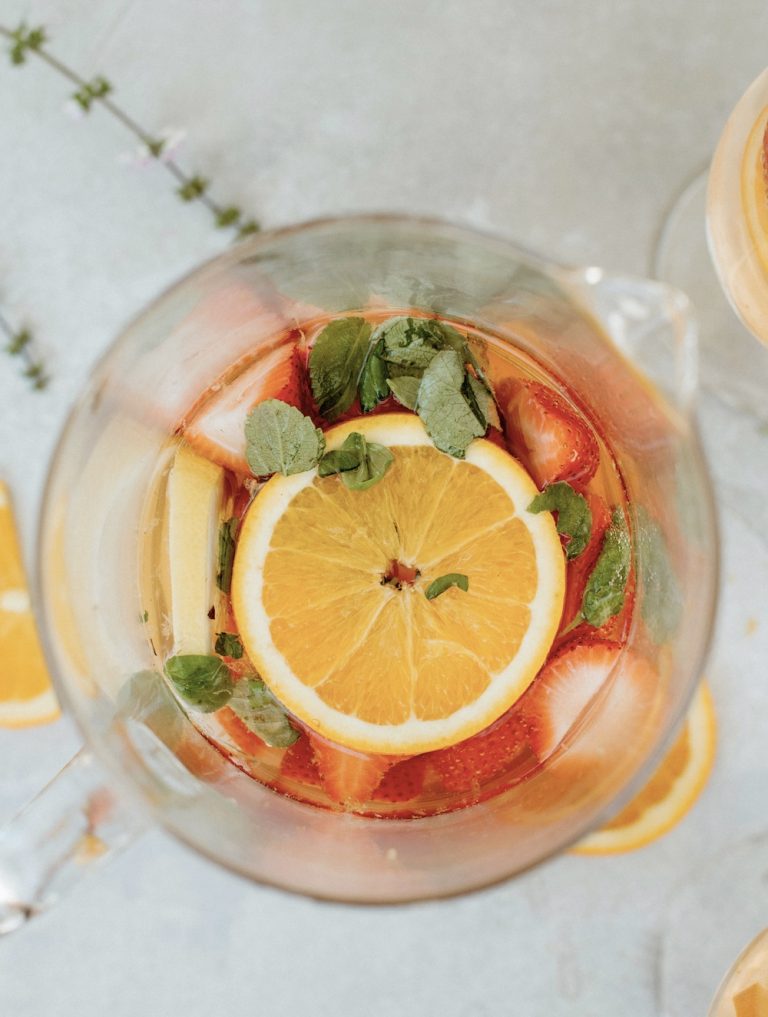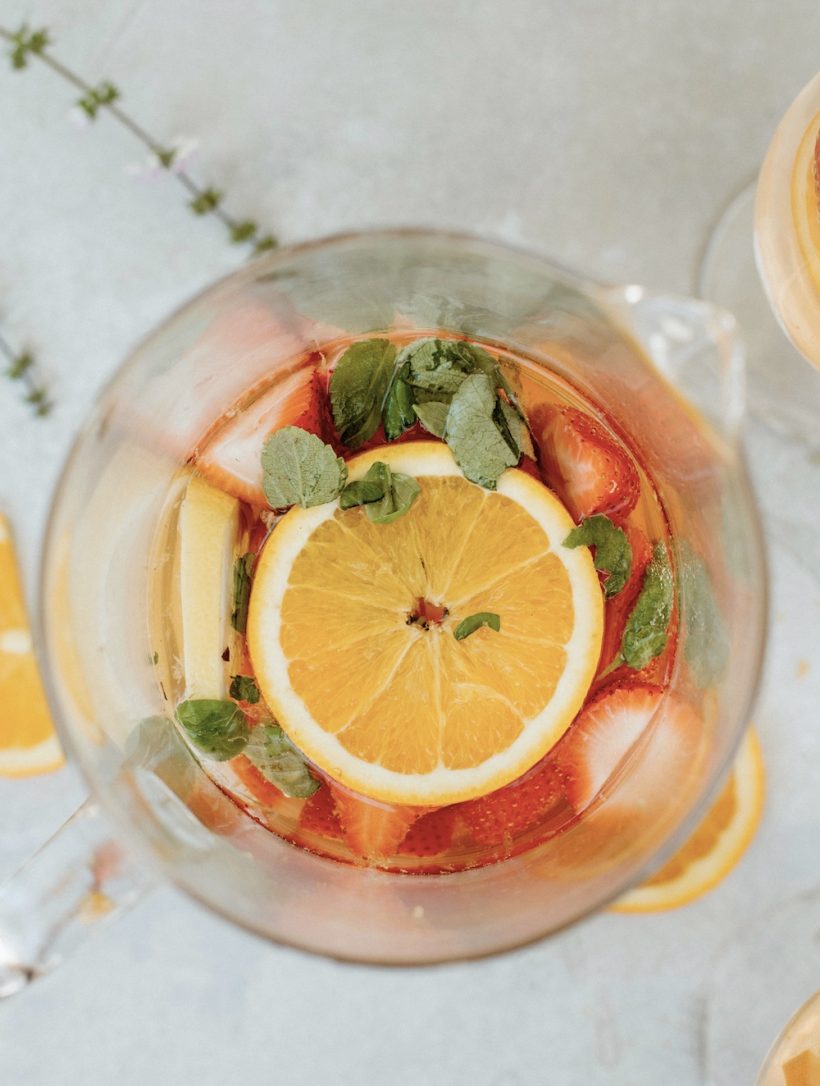 What is the best fruit to put in sangria?
As is true with any recipe, the best fruit to use will be whatever's in season! In my opinion, rosé pairs best with my favorite spring fruits like strawberries and oranges. White wine with limes, peaches, or blackberries makes for delicious sangria during those final summer months. A traditional sangria with pinot noir, apples, pears, and lemon slices is my preference for fall. For the most part, there are no rules here. Live your life!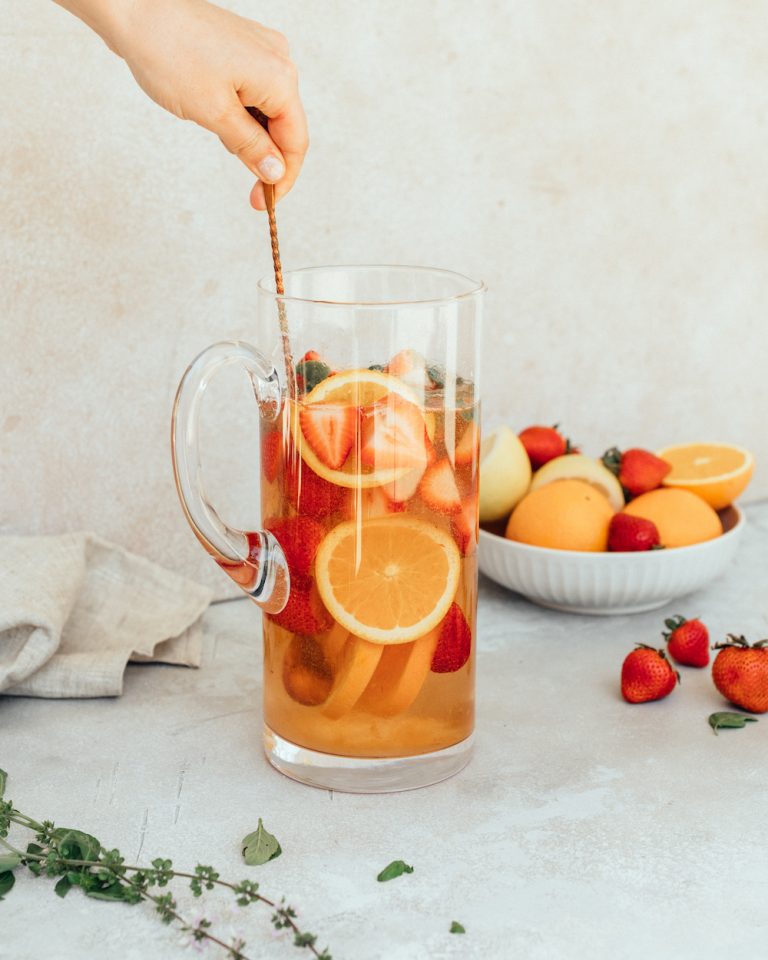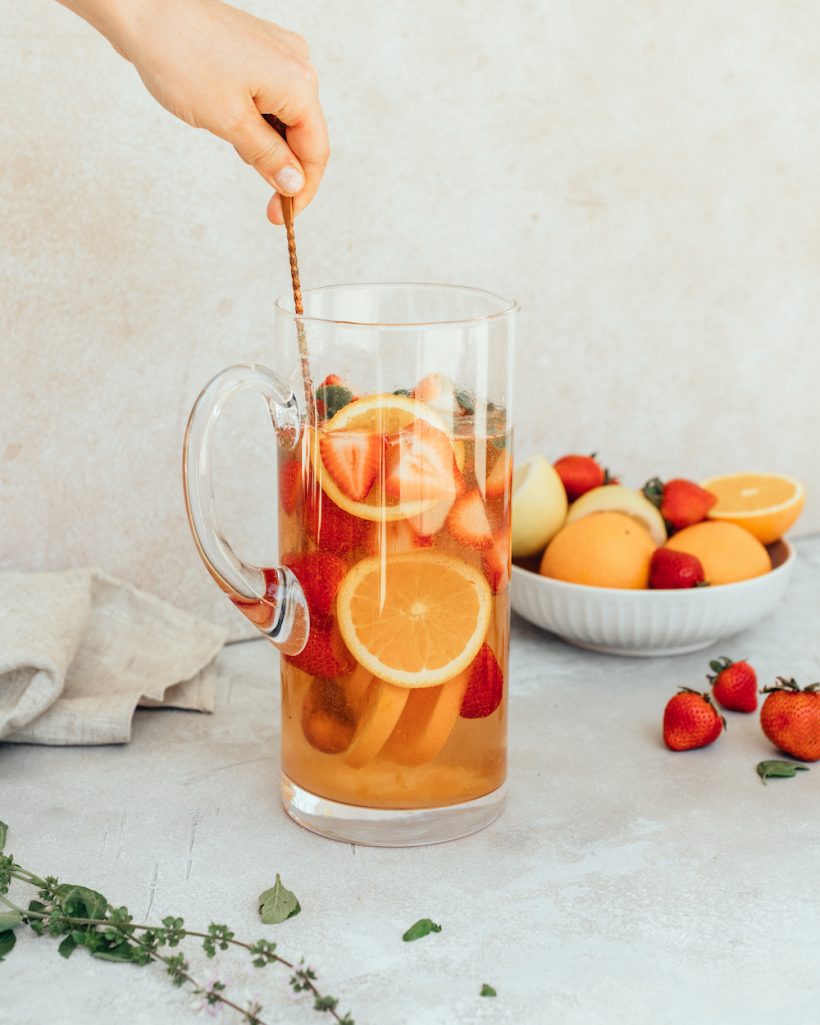 How far in advance should you make sangria?
From my personal experience, sangria is best when prepped at least two hours in advance. For this rosé sangria recipe, you'll add all of the chopped fruit to a pitcher and top it with sugar or your sweetener of choice and mix. Then, after adding the liqueur (Grand Marnier in this case), you'll let the concoction cool in the fridge for a few hours (up to eight) so that the fruit can soak up all of the flavors. Hold off on adding any wine, herbs, or bubbles until about an hour before serving. When guests arrive, just pour it over ice and you're ready to sip!
What foods pair best with this rosé sangria recipe?
This rosé sangria recipe is best paired with your favorite spring appetizers, like tomato bruschetta or watermelon Caprese salad. Scroll on, grab the recipe below, and enjoy a delicious glass of rosé sangria. You deserve it!
---
Ingredients
1 bottle rosé (chilled)
1/3 cup Grand Marnier
1 Tbs cane sugar
2 cups strawberries
1 orange, sliced
2 lemons, sliced
1 handful mint leaves
1 12 oz bottle of sparkling water (or more for serving)
---
Instructions
Add sliced strawberries, oranges, and lemons to the bottom of a pitcher and sprinkle with sugar.
Add 1/3 cup Grand Marnier and mix. Refridgerate for at least one hour.
Before serving, pour in the rosé and sparkling water and add in a handful of fresh mint leaves.
Pour over ice and serve! Option to add additional fruit and herbs to garnish.