There's nothing quite like treating yourself to an ice cream cone as soon as the warm weather hits. Sweet, creamy, rich, and cooling, you simply can't beat this classic treat. We've located 25 healthy ice cream recipes that are just as delicious as the real deal— minus the feeling that you've devoured a pure dairy and sugar bomb (which from experience, is not ideal while trying to fall asleep on a hot night).
These healthful alternatives put a lighter spin on some of our favorite ice cream flavors. (No sacrificing taste here!) And one of the nice things about DIY'ing your own ice cream situation is that you'll know that your cone or cup will be totally free of any preservatives or artificial sweeteners.
Featured image by Michelle Nash.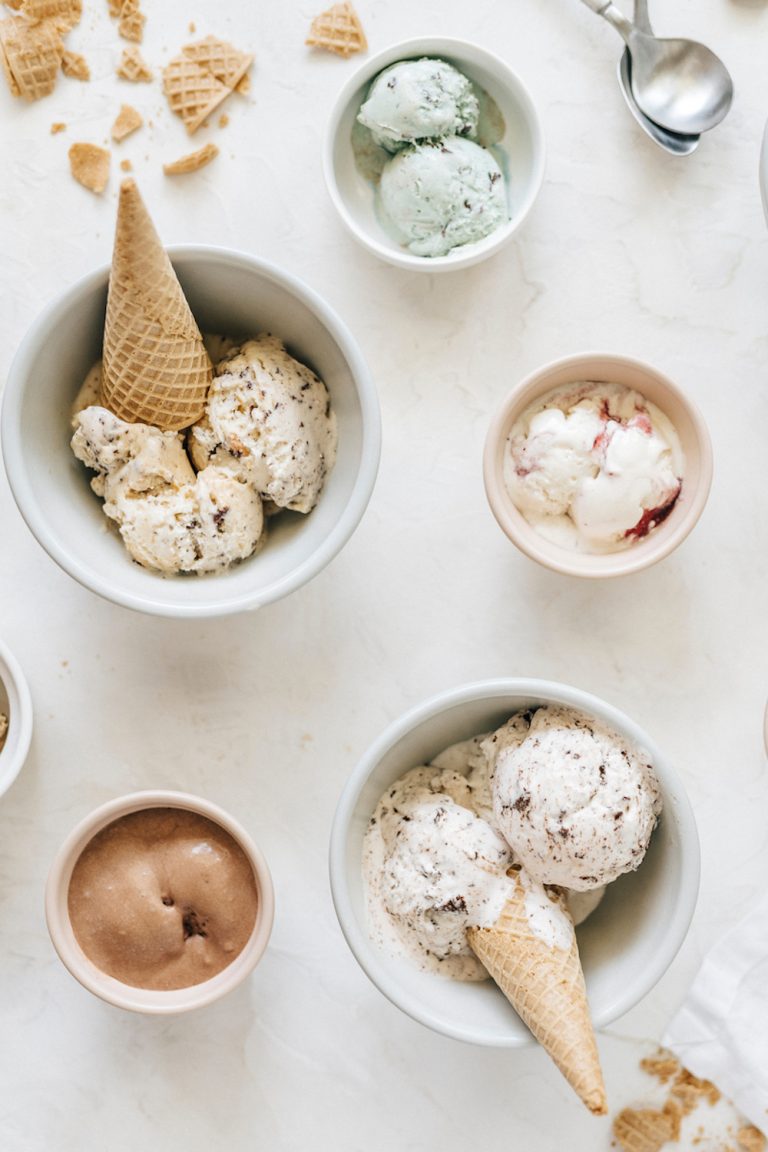 And before you think that not owning an ice cream maker takes you out of the homemade, dairy-free ice cream cake, don't fret. Most of these healthy ice cream recipes can be done with a hand mixer, blender, or just some good old-fashioned elbow grease. And while we've included a few "nice cream" recipes involving frozen bananas, there's no shortage of gluten-free, keto, paleo, and vegan options below.
So regardless of your or your loved ones' dietary restrictions, everyone can enjoy one of these scrumptious and healthy ice cream recipes.
25 Healthy Ice Cream Recipes to Satisfy Your Summer Sweet Tooth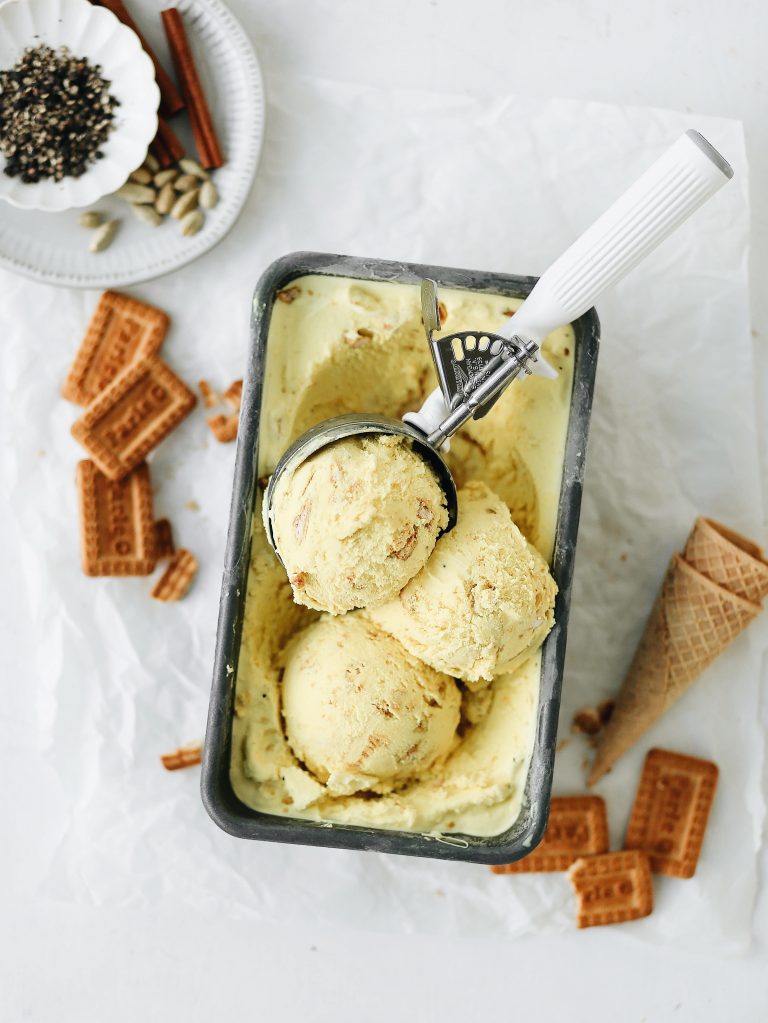 Why We Love It: Turmeric is chock-full of health benefits, and it's the star of this luscious ice cream recipe. The spice also boasts an impressive mix of cloves, cinnamon, cardamom, and peppercorns to drive home the flavor.
Hero Ingredient: Parle-G biscuits are the unsung hero of this delectable dessert. Or, if you prefer Biscoff cookies like me, crush up a few extra for mix-ins. And use lots of candied ginger. It's like Cold Stone Creamery, at home.
Why We Love It: This refreshing ice cream recipe is dairy-free and uses coconut milk as its base. And, you can make it all in the blender! Since it uses frozen mango, all you have to do is blend it up and you can enjoy right away. My kind of dessert.
Hero Ingredient: The basil shines here and delivers a nice herbal tone, complementing the sweet/tart mango really well.
Why We Love It: Get out your food processor, because this mango melon sorbet is the perfect summer dessert. All you need for this vegan delight is some melon, mango, bananas, and coconut syrup. This silky sorbet is best enjoyed poolside.
Hero Ingredient: I'm going with the bananas here. They bring a creamy texture to this sorbet that might be unexpected but is definitely appreciated.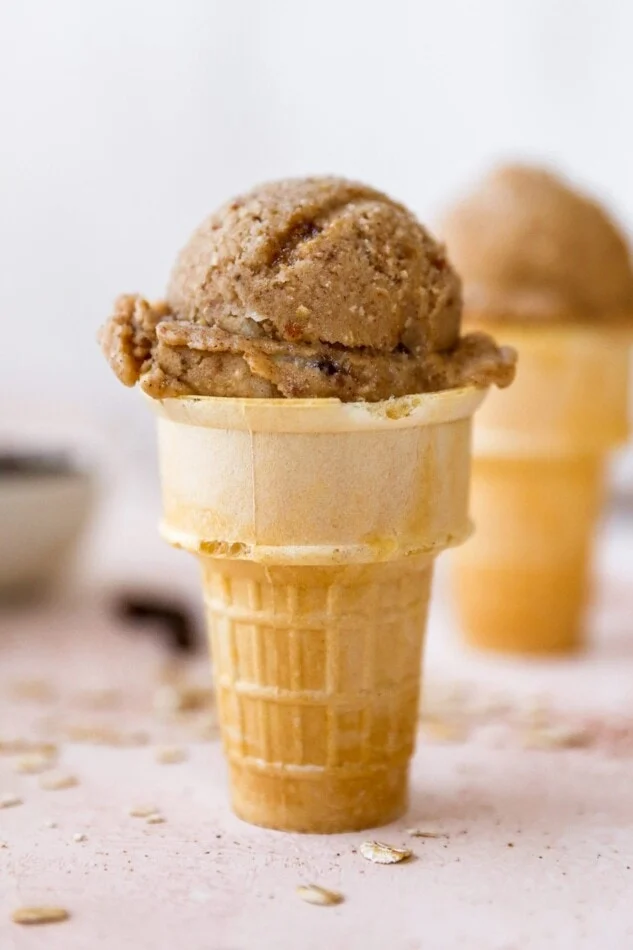 Why We Love It: Oatmeal raisin cookies are one of my go-to desserts, and this ice cream is giving all of their flavors and more. Thanks to the frozen bananas used as this sweet-treats' base, this ice cream is high in fiber and low in sugar.
Hero Ingredient: A hint of cinnamon makes this ice cream taste like you're biting into a cozy oatmeal cookie.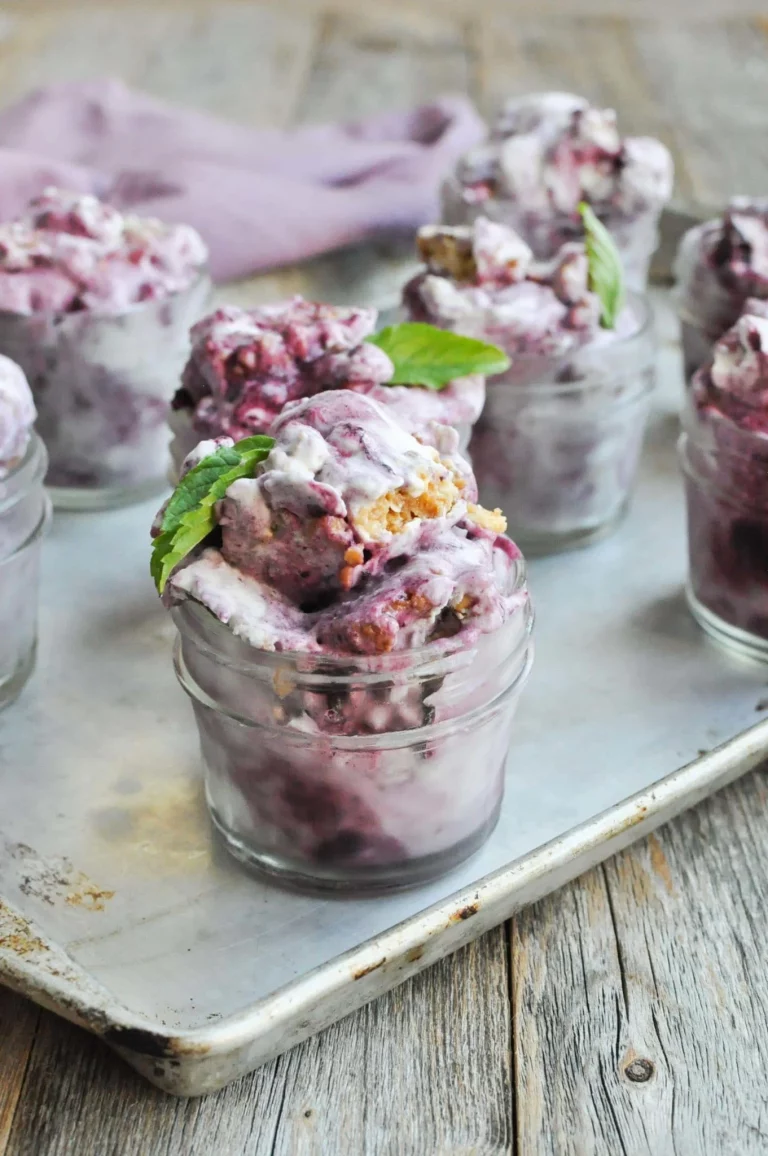 Why We Love It: This ice cream takes all the beloved flavors and textures of a blueberry crumble and puts them into ice cream form. What could be better? Creamy and crumbly, all wrapped up in one delicious scoop.
Hero Ingredient: We can't get enough of this gorgeous tart blueberry jam swirl and cashew cookie crumble.
Why We Love It: Soft serve is ice cream at its best. Not only is this chocolate and tahini take on "nice cream" absolutely delicious, but all you need is 5-10 minutes, one bowl, and four ingredients to make this healthy ice cream recipe.
Hero Ingredient: A pinch of sea salt pulls out all of that nutty tahini flavor and enhances the richness of this tasty treat.
Why We Love It: Whip up this peanut butter banana ice cream in just five minutes then top with gluten-free brownies and nuts. Healthy, delicious, and ready to eat.
Hero Ingredient: Lots of salty peanuts are the garnish you've been looking for. They hold the key to texture-town when it comes to this ice cream.
Why We Love It: Sweet potato gives this healthy ice cream recipe a smooth, creamy texture as well as tons of nutrients. Just grab some chocolate, coconut sugar, and coconut milk and you're ready to go.
Hero Ingredient: Vanilla and sea salt pull all of that chocolatey goodness to the forefront.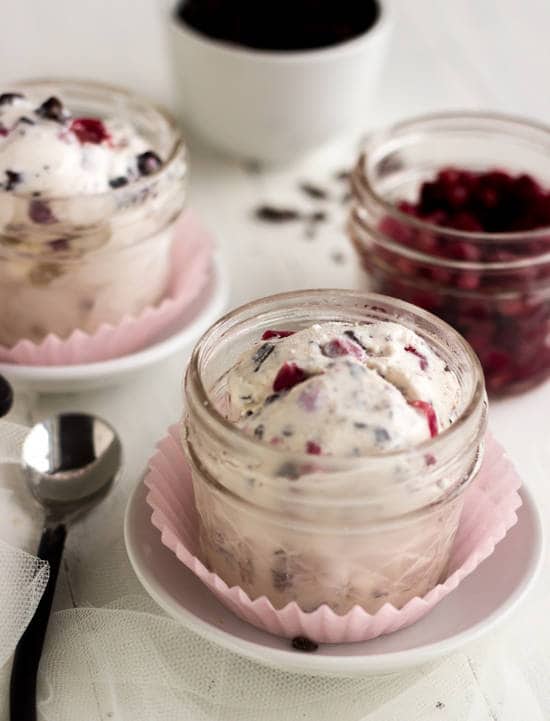 Why We Love It: Arguably one of the most delicious healthy ice cream recipes that's easy to make and gluten-free. Sign us up.
Hero Ingredient: A little bite of pomegranate in every bite is a welcome surprise.
Why We Love It: If you're a fan of coconut, then this is the recipe for you. It's creamy, decadent, and tastes just as good as it looks. Plus, it's a super basic recipe with only four ingredients and 15 hands-on minutes standing between you and a cool treat. Who's drooling now?
Hero Ingredient: Because this recipe is super simple, it leaves lots of room for customization. Feel free to throw in whatever ingredients you have on hand or are craving. Some that come to mind are cherries, peaches, graham crackers, nuts, and hot fudge… yum.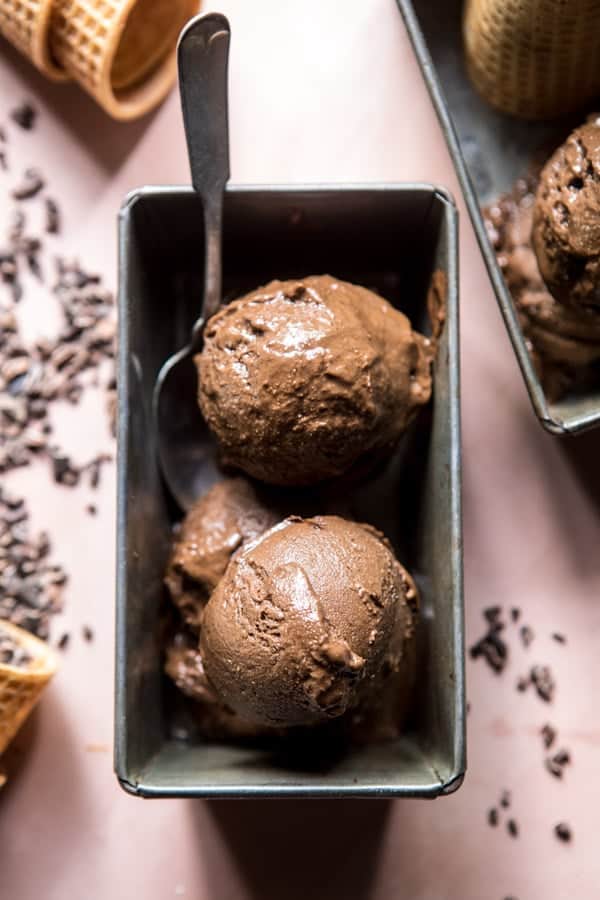 Why We Love It: Gluten-free, dairy-free, vegan, and oh-so-delicious. All you need are six ingredients, five minutes, and patience as your nice cream firms up in the freezer. The last step is definitely the most difficult.
Hero Ingredient: Dates lay the foundation for this nice cream right alongside the bananas. They counterbalance the cocoa powder and bring a welcome sweetness, though they're not overly saturating. If you're not a fan of dates, though, maple syrup makes for a good substitute.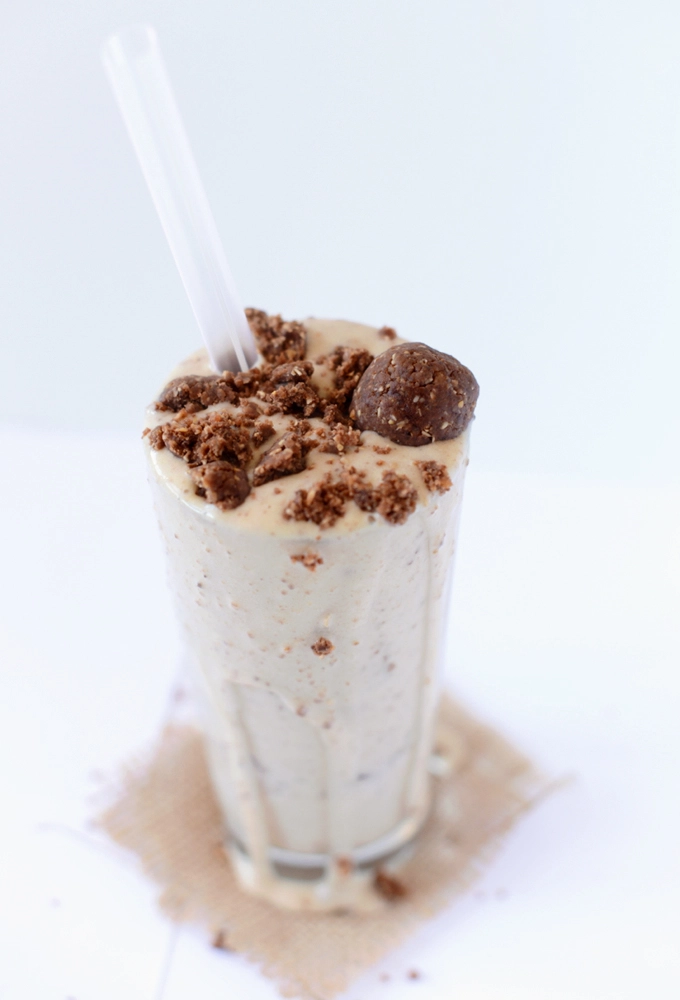 Why We Love It: Although a blizzard could possibly fall in the milkshake camp, I firmly believe it's an ice cream treat. This vegan, gluten-free recipe features a banana base and just a few additional ingredients that you probably already have in the pantry.
Hero Ingredient: The cookie dough, obviously.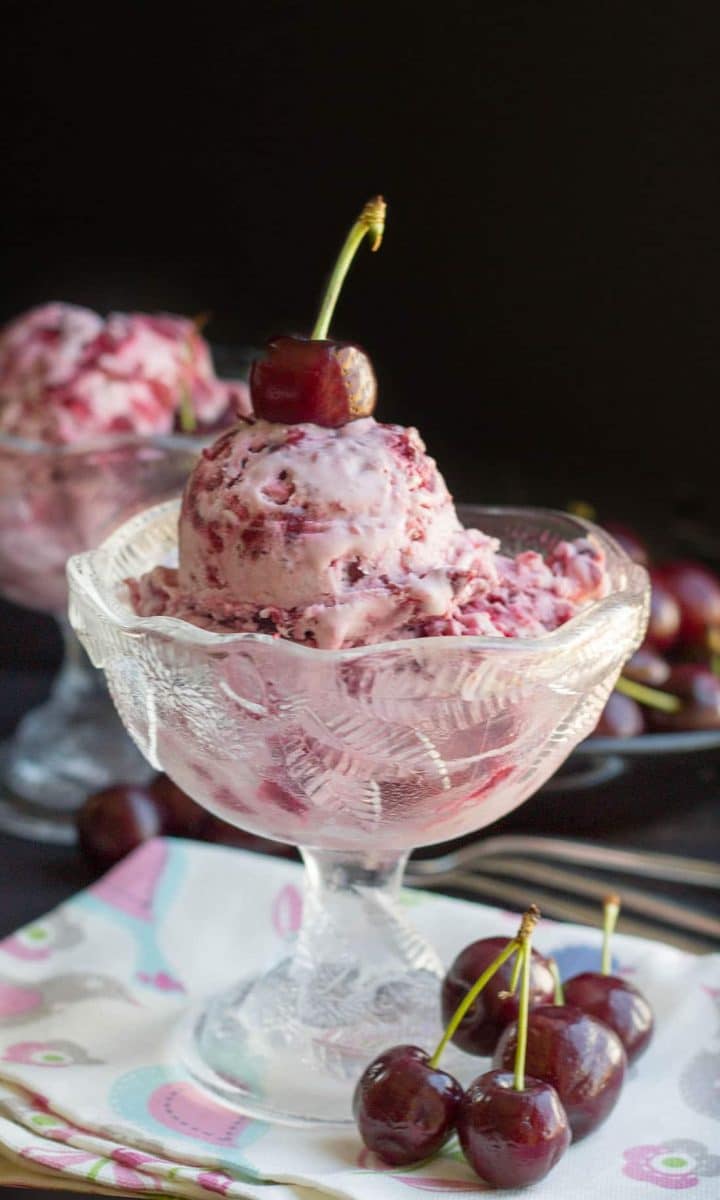 Why We Love It: To say that I'm obsessed with this cherry ice cream recipe is an understatement. It utilizes the juice from frozen cherries to make simple syrup, sweetening the ice cream without adding extra sugar. YUM!
Hero Ingredient: The cherries are definitely delicious, and this recipe's namesake, but you can get playful with other fruits and flavor combinations. Think blackberries and lime zest, frozen peaches, blueberries, and lemon zest. The list goes on.
Why We Love It: You might be looking at this ice cream and wondering, "how on EARTH is that healthy?" The ice cream base is made of raw cashews and coconut cream and it's sweetened with coconut syrup that gives it a delicious caramel flavor. The proof is in the pudding… er, ice cream.
Hero Ingredient: Just look at that salted caramel. I have no words.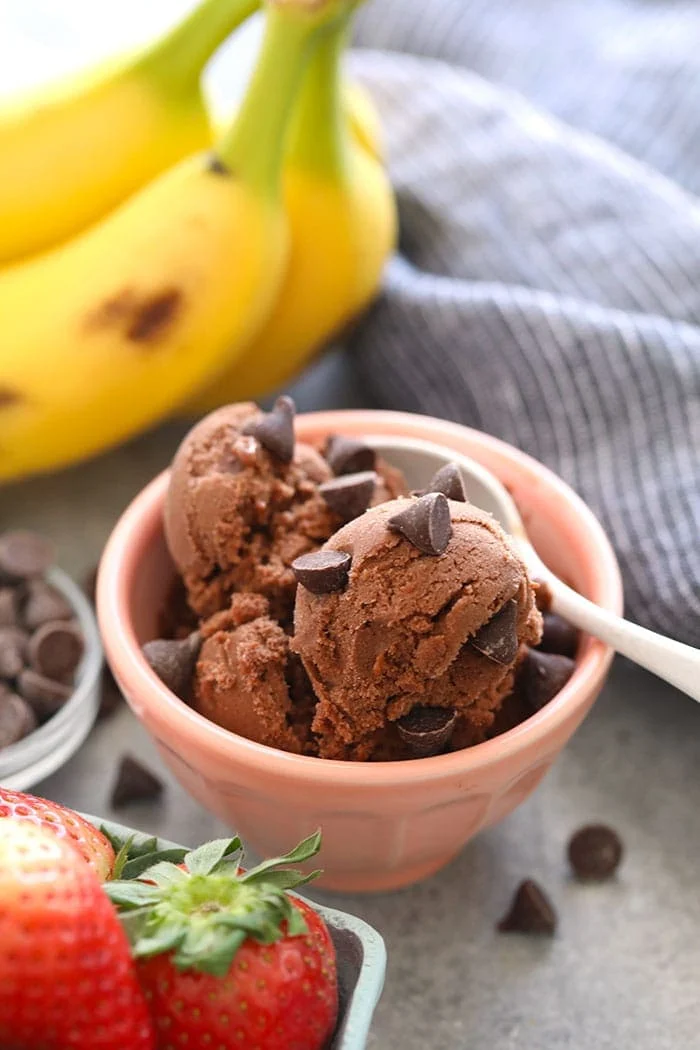 Why We Love It: On the opposite end of the complexity spectrum, this recipe keeps it simple and vegan with just almond milk, bananas, cocoa powder, and vanilla. An everyday ice cream, if you will. Make a big batch of this tasty treat to enjoy all week long!
Hero Ingredient: This is another blend-and-enjoy recipe, so you don't even have to wait for it to freeze. Talk about a hero method.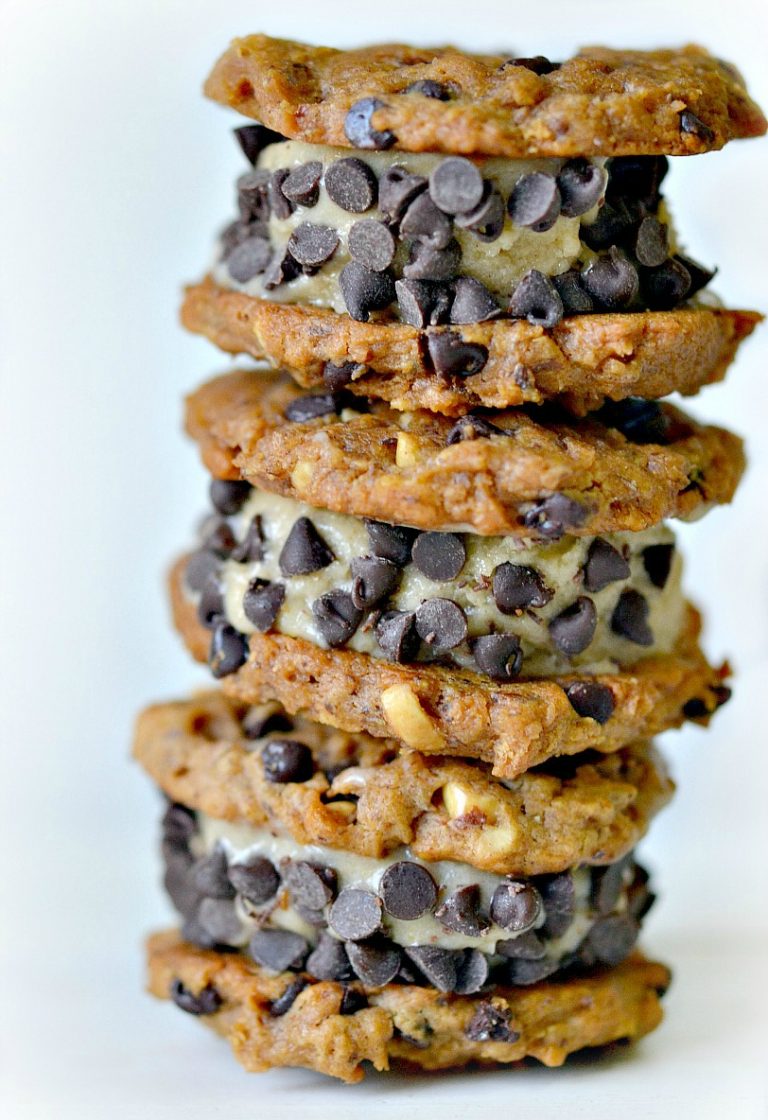 Why We Love It: Ok, I know it's technically not just ice cream—it's even better. Ice cream sandwiches (gasp)! And, the peanut butter cookies are healthy, too, so you can consider your bases covered.
Hero Ingredient: The peanut butter oatmeal cookies provide the best foundation for that creamy banana ice cream. The best part? It's all handheld.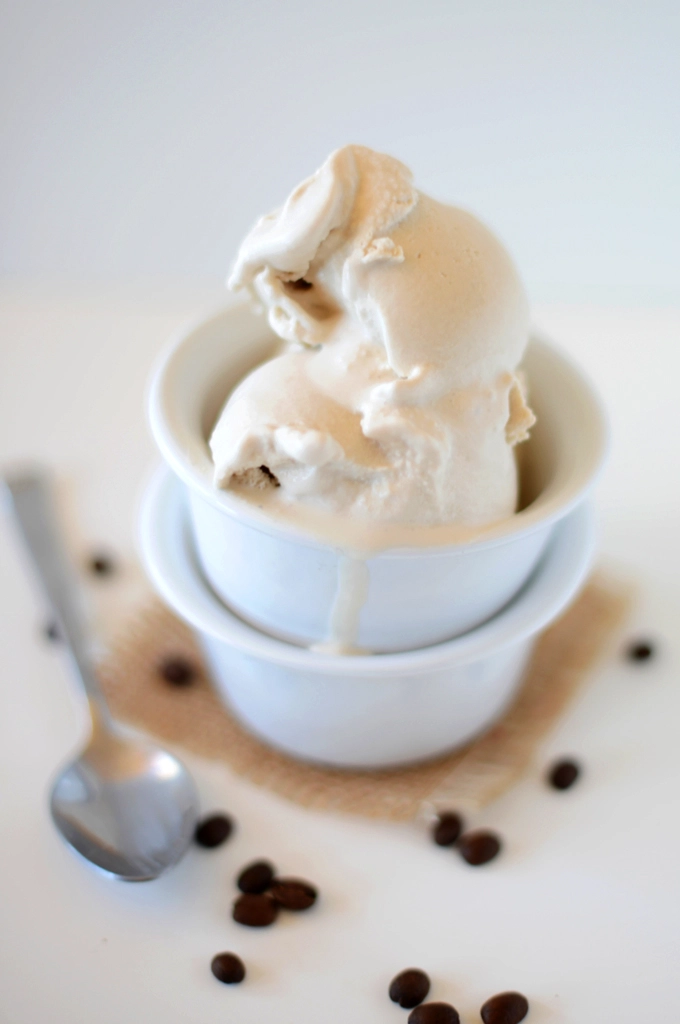 Why We Love It: I don't know about you, but coffee is one of my favorite ice cream flavors. This recipe combines it with coconut milk, vanilla, and sugar to make a delicious treat that incorporates that unbeatable coffee flavor.
Hero Ingredient: Strong coffee is key.
Why We Love It: It wouldn't be a complete list of healthy ice cream recipes without mint chocolate chip. A classic combo, this recipe lightens things up with almond milk, coconut milk, maple syrup, and cashew butter. And, it's completely vegan, so those following a vegan diet can enjoy it, too. Make your minty dreams a reality.
Hero Ingredient: Chocolate shavings top things off in style. And they literally melt in your mouth.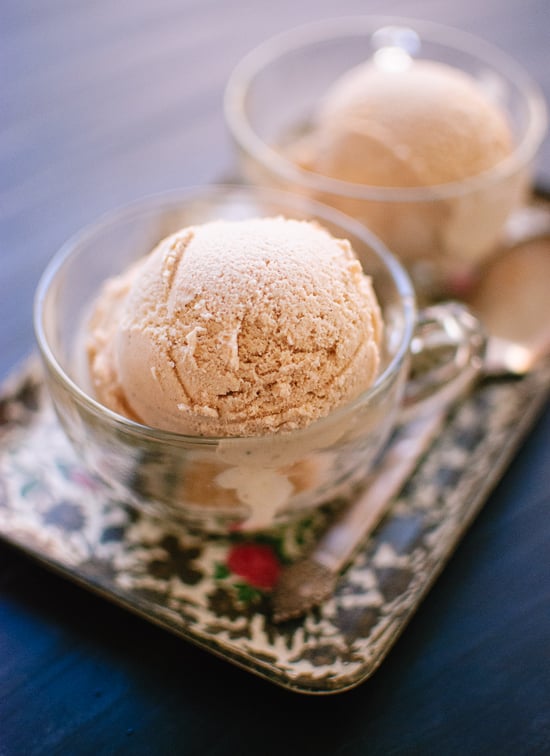 Why We Love It: Get your tea brewing, because this recipe has all the warm chai notes that are great year-round. Honey is the only sweetener here, so you don't have to worry about added sugars, and coconut milk is the creamy agent that makes this so yummy.
Hero Ingredient: The spice mix is next level. Ginger, cinnamon, cardamom, cloves, and allspice. Yum, just yum.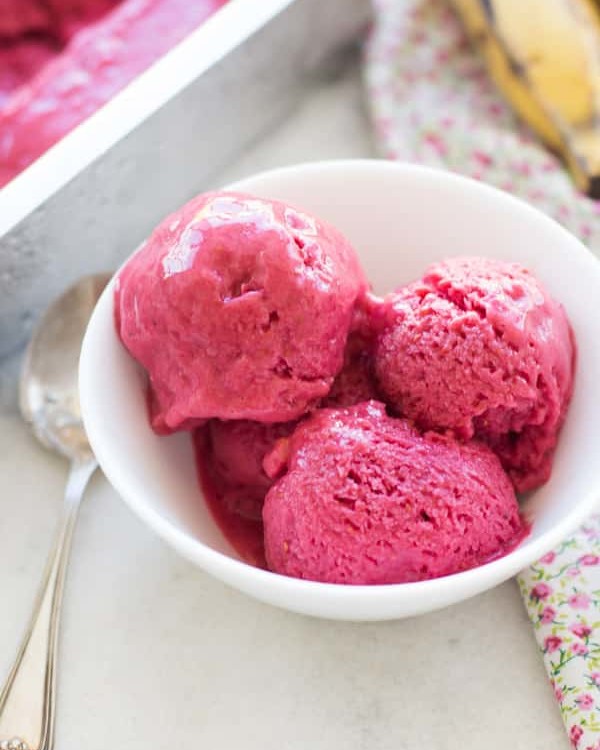 Why We Love It: Greek yogurt, raspberries, honey, almond milk (or a sub of your choice), and bananas are probably all things you have on hand, which is what makes this healthy ice cream recipe so great. If you're in need of a cool, tart treat, this recipe is definitely for you.
Hero Ingredient: I've always liked the idea of using honey to sweeten things up. You get a nice floral flavor that sugar just can't provide.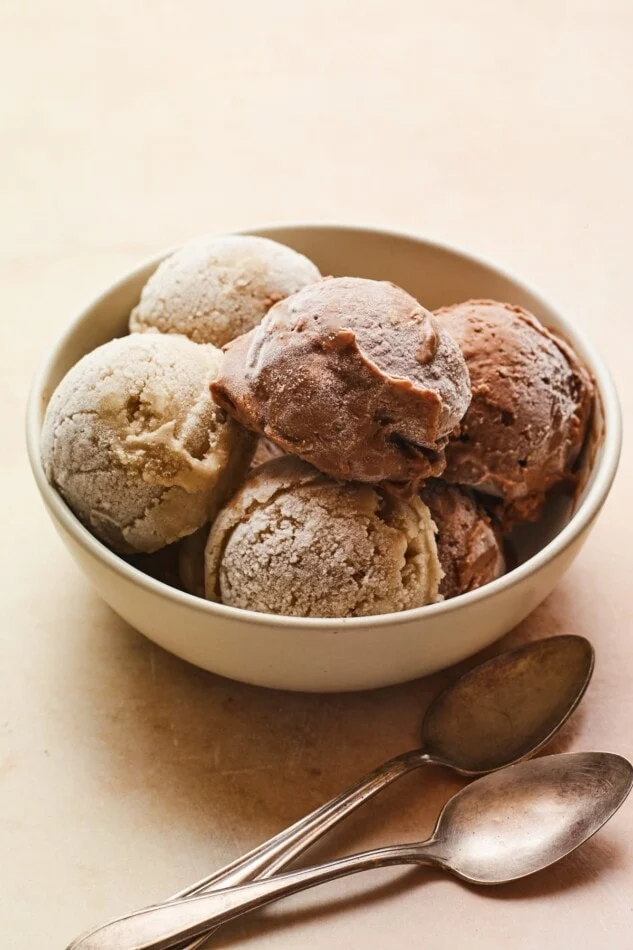 Why We Love It: If you're anything like me, you know it can be a daily challenge to meet your recommended protein intake. What better way to incorporate a bit of extra protein than in your mid-day snack or dessert?
Hero Ingredient: Throw in any chocolate protein powder of your choice.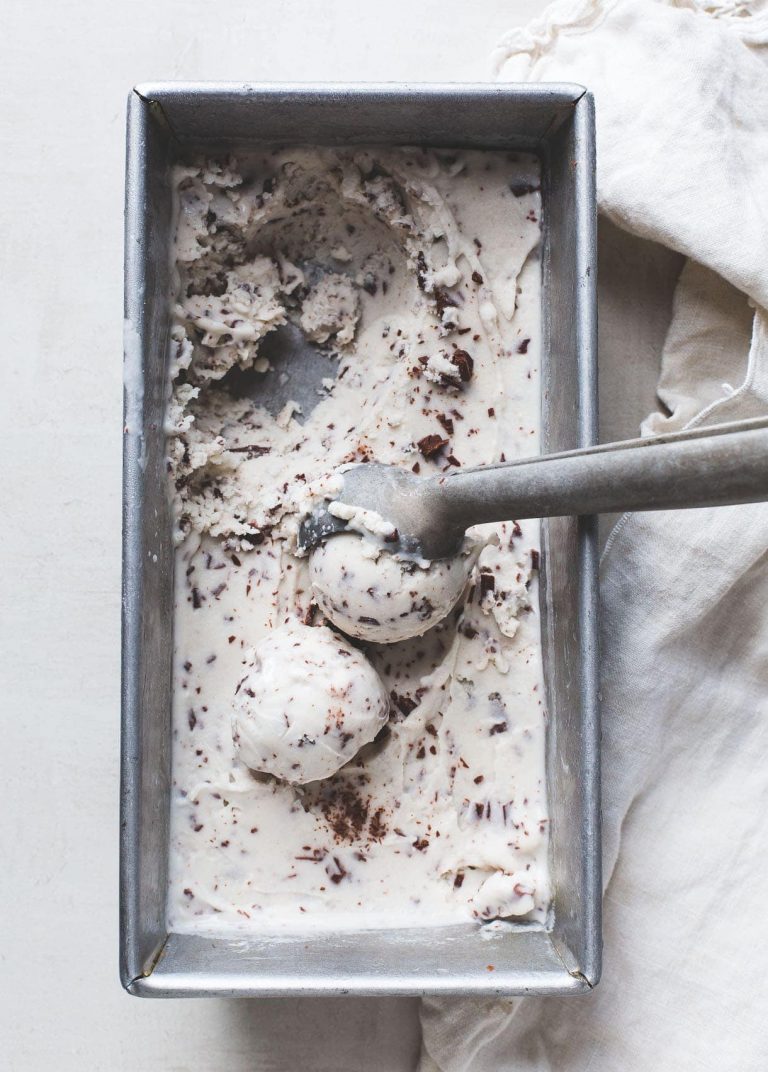 Why We Love It: Coconut is quickly becoming a flavor I strive to incorporate in all of my desserts. This recipe only takes eight ingredients and is naturally sweetened. Bonus points for also being vegan!
Hero Ingredient: Crunchy chocolate chips are never a bad idea.
Why We Love It: Ice cream and cheesecake— two of my all-time favorite sugar-filled desserts. This ice cream is the best alternative I've found to the sugar crash that comes with normal cheesecake, made from fat-free cottage cheese and unsweetened almond milk.
Hero Ingredient: This recipe wouldn't be the same without fresh (and frozen) strawberries!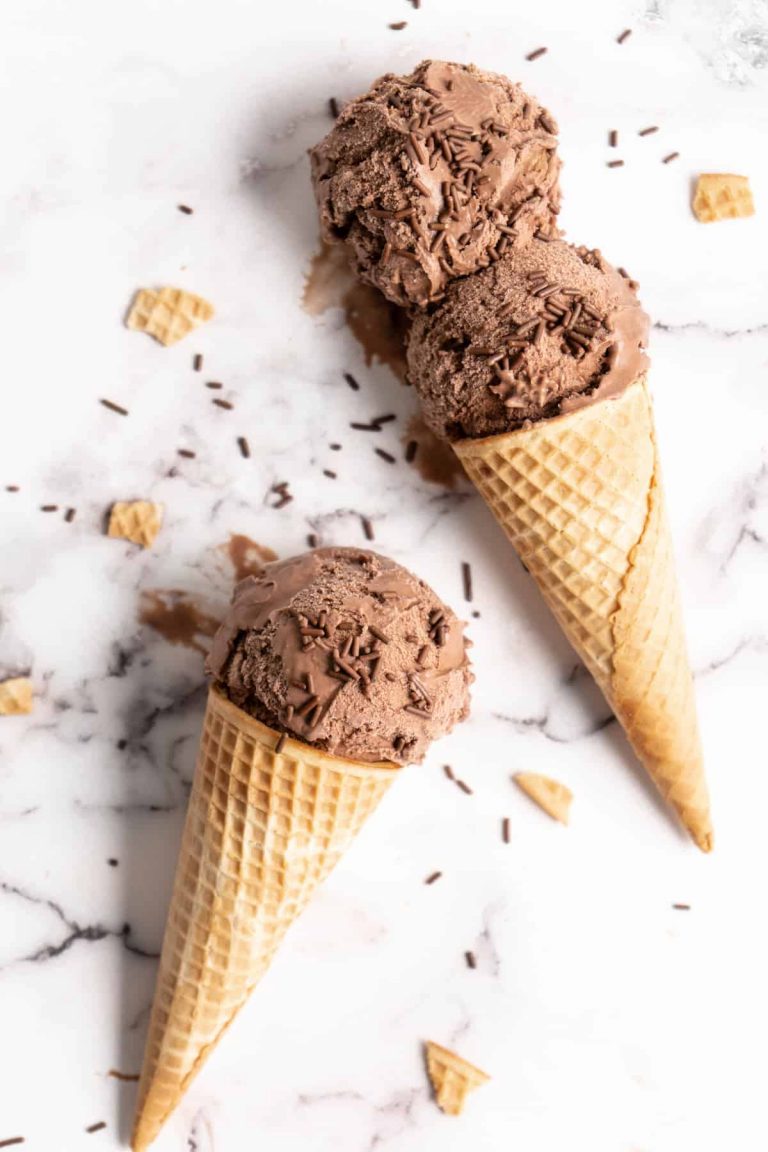 Why We Love It: You may be skeptical about throwing avocado into something as sacred as ice cream, but trust me, it won't disappoint. Avocado is a rich and flavorful alternative that keeps this recipe dairy-free. As a result, this ice cream is full of healthy fats and no refined sugar.
Hero Ingredient: Avocado takes the cake as the top ingredient in this recipe.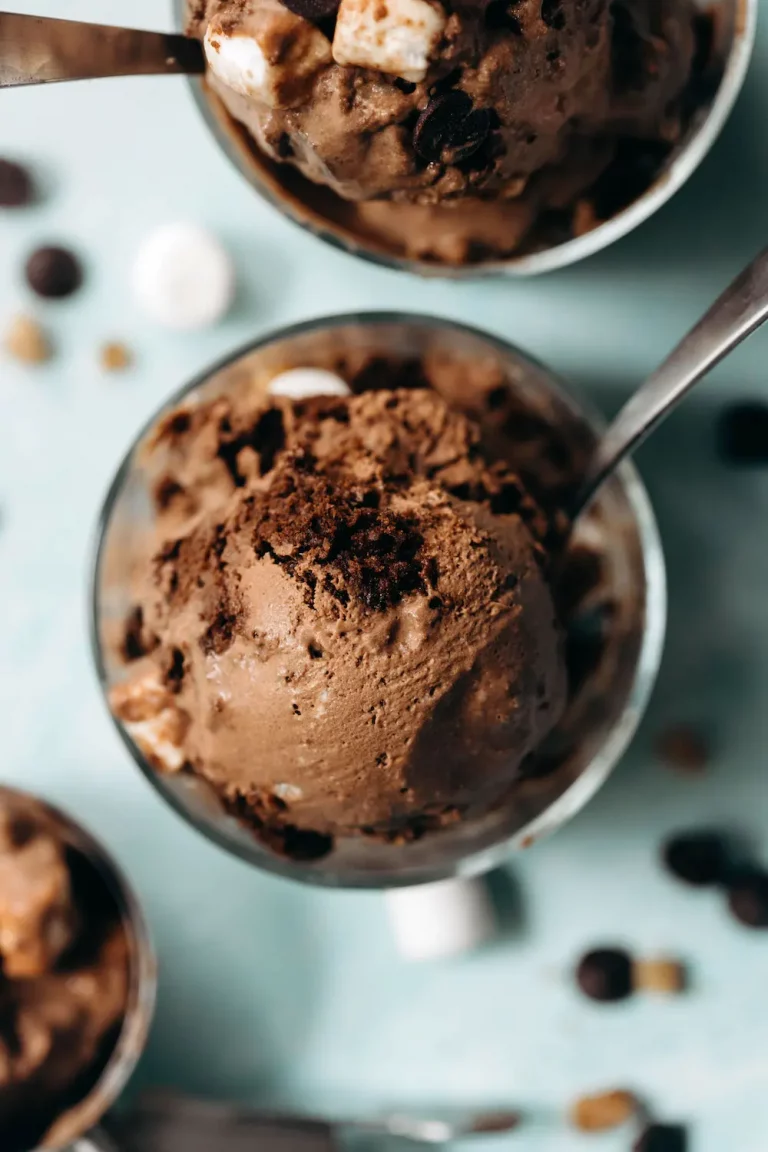 Why We Love It: I will always be a rocky road girl at heart, but sometimes loads of unhealthy ingredients that make this ice cream so delicious steer me away. Luckily, this recipe takes the same nostalgia-inducing flavors and creates a lighter and healthier alternative.
Hero Ingredient: Coconut cream is the key to your ultra-creamy base.
This post was originally published on May 14, 2021, and has since been updated.