Eggnog is an interesting food item. When you ask if someone likes eggnog, the question generally results in one of two extreme reactions: one of love and the other of loathing. We didn't grow up drinking eggnog in my household. Looking back, my only experience with it was seeing punchbowls filled to the brim in Christmas movies and someone always adding a splash or two of bourbon. And because the idea of making an egg-based drink myself gives me a bit of a pause, I always resort to the trusty store-bought carton.
So of course, this felt like the perfect opportunity for this year's holiday Taste-Off. That's right—we're finding out once and for all which store-bought brand makes the best eggnog. And if you're not an eggnog enthusiast yourself, don't worry—there are plenty other uses for its creamy goodness. In fact, I got so inspired that I used the winner as a replacement for milk in our Thanksgiving pumpkin pie. (Rumor has it that it was the best pie I had made in years.)
Featured image by Michelle Nash.
Taste-Off: The Best Eggnog Brand
In our search for the best eggnog, we tried it all. Versions that leaned thick and creamy, dairy-free almond and oat nogs, and of course, the classics. And when it came to the end of our tasting, one brand emerged as the clear winner.
So keep reading on for the best store-bought eggnog we could find at the grocery store—plus the one we'll be keeping in the fridge for the holidays!
Ranking Guidelines
A little internet sleuthing about the history of eggnog told me a few things. To start, people who say they don't like eggnog generally haven't tried the real thing. Interestingly too, I discovered that store-bought eggnogs are sometimes referred to as milk nog because of how little egg yolk can actually be included. With that in mind, we were searching for the best possible option to replace the homemade kind.
Flavor. If you don't like eggnog because you think it tastes like eggs, you probably haven't had a great recipe. When I think of eggnog, my immediate description is that it's like drinking melted ice cream. It's sweet, with a subtle spice flavor that feels like infusing the milk with the spices instead of being overwhelmingly spice-forward. We were looking for a sweet but not too sweet eggnog that had a complementary spice flavor. This would be balanced out by the sharpness of adding bourbon. (None of the store-bought eggnogs had alcohol in the ingredient list.)
Texture. The texture should be thick, creamy, and lean custard-like. Some people say that as you drink it, it should coat your throat. (Appetizing, right?) Regardless, the texture we were looking for from store-bought versions was thick, not watery, and extra creamy.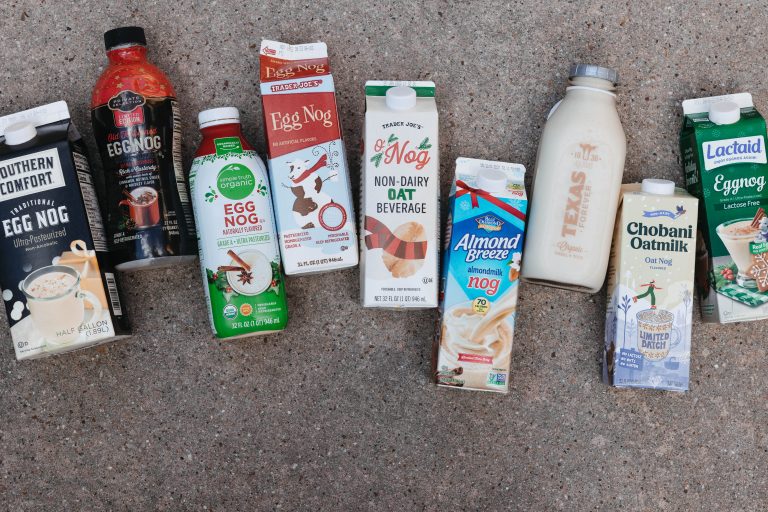 The Not-So Greats
It felt slightly impossible to rank all of the eggnogs we purchased in numerical order. There were some that we just really didn't like and couldn't rank them against each other in a way that felt objective.
Here's who fell to the bottom of our rankings (in no particular order):
Trader Joe's Regular Eggnog and Oat Nog
While we consider ourselves Trader Joe's stans, the two nogs had a watery texture. The oat nog version lacked any discernible flavor and the regular version tasted almost artificial with vanilla.
HEB Select Ingredients Eggnog
This eggnog, while extremely thick in texture, was "like air freshener in the mouth," though some said it would be easily remedied with a healthy splash of bourbon.
Kroger Brand Rich and Creamy Eggnog
The Kroger eggnog was branded by our tasters as "cinnamon milk." Enough said.
Private Selection Eggnog
This one was too thick in texture and had an artificial whiskey flavor.
Chobani Oatmilk Oat Nog
The Chobani Oat Nog tasted a lot like spices without having any spices in the ingredient list. Overall, these were the passes of our tasting.
The Middle-Ground
When it came to eggnogs that were branded as "drinkable" but not fan favorites, Lactaid Eggnog and Almond Breeze Nog came in the middle. They weren't extremely thick in texture, and the flavors fell flatter than the winners. But if these were the only option at the store, we wouldn't necessarily pass them up.
The Best of the Best Store-Bought Eggnogs
3. Simple Truth Eggnog. We were surprised by this sleeper hit. The private label Simple Truth Eggnog was my dad's favorite. It was more nutmeg-heavy in the spice flavor, while also being very thick in texture. Some tasters thought this one had a slightly artificial aftertaste, but not enough to demote it. Overall, a good option.
2. 1836 Farms Texas Forever Eggnog. A more regional and seasonal flavor from 1836 Farms, this was my personal favorite eggnog. The texture was nicely thick without being overwhelming. It didn't taste artificial in any way and felt like one of the most drinkable options in the group. We'll have this one on hand for the season.
1. Southern Comfort Traditional Eggnog. And the winner for our favorite store-bought eggnog comes from Southern Comfort. This eggnog had a clear spice flavor that was warming and delicious and a thick and creamy texture that merited the melted ice cream comparison. If you're not going to make eggnog from scratch, this is a great option to have on hand.
Did we try your go-to eggnog brand? Do you have a recipe of your own you swear by? Share with us below!