Is it just me, or is the world of plant-based milks incredibly confusing? We know the basics, like what they're made of (for the most part) and which we like in our morning coffee. But do we really know the nitty gritty of non-dairy milks? I know I didn't, which is why I felt it was high time to find the best non-dairy milk for all your household uses. Consider this your guide to finding the best non-dairy milk for you.
Let me start by saying that I truly do love dairy milk (gasp, I know). I've never been one to shy away from a good old glass of two percent and I'm not ashamed to say it. But with that glorious glass often comes some not-so-friendly gut issues (as I'm sure many of you are no stranger to). I'll spare you the details, so let it suffice to say that I've enjoyed watching non-dairy products rise to fame. Where we used to be limited, we now have so many options for yogurts, cheeses, milks, butters, condiments, etc.
But with so many options, it can be difficult to decide. To spare you the headache (and stomach ache), I took a deep dive to help locate the best non-dairy milk for you.
Featured image by Michelle Nash.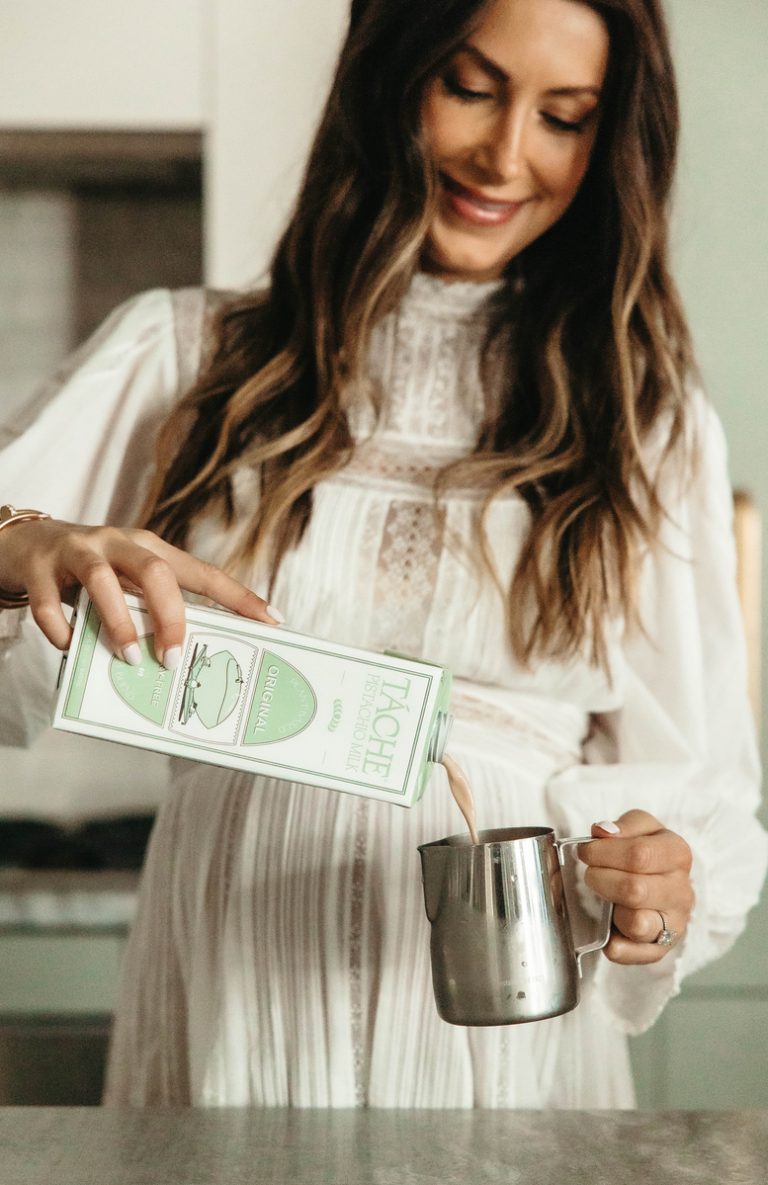 Found: The Best Non-Dairy Milk
Aside from dairy milk, I'm a devout oat milk drinker. I drink it every single day in my coffee and occasional smoothie and I. Am. Hooked. I love the taste, creaminess, and overall feel of oat milk. You can't beat the Midas touch it brings to everything it's added to, IMHO. That said though, I've never stopped to consider exactly what I'm putting into my body until now. Is oat milk really the best non-dairy milk? Are there others with better benefits? What should I look for when buying non-dairy milk? The questions go on.
To help you meet your match made in dairy-free heaven, I broke it down into a digestible format that you can use to bring the best non-dairy milk into your life. Here's what we're taking into account:
Taste
Ingredients
Nutrition specs
Cook-ability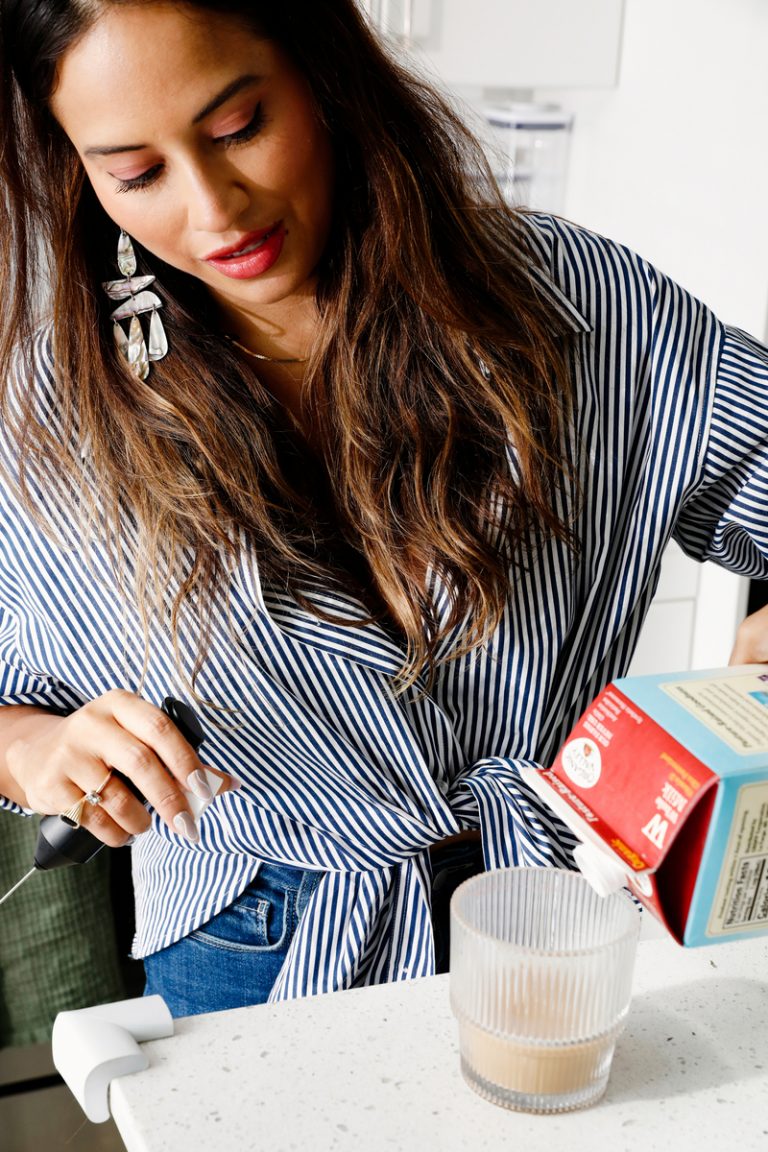 What to Look For in a Non-Dairy Milk
Added Sugar
Like it or not, the processed food industry is overrun by added sugars. They're in way more things than we'd like them to be. (As in, almost everything.) And while more options are finally becoming available, it's still important to stay diligent when you're shopping. This is especially important when you're finding your best non-dairy milk. Steer clear of sweetened or flavored varieties and be sure to glance over the ingredients list before adding one to your cart. Some sugars are naturally-occurring during the process of going from *insert milkable food here* to milk, but many brands will still sneak in added sugars. Stay vigilant, friends.
Protein
Unlike cow's milk, plant-based milks don't typically contain a lot of protein. Soy milk contains the most protein of plant-based milks, while almond, oat, and hemp milk contain anywhere between one and four grams per cup. The protein content of dairy-free milks is important to note—especially if you're accustomed to receiving protein from cow's milk. If you like to use non-dairy milk in your post-workout smoothie for example, be mindful of the protein gap. Since you won't get that extra protein from the milk, you could consider adding protein from other sources like protein powder or nut butter.
Main Ingredient
When you're figuring out the best non-dairy milk for you, it's a good idea to play the field. While you might enjoy the protein boost inherent in soy milk, you may not love the consistency as much as, say, an oat or pistachio milk. Experiment with plant-based milks as much as you can before setting your mind on one particular kind. And be aware that one particular kind might not be enough for you and all the amazing things you've got going on. Just know that the non-dairy milk world is your oyster—seriously, it's huge!
Consistency
Again, consistency, consistency, consistency. Not every plant-based milk will work in your dairy-free brownies (sigh), so it's important to be mindful of what you're buying for what use. You may prefer a thinner milk to add to your granola or cereal, but a milk with more froth-ability to pour over your matcha. At the end of the day, it comes down to catering to your preferences so you can milk the most enjoyment (had to) out of your own best non-dairy milk.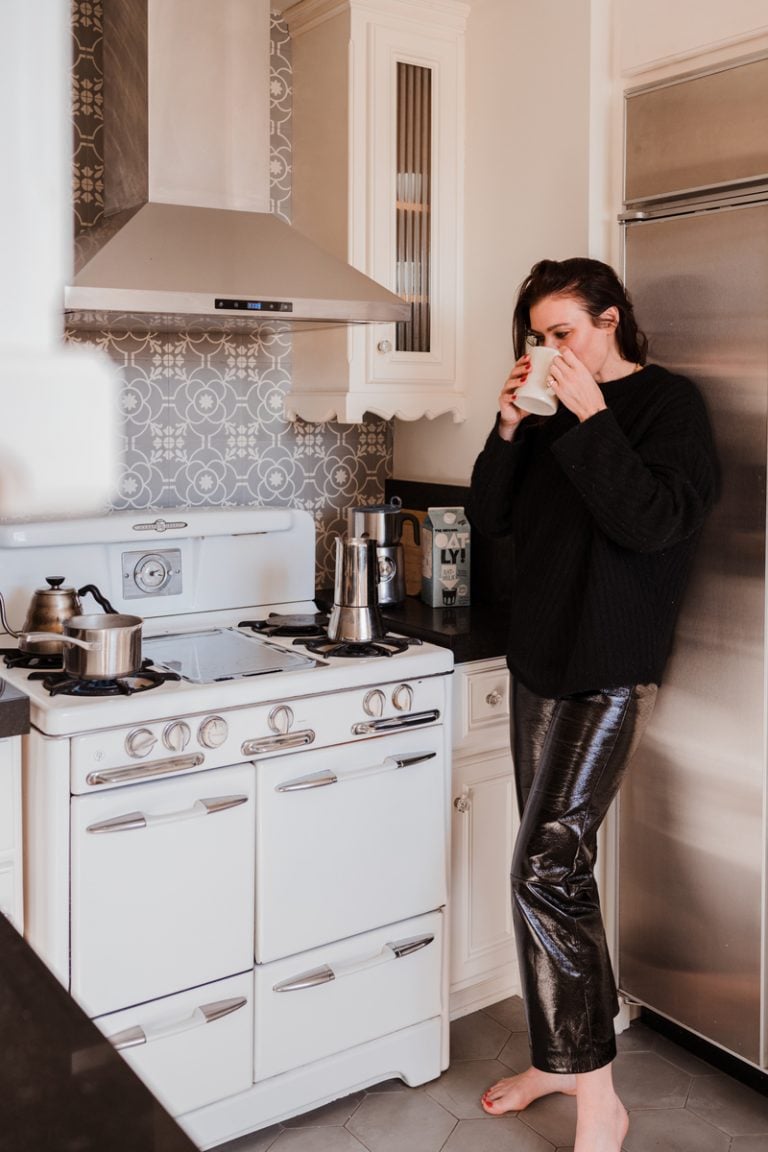 It's tricky to select just one plant-based milk as the be-all and end-all. We know they come in lots of different forms that highlight different strengths and weaknesses, so it's hard to select one above the others. That said, this pick for the best overall non-dairy milk goes to a fan-favorite oat milk.
Oat milk is probably the most dairy-similar alternative milk—with a neutral flavor, creaminess, and vitamin profile that are pretty unbeatable. And although oat milks may contain additives like emulsifiers, stabilizers, or gums to give it that creamy texture, it's a great foundation for those starting their alternative milk journey to build upon. It's also really good for the environment! Check out its carbon footprint here.
When you hear the words "alternative milk," does your mind go straight to almond milk? Because same. Probably because it's long been the most popular plant-based milk around. Almond milk is the most-sold alt milk in the United States, accounting for more than half of the total plant-based milk sales in the U.S.. It's no secret why. Similarly to oat milk, almond milk is a pretty neutral plant-based milk that plays well with its surroundings. It has a slightly nutty flavor profile, rich and creamy texture, and is totally equipped to fluff up baked goods and your morning latte alike.
Those of us who live in Austin are obsessed with creamy and pure Fronks Nut Milk (you can also get it in other parts of Texas via Farmhouse Delivery), but if you're out of Fronks range, there's another solid grocery store alternatives.
Elmhurst Unsweetened Almond Milk
You can't get simpler than Elmhurst's Unsweetened Almond Milk. It contains a whopping two ingredients (almonds and water), so you know exactly what you're consuming. With a great taste and texture, Elmhurst wins the prize here with the added bonus that its production process is zero waste.
---
For some, coconut milk can be a little off-putting due to the strong coconut taste that many varieties boast. However, it's full of nutritional value, with a low-calorie count and high calcium content. It's also frothable, blendable, and so deliciously creamy. Since it's not super coconutty in taste, it's super easy to incorporate into your cooking and baking. Or, you can enjoy it plainly by the glass. It's that good.
Califia Farms Go Coconuts Coconut Milk
To combat an overly coconut-forward taste, Califia Farm's Coconut Milk is actually a blend of coconut milk and coconut water—giving it a light texture that's comparable to skim milk. It's complementary to whatever you're adding it to and gives it a refreshing flavor that's smooth and simple.
---
Oat milk is loaded with good-for-you whole grains and maintains a natural creaminess thanks to the oats themselves. The taste is subtle, which means it mixes well with almost anything. With only three ingredients, MALK's Organic Oat Milk proves just that. Its mild taste and commendable ingredients list earn it the award for best oat milk. It doesn't separate like other brands may due to sneaky additives, froths well both cold and hot, and has a plain taste that is delicious on its own or mixed with baked goods, coffee, or tea.
Compared to other non-dairy milks, soy milk typically contains the most protein of the bunch. Because soy itself naturally contains protein, it transfers into the milk without any extra bells and whistles. In Silk's Unsweetened Organic Soy Milk, you're getting eight grams of protein per cup, which is more than impressive. The taste is subtle, though the consistency is thinner than some of the others in this list. Be careful about using soy milk when baking, as it could impact your final product, but use it freely in coffee, tea, smoothies, etc. for an added protein punch.
Silk Unsweetened Organic Soy Milk
Silk's Unsweetened Organic Soy Milk ticks all the boxes. It's high in protein, contains zero sugar, and even packs in nutrients like vitamin B12, calcium, and more. While the packaging leaves something to be desired, it's a testament to the timelessness of soy milk!
---
Rice milk is one of the most basic and low-key non-dairy milks out there. It's stood the test of time over and over again and continues to weave itself into many people's daily lives. With a super mild taste, it's a favorite among plant-based milk enthusiasts for good reason. Despite its name, rice milk usually doesn't boast an overly rice-y taste. In this variety, the brown rice actually lends the milk more of a wheat-forward flavor that's very neutral and blendable. With a solid vitamin D and calcium content, rice milk is a good alternative to dairy milk for those looking for something that closely resembles skim milk.
Flax milk is an underrated non-dairy milk, if you ask me. It's smooth, creamy, neutral, and blends perfectly with whatever you're adding it to. It's also a great source of vitamins like vitamins D2 and B12. In terms of taste, flax milk has just the right amount of seedy flavor without overdoing it, which means you don't have to worry about it taking over. It's beautifully mild and naturally flavorful, to put it plainly. While it may not be as thick as an oat or almond milk, it has a great consistency that works well in baked goods, beverages, or on its own.
Hemp milk wins the prize for excellent nutritional value. With three grams of protein per cup, plus extra omega-3 and omega-6 fatty acids (something hemp seeds are known for), you're getting a lot of bang for your buck. It's also low on the calorie and carb count. With a neutral taste, it blends well with anything you're using it in. If you like the taste of hemp seeds, you'll love hemp milk! Because, well, it's made of them.