Friday night spaghetti was basically a tradition growing up in our house. Weeknight dinners were a rotation of my mom's daals and sabzi's which meant my dad was in charge of the Friday night pasta. My brother and I were on the swim team for years, so my dad went all in on the carb-loading ahead of our swim meet on Saturday mornings—which typically meant all the pasta (it was like we were eating for the Olympics.)
While I've learned to elevate the basic spaghetti recipe over the years (let's not relive the days when we'd rinse our pasta in a strainer and forget to salt the pasta water—yikes!), there's one thing I've always struggled with: adding a little more heft to my spaghetti plates. As a vegetarian, I've been happy to see the options for meatless Monday and meat alternatives grow substantially the last few years, but a lot of these brands still have ingredients I can't pronounce, so I often make my own instead. After experimenting with a few options, I finally landed on a vegan meatball recipe that is perfect for any spaghetti night.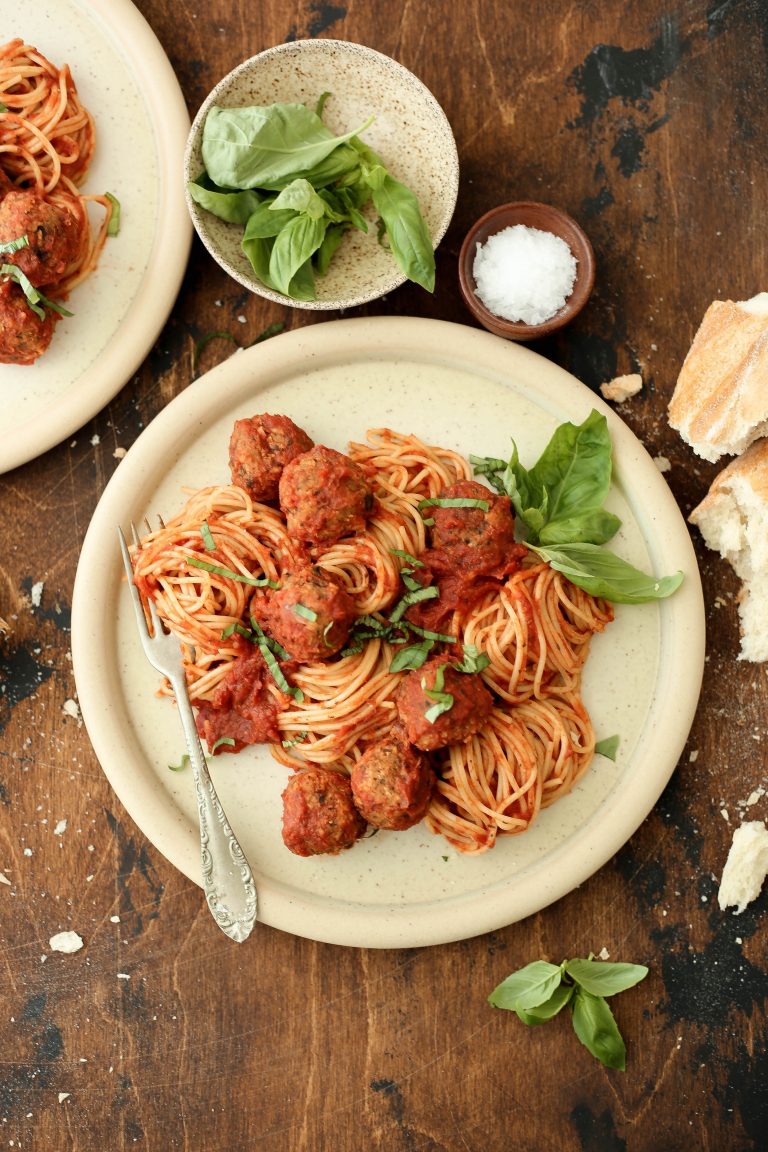 There are lots of great vegetarian options for meatballs on the internet, each using a variety of ingredients for the base. The ones that have great texture use grains like bulgur or oats, but I don't love the idea of adding grains on top of grains. Some use eggs for binding, others use breadcrumbs. Some use an ingredient list so long I can't even bring myself to try them. So, I tried to combine best parts of all the recipes I looked up to create this delicious vegan meatball offering.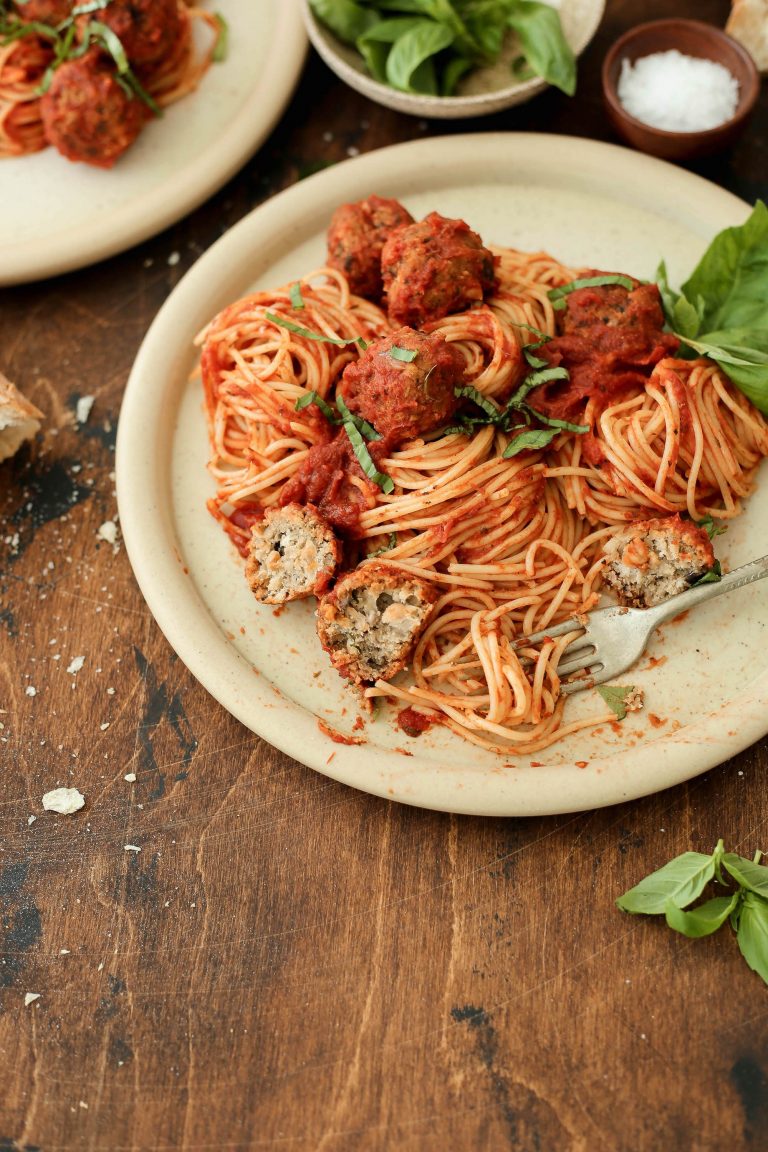 The base of these meatballs is shiitake mushrooms and Cannellini beans. I'm a huge fan of mushrooms in all their varieties because they have a great meaty texture and delicious umami flavor that really adds to these meatballs. The Cannellini beans add a hefty dose of protein but their creamy texture also helps to bind everything together. The spices and flavorings are actually totally up to you. I kept it super basic with just a handful of ingredients, but you can totally add more or less depending on your flavor preferences. It would be delicious to blend in some fresh parsley or extra basil, and some extra spices as well. The best part is they're completely vegan, packed with protein and fiber, and really yummy.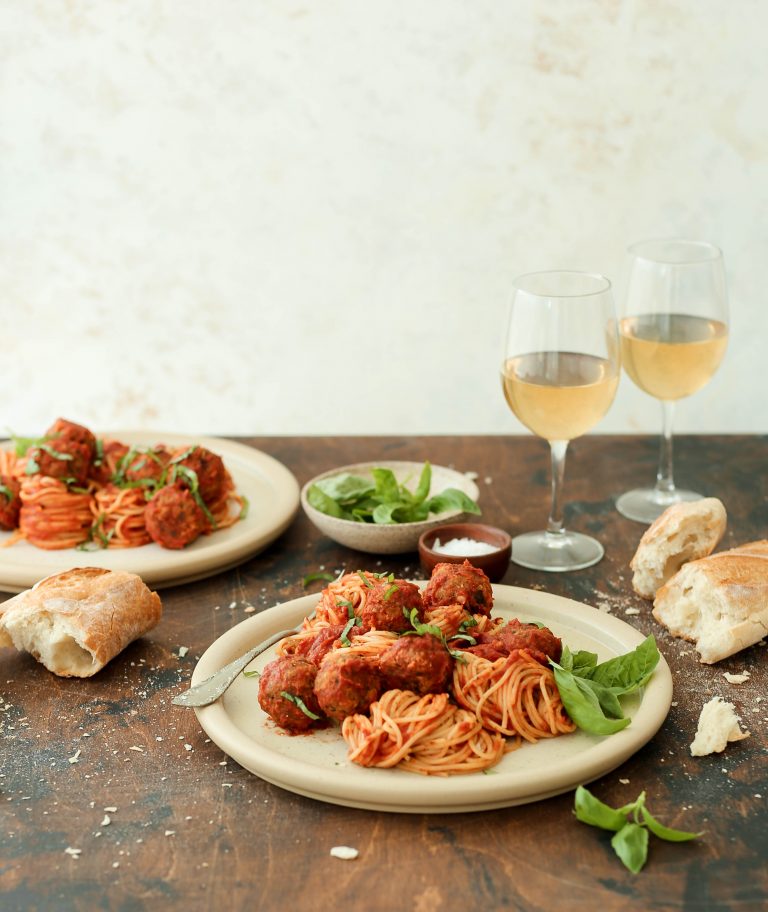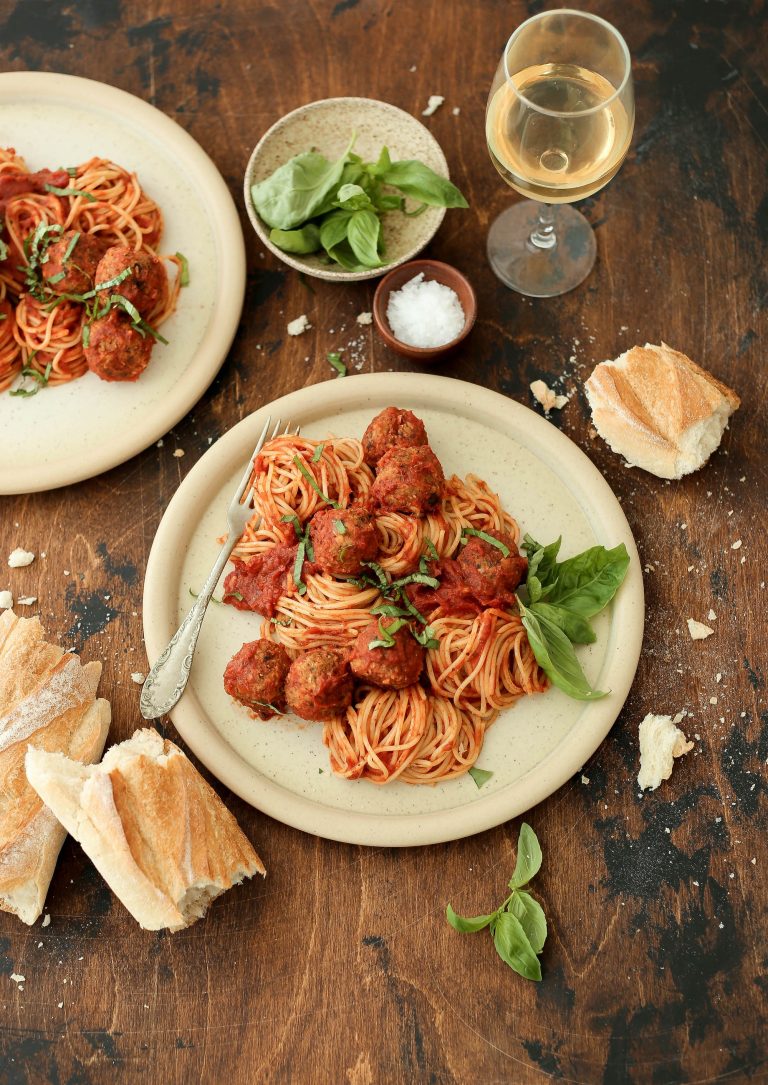 And because I knew someone would ask, I tried cooking these two different ways: I made a batch on the stove and a batch in the oven. While the stove top batch was still good, the oven batch won out on texture and hands off time.
The best part? You can make these ahead of time. Bake these as a part of your Sunday meal prep and store in an airtight container in the fridge until ready to use. I made mine the night before and cooked them for dinner the following night and they were perfect. Y'all know I love a simple recipe that is big on flavor and light on instructions. Cheers to your next pasta night!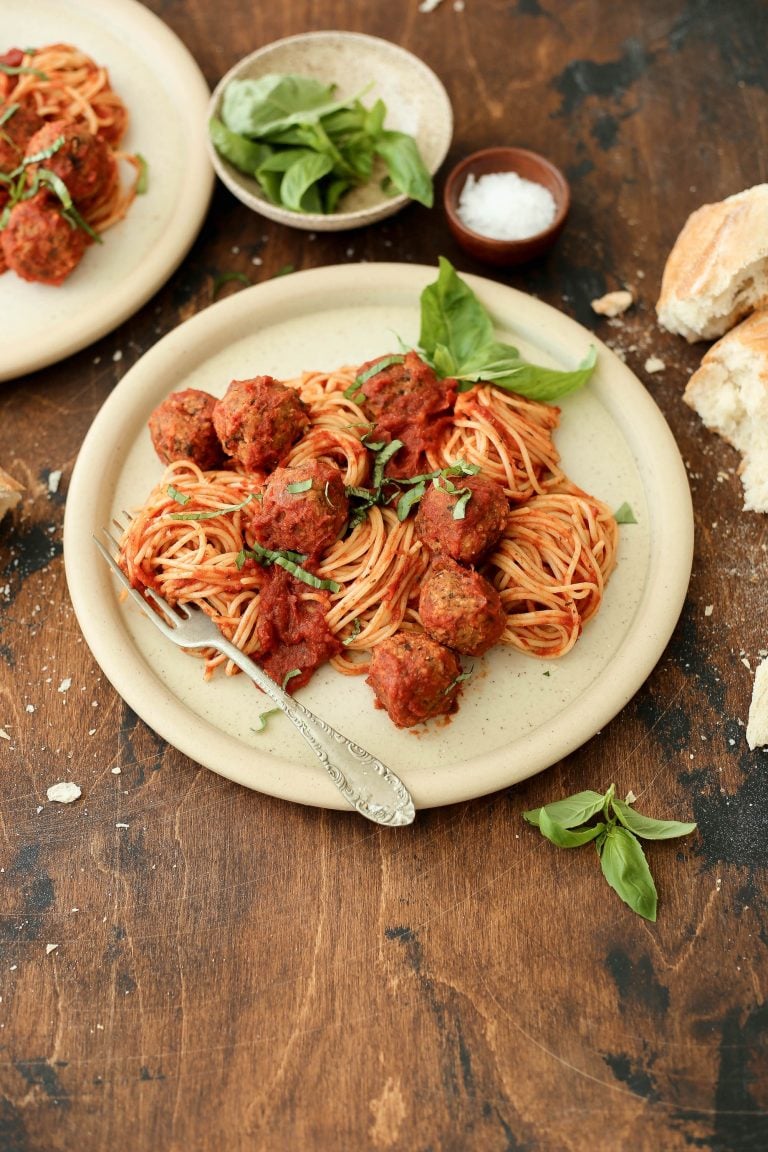 ---
Ingredients
2 tbsp olive oil
1 small yellow onion or 1 large shallot, chopped
1/2 tsp salt
1 large clove of garlic
8 oz shiitake mushrooms, stemmed, cleaned, and chopped
1 1/2 tbsp soy sauce
1/2 tsp black pepper
pinch of red pepper flakes
3/4 tsp dried thyme
1/2 tsp dried oregano
1 can cannelini beans, drained and rinsed
handful of basil leaves
scant 1/3 cup of panko breadcrumbs + 1/4 cup panko breadcrumbs
olive oil for drizzling
---
Instructions
In a stove top pan, add olive oil and bring up to a medium heat.
Add the chopped onion and salt to the pan and cook until the onion is translucent, a few minutes.
Add the garlic, chopped mushrooms, soy sauce, black pepper, red pepper flakes, thyme, and oregano to the pan. Stir and cook for a few minutes, letting the mushrooms caramelize slightly.
Add the cannelini beans to the mushrooms and stir, cook for about a minute then remove from heat. Add the chopped basil, then let the mixture cool slightly.
Add a little more than 2/3 of the mushrooms to a food processor with 1/3 cup of panko bread crumbs. Pulse until combined but NOT until smooth. You want to keep some of the texture. Combine the pulsed mushroom and beans to a bowl with the remaining 1/3 of the mushrooms and 1/4 cup of breadcrumbs. Stir to combine.
Preheat oven to 375 degrees F and line a baking sheet with parchment paper.
Using a 2 tbsp cookie, scoop out the mushroom mixture and roll into balls. Place on baking sheet, you should get about 16 meatballs.
Drizzle with a little olive oil and then place in oven. Bake for 20 minutes, then flip over the meatballs, and bake for another 15 minutes.
Remove from oven and toss in marinara sauce of choice or store in an airtight container in the fridge once cooled and serve with pasta when ready. Enjoy!