There is nothing more transformative than taste and scent. And when the two are combined, you get a powerful recipe. Whenever I make my mom's spinach pie recipe, I love to savor the sentiment it inspires from childhoods gone by and the pie just tastes better. We all treasure those tattered, dog-eared, ingredient-smeared cookbooks passed down through generations that now have pages glued together from all the times you've cooked or baked with them since. It's so special. And while nostalgia is all well and good, there's also nothing better than styling your coffee table with a few beautiful cookbooks.
For that reason, we've rounded up the most beautiful cookbooks on the internet. These are all bound to share your others' well-loved fate, but we imagine you'll be a bit more considerate of their stunning pages. All the beautiful cookbooks below deserve a place on your coffee table or bookshelf for a design-forward display. (But if you really want to honor their purpose, you'll allow an oily fingerprint or two)
Read on to see which 23 beautiful cookbooks we'd almost consider photocopying the recipes to preserve their pretty pages.
Featured image by Michelle Nash.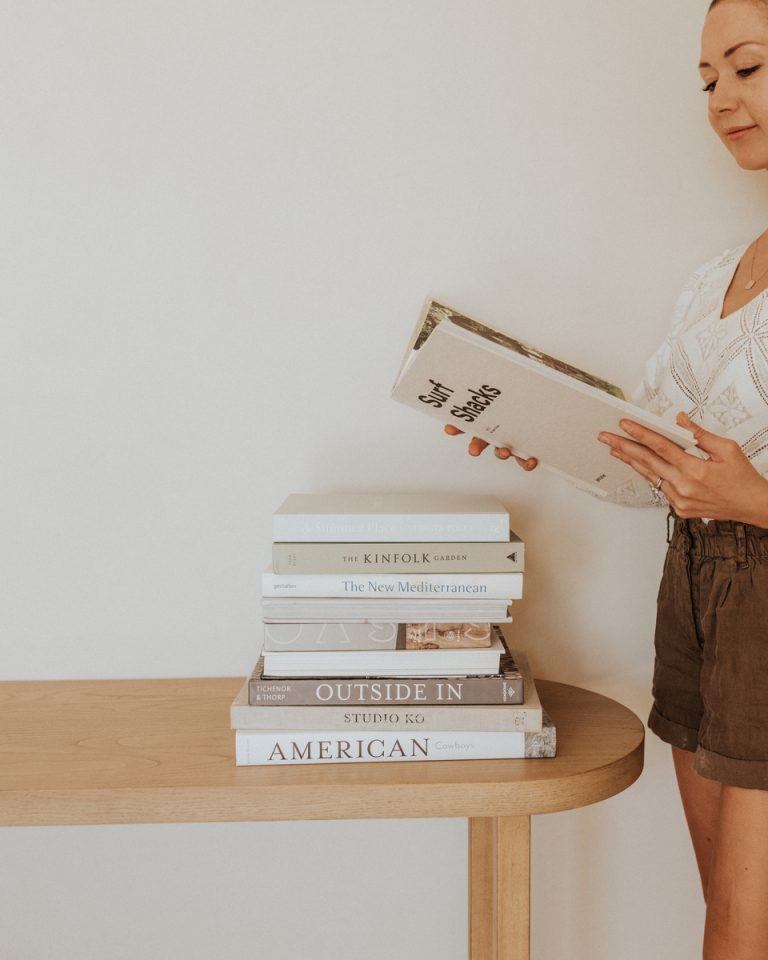 Image by Michelle Nash
23 Beautiful Cookbooks To Grow Your Collection
You know it's going to be a good cookbook when you're sold on the title and cover alone. But take a peek inside this stunning collection of recipes, and you'll discover so much more. Each of the book's recipes is inspired by The Arniano Painting School, a private home in Tuscany offering painting classes, and of course, gorgeous meals. This is the kind of cookbook you'll paging through for hours.
Keep scrolling through this list, and you'll see that we have a thing for past contestants on The Great British Bake Off. Among the few that have emerged from the beloved television show is Michelle Evans-Fecci's ode to baking with the seasons. Not only does it celebrate the shifting seasons and how our baking habits change alongside them, but she also shares tips and tricks for growing your own produce. Talk about self-sustaining.
If you've ever thought that French cakes are too complex to be baked in a home kitchen, pick up this cookbook immediately. Author Aleksandra Crapanzano takes you behind the scenes of how Parisians bake in their own homes, sharing not only recipes but also secrets to making the simplest cakes something to savor.
Speaking of my favorite contestants on The Great British Bake-Off… Flora Shedden isn't only the master of bringing together beautiful flavors, but she also has an eye for simple and show-stopping displays. Her recipes define rustic elegance and make every moment in the kitchen and at the table something to celebrate. From quick but special weeknight dishes (Ginger Noodles with Chili Oil, anyone?) to romantic dinners for two—and, of course, don't forget dessert—Supper has it all.
When both Nigel Slater and Nigella give a cookbook rave reviews, you know it's one you'll need to pick up. This book gets to the heart of why we eat what we eat. Do we crave a certain experience, a certain taste, a certain mouthfeel? Author Ed Smith helps readers get to the heart of what they crave by offering recipes—organized by different flavor and texture profiles—that fulfill all of our culinary desires.
If you follow Eden on Instagram then you've also fallen in love with her fun, fancy-free, everyday approach to cooking. Well, you'll be pleased to know that her high energy and deliciously simple style has made its way into this beautiful cookbook, too. Eat out loud? Yes, please.
As a world-renowned make-up expert, Wendy Rowe knows a thing or two about beauty from the inside out. In this beautiful cookbook, Rowe shares over 70 recipes that teach us how to keep our skin healthy and let our inner and outer beauty shine.
This book had me at the red cherry and pink cover. (Who doesn't love the red/pink combo?) You'll love the 100+ recipes inside too from the coolest, most creative women around. And this book has it all—apps, entrees, desserts—it's the bomber, literally.
Since we can't travel right now, why not bring the experience into your kitchen. This beautiful cookbook takes us right into the heart of chef Letitia Clark's home on one of the most beautiful islands in the Mediterranean Sea—Sardinia. This book is all about slowing down to enjoy and nourish yourself with food, friends, and family. Count me in!
It's a New York Times bestseller for a reason: Momofuku was a phenomenon that changed the modern-day culinary landscape. Not only do you get recipes in this book but you also get chef David Chang account of how he rose to stardom and what happened along the way.
It started out as a dinner series by the same name and quickly developed into a movement and now the cookbook. Sunday Suppers helps us all to rediscover the art of cooking and eating communally with a beautiful, simple collection of meals for friends and family.
Discover the art of Japanese cooking with over 400 sumptuous recipes by acclaimed food writer Nancy Singleton Hachisu organized by course.
If you're not familiar with Yotam Ottolenghi's style then this special two-book boxed set is a must-buy. His Middle Eastern-inspired, vegetable-centric cooking is world-renowned. But don't take our word for it, he's sold over five million copies so yeah, you need this in your foodie library.
It's not surprising that Athena Calderone's revered aesthetic in design would make its way into the kitchen. The master of more than one thing applied her elevated taste to this beautiful cookbook which earned her a James Beard award for photography. But, of course, there's so much more to Cook Beautiful than just good looks, the recipes are delicious and not overly complicated to make either.
It was named Best Cookbook for Spring 2019 by The New York Times and Bon Appetit, so yeah, this one's pretty special but also, we just have a major crush on Sarah Copeland. The beloved cookbook author and recipe developer has a knack for making weeknight cooking simple and delicious, not to mention her photography is gorgeous.
Camille tells me she's made "so many things" from this beautiful cookbook proving you can actually judge a book by its cover. There are 100 family-friendly recipes and unfussy meals in this book that show us how to bring more joy and mindfulness to the kitchen.
Every plant-based chef should own a copy of East, but it's also a great one for people who are looking for simple, delicious recipes for those meat-free days. You'll find 120 mouthwatering recipes from India to Indonesia, Singapore to Japan, by way of China, Thailand, and Vietnam.
There is so much history packed into recipes and it truly carries so many memories from eras gone by. Proving the power of this sentiment, Somali chef Hawa Hassan brought the women, and the stories behind the recipes together in this beautiful cookbook. Grandmothers from eight eastern African countries welcome you into their kitchens to share flavorful recipes and stories of family, love, and tradition in this transporting cookbook-meets-travelogue.
We've followed Mimi Thorisson's work and travels for years now—her beautiful imagery captures our hearts and imaginations. She hits pause on her idyllic French provincial style for this book to focus on Italy and the magical culinary treasures of Tuscany, Umbria, Naples, and more.
Get to know a whole new side of Indian flavor with this fresh, delicious, and quick approach to making the flavorful dishes at home. From the familiar to the modern, this beautiful cookbook will have you whipping up dals, curries, and pickles in no time.
This stunning tome will transport you to the bountiful islands of Indonesia (and we could all use that right about now!). Brimming with fragrant, colorful, and mouth-watering recipes, Coconut & Sambal is truly a special cookbook for yourself or to gift a friend.
Discover the cuisine straight from the kitchens of Palestinians who share their cooking secrets and their stories. With more than 80 modern recipes using eggplants, peppers, artichokes, and green beans you're guaranteed to have fun marrying all of the fresh flavors with the spices unique to the region.
Yes, we know she already has a book on this list, but we decided that this beautiful cookbook had to be included because we couldn't leave out French country cooking. Besides, Mimi's photography of her home and family in rural France is just as beautiful to flick through on a lazy Sunday on the couch as it is to cook from.
This post was originally published on December 13, 2020, and has since been updated.