Summer's arrival marks a special time for the culinary world. Summer fruits and veggies are coming up roses and it's time to use them to their fullest. We know all about the abundant benefits of eating seasonally, so it's time to incorporate all of our favorite produce into vegan lunch ideas for lunch on the go, at the desk, or al fresco. Consider this your guide to incorporating seasonal foods into your diet without dedicating an entire afternoon to making healthy meals a reality.
Lunchtime looks different for everyone, and for me, it looks different almost every day. It's such a joy when I can dedicate a few minutes in the afternoon to take an intentional lunch break. Actually sitting down, unplugging from a busy day, and savoring my midday fuel is just the brain break I need to feel refreshed and ready to tackle the afternoon.
But as much as I'd love to make that the standard, life usually finds a way to throw a wrench into my bliss. (Relatable? Thought so.) To preserve said bliss, I find that being intentional about my weekly meals allows space for that enjoyment on even my busiest days. And that's exactly where vegan lunch ideas come into play.
Featured Image by Michelle Nash.
In this article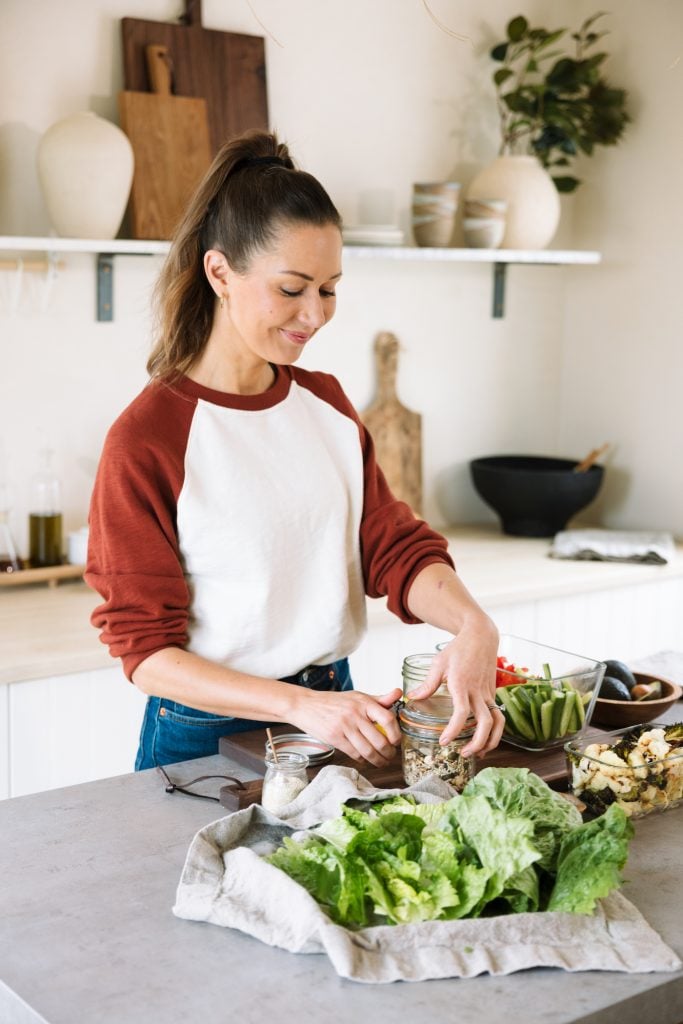 30 Vegan Lunch Ideas to Maximize Your Lunch Hour
In addition to busy weekdays, being too enthusiastic during my Sunday grocery run almost always leads to trouble at the end of the week. Those mushrooms and tomatoes I bought with every intention of making something healthy frequently fall victim to a pre-prepped meal from Whole Foods or Trader Joe's—which I can take from fridge to fork in under 10 minutes. But when it's all said and done, I can't stand the guilt of both money and food wasted as my produce drawer serves some up serious side eye. It's just devastating.
To combat that guilt-inducing waste and incorporate more fruits and veggies into my diet, I often turn to meals that are full of produce without sacrificing precious daylight hours in the making. If—like me—you find yourself struggling to maximize lunch hour, these vegan lunch ideas are your answer to healthy midday meals in a snap.
Need some go-to meal prep tips? Camille shares the meal prep secrets that help her get ready for the week ahead.
Vegan Salads and Bowls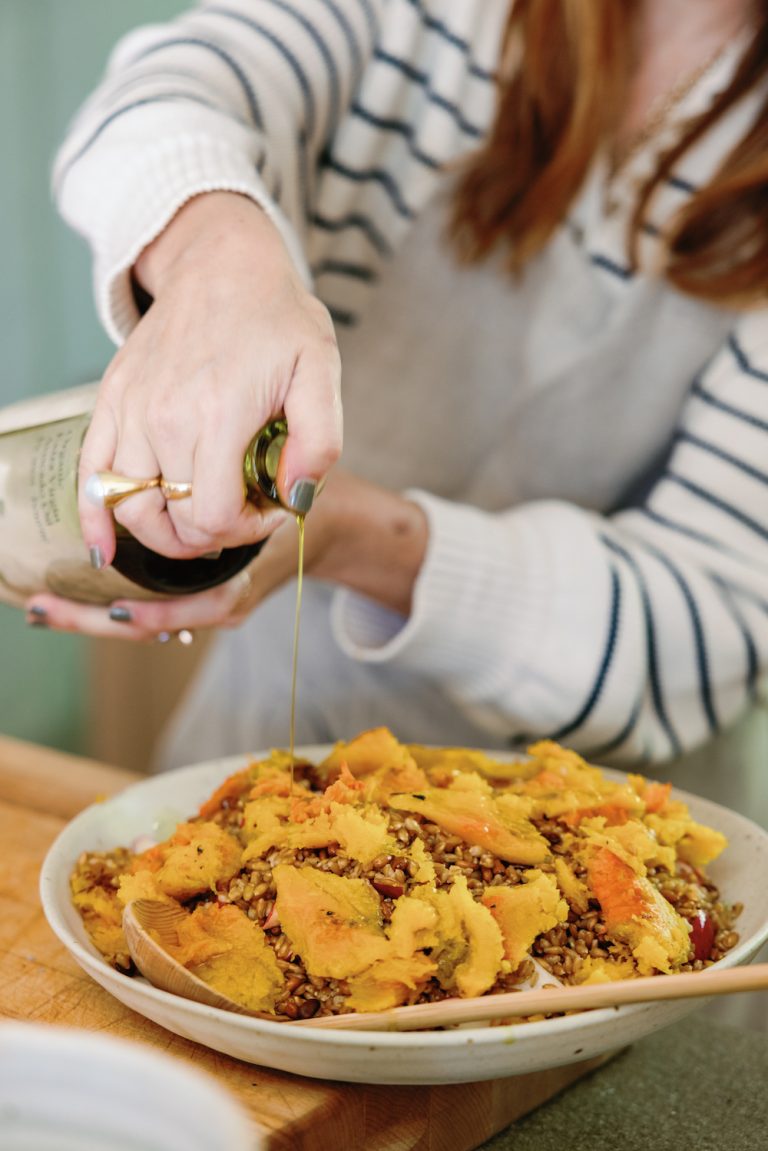 Why We Love It: Our new favorite low-gluten wheat grain, einkorn stuns in this simple salad. Its nutty flavor profile lays the foundation for charred kabocha squash, radishes, pine nuts, and a whole slew of herbs to take the stage. This salad is hearty, healthy, and just what you need to combat #SadDeskLunch. You heard it here first.
Hero Ingredient: The pine nuts play really well with the nutty einkorn. Plus, they add a buttery texture that's to die for.
Why We Love It: Quick, easy, and fresh, this cauliflower tabbouleh is a weekday winner. It's full of good-for-you ingredients that don't skimp in the flavor department. We're talking cauliflower, cucumbers, celery, green onion, and all the herbs. Plus almonds, dried cranberries, and sesame seeds join the mix for a little texture and a whole 'lotta flavor.
Hero Ingredient: The lemon and mustard seed vinaigrette is so, so delicious. It perfectly coats everything here without over-saturating this gluten-free salad.
Why We Love It: This is a recipe where when I say "full of flavor," I mean full of flavor. Every component is elevated to its maximum potential and works in harmony with its counterparts. As in, the chickpeas are sautéed in a toasted spice mix and the mint chutney coating the salad is next-level. It may take some tinkering to find your perfect balance, but a chutney this delicious is worth the extra love.
Hero Ingredient: Hero method: you can chop all the veggies during your weekly meal prep so assembly time is minimal.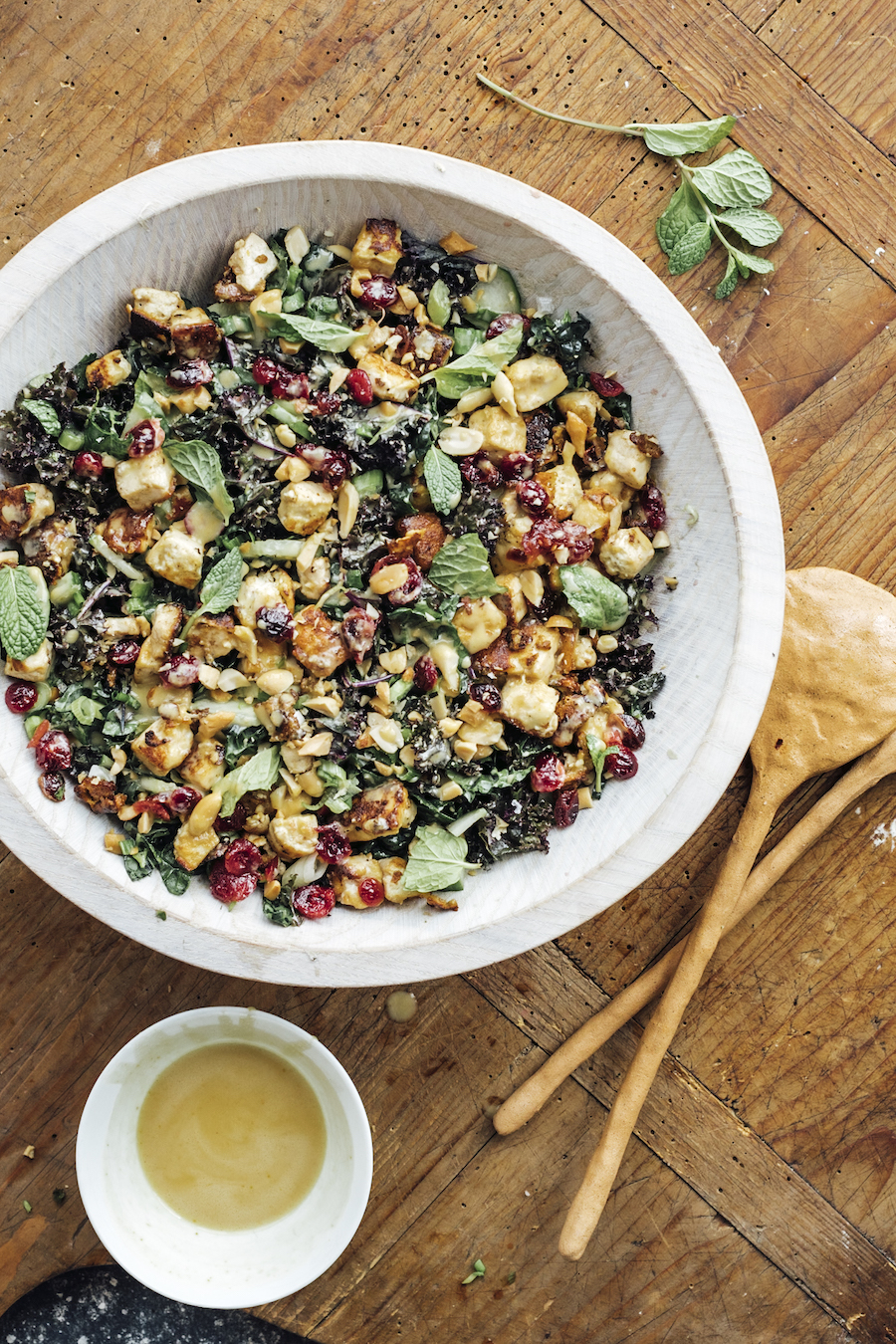 Why We Love It: If you're wary about tofu, this is the recipe for you. It takes on the best texture and flavor that's complemented by the savory kale salad that surrounds it. With green onions, fresh herbs, tart cranberries, cucumbers, peanuts, and more, this salad is a real lunchtime stunner.
Hero Ingredient: The citrus-ginger dressing is drinkable—seriously.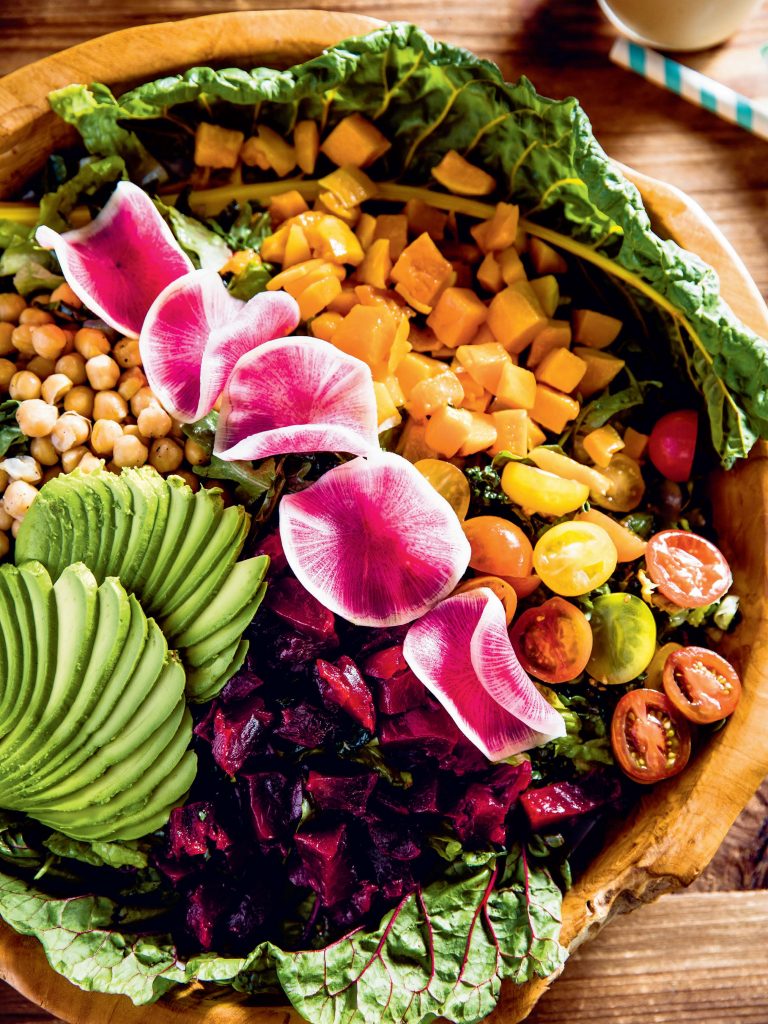 Why We Love It: Who doesn't love a chop salad? I know I do, largely because everything being roughly the same size is both comforting and practical. And this one is loaded with veggies. Butternut squash brings the creaminess while marinated beets introduce an acidic flavor that plays perfectly with the other components. Then creamy avocado, cherry tomatoes, chickpeas, and watermelon radishes finish things off beautifully.
Hero Ingredient: I've said it before and I'll say it again: making extra dressing is never a bad idea. This classic chop dressing is light, fresh, and full of flavor that's applicable to salads to come.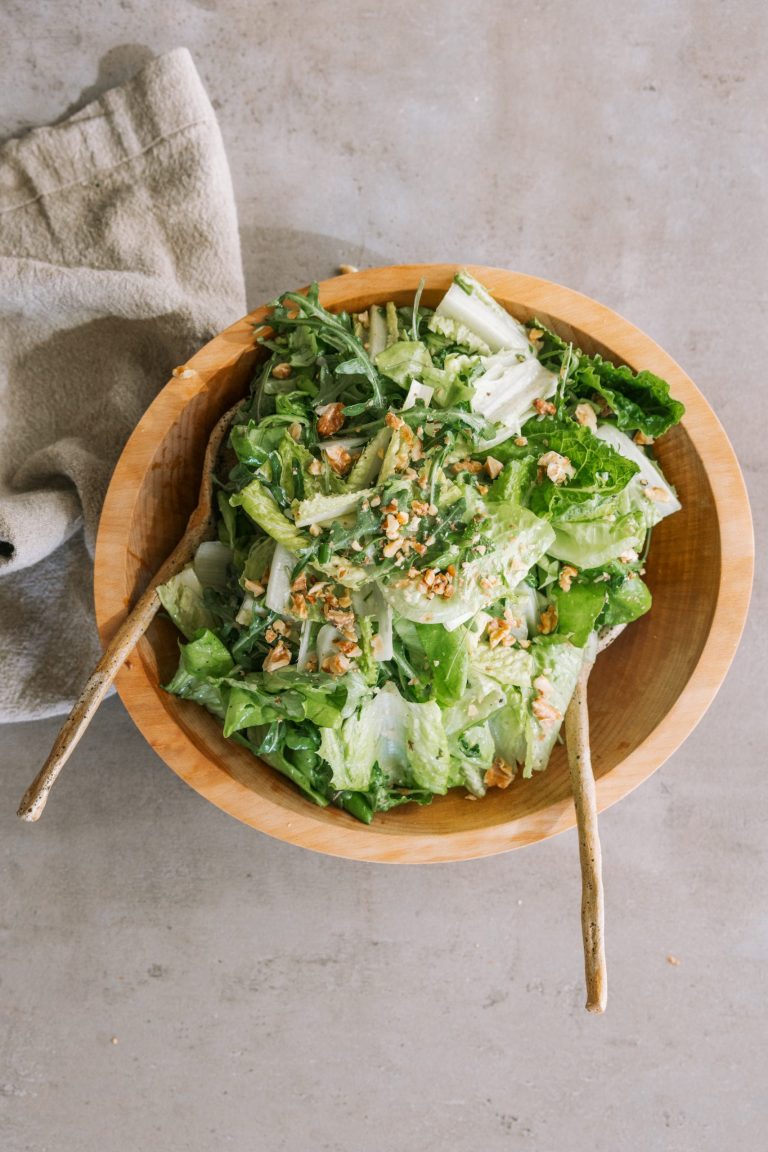 Why We Love It: This green salad is about as "green salad" as you can get, in the best way possible. It's so simple that you might be shocked by how good it tastes. With a mixture of various lettuces, herbs, and toasted walnuts, it's peak green salad perfection. Keep it simple or elevate the salad with cherry tomatoes, more toasted nuts, grated carrot, or thinly-sliced cucumber. The list goes on…
Hero Ingredient: The shallot vinaigrette is the tastiest topper to all those greens.
Why We Love It: Full of spring veggies like arugula, radish, and tomatoes, this farro salad is an ideal addition to your lunch rotation. It's hearty and filling without feeling heavy thanks to the high veggie count. You can make your farro at the beginning of the week, but wait to layer it with the other components until you're ready to eat. That way, everything is just as fresh as it should be.
Hero Ingredient: Skip the parmesan shreds to keep things vegan!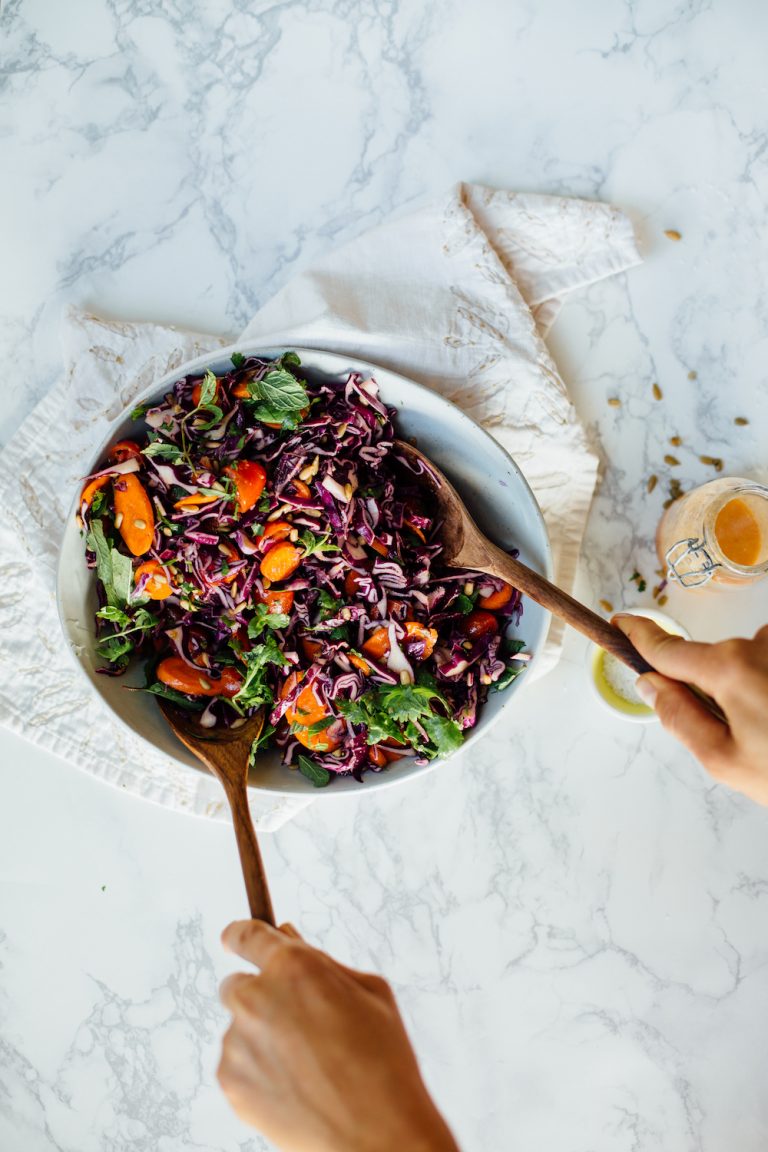 Why We Love It: Keeping on the detox train, this salad delivers all the veggies you could ever dream of in the most delicious way. Use whatever you have on hand, or go with the tried-and-true combo of purple cabbage, carrots, cherry tomatoes, mixed herbs, and avocado. The tahini-orange vinaigrette beautifully coats those components to keep things oh-so-creamy and succulent.
Hero Ingredient: If you're planning to enjoy this throughout the week, wait to dress the salad until you're ready to serve. That way, each ingredient can keep its freshness.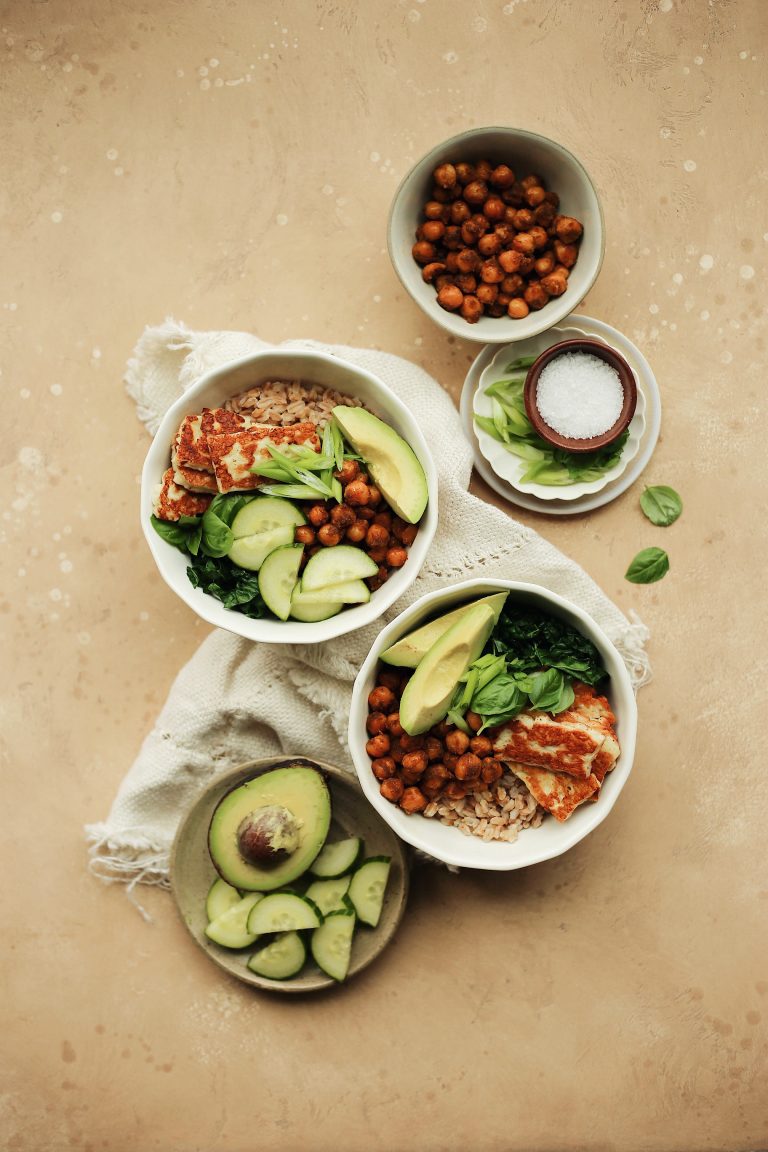 Why We Love It: Grain bowls aren't going anywhere anytime soon, and for good reason. They're loaded with nutrients and flavors that you just can't beat. In this case, we're looking at tandoori toasted chickpeas, farro, steamed kale, fresh herbs, and any veggies you can conjure up. To keep this one totally vegan, skip the halloumi and layer it up with veggies.
Hero Ingredient: Toasting the spices allows those aromas to wake up and infuse the chickpeas with the most gorgeous flavors.
Vegan Pasta Recipes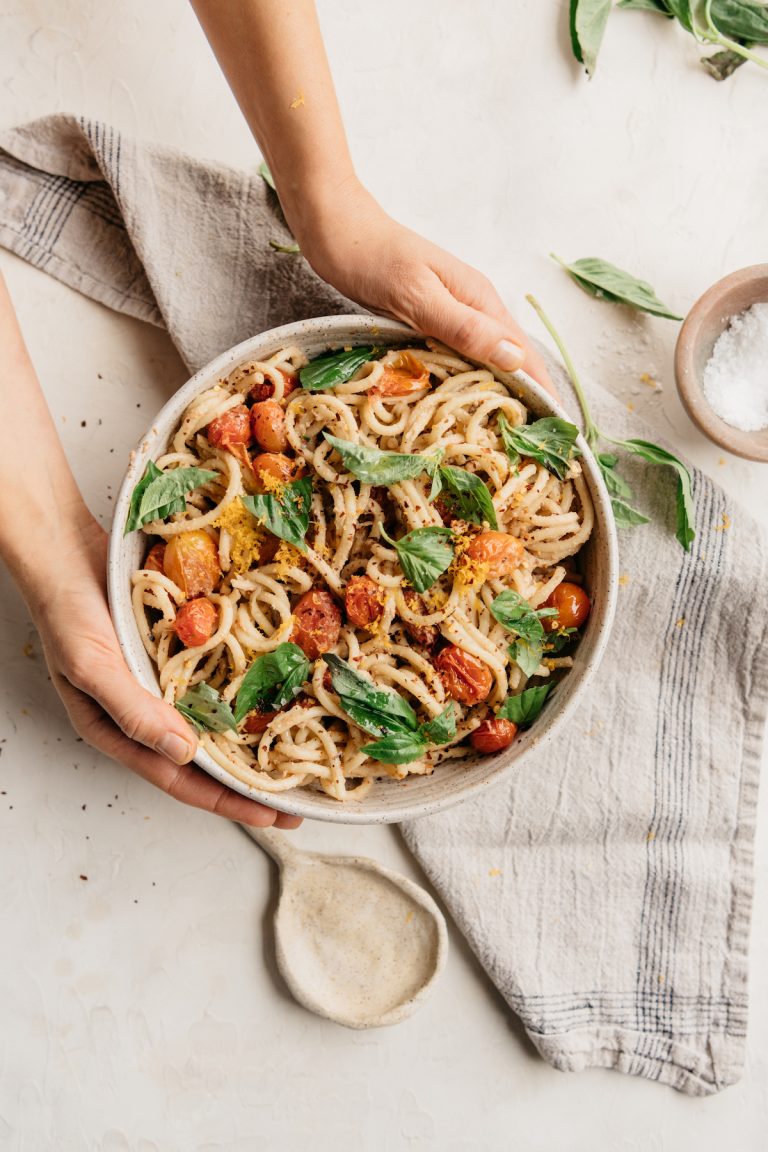 Why We Love It: This pasta is seriously magical. In some lucky twist of fate, it holds just as much creaminess as any pasta should—minus all the heavy ingredients needed to make that happen. It swaps cream and butter for a walnut sauce you'll actually want to drink. Or at least keep in your repertoire to impress your friends at your next dinner party.
Hero Ingredient: The tomatoes maintain that just-burst texture that's truly divine.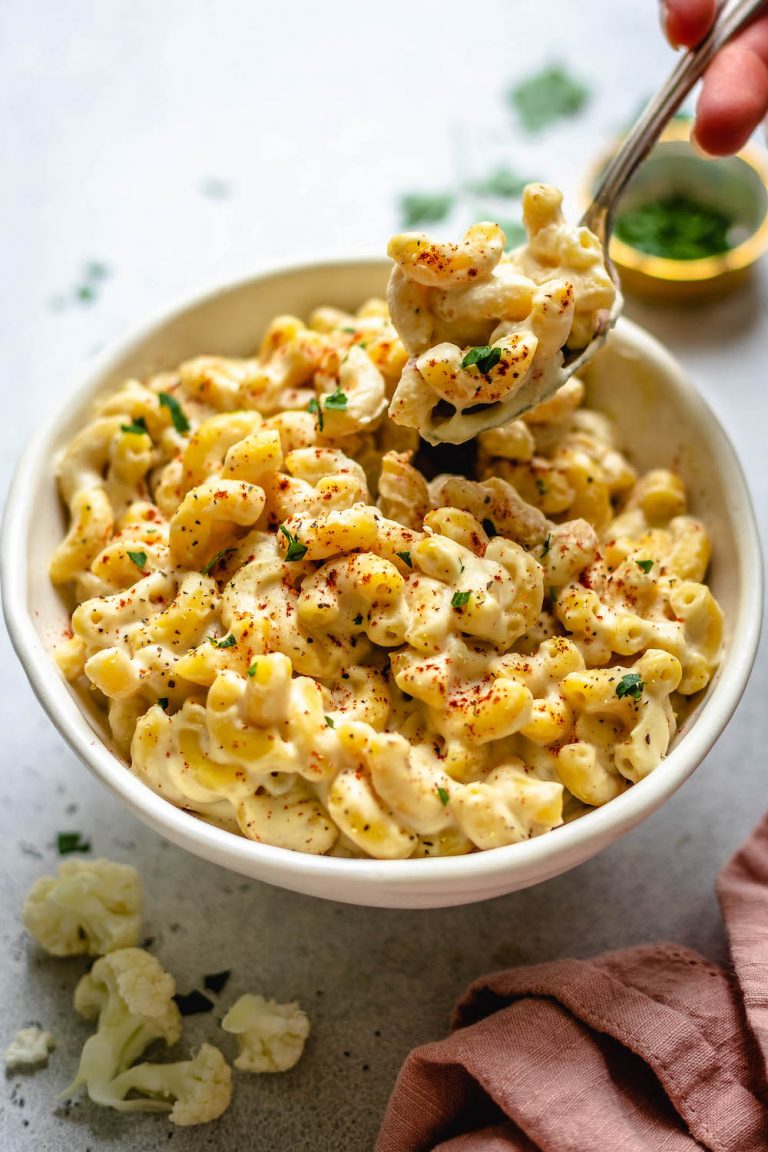 Why We Love It: A mac and cheese recipe without the guilt? Sign me up. This cauliflower mac is next-level creamy and delicious. With almond milk, nutritional yeast, dijon mustard, white miso, turmeric, cashews, and more constituting the "cheese" sauce, trust that you're in good hands.
Hero Ingredient: Two words: twenty minutes. That's all it takes to deliver this masterpiece to a giant bowl to savor at your desk.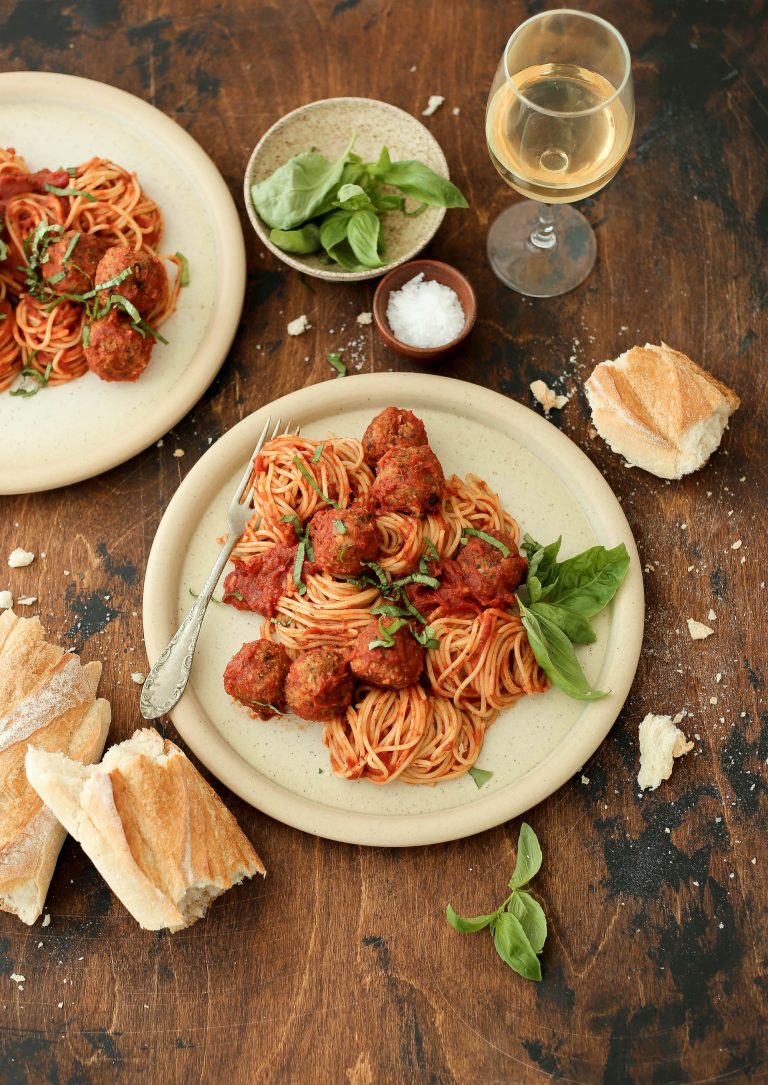 Why We Love It: Meatballs may seem a little heavy for lunch, but this vegan variety strikes the perfect balance between indulgent and lunch-appropriate. And they're a real gem—skipping the larger-than-life ingredient list that other recipes offer in favor of simplicity and wholesome eating. There are no eggs nor are there a ton breadcrumbs to bind them together. Instead, shiitake mushrooms and cannellini beans prove that a vegan meatball doesn't have to be complicated to be delicious.
Hero Ingredient: All the Italian spices are so comforting.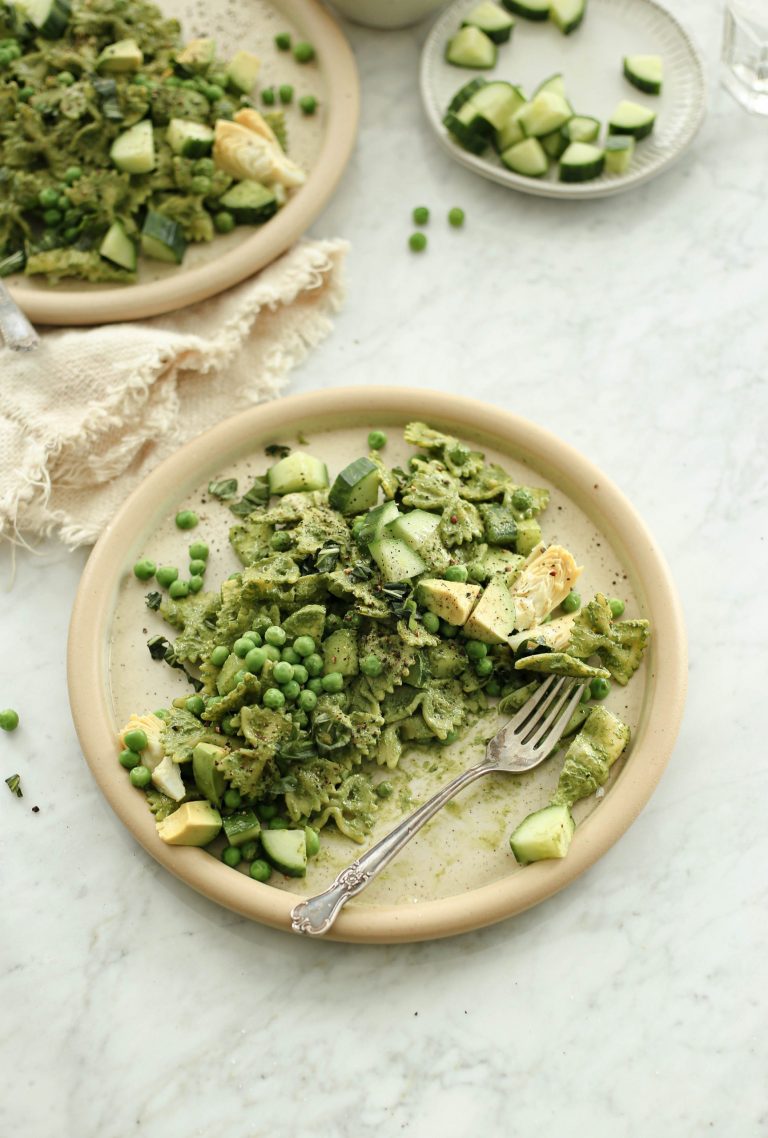 Why We Love It: Pasta salad is the ultimate weekly lunch item. It's easy to make, relatively cost-efficient, keeps well in the fridge, and tastes great straight out of the container. What more can we ask for? In this green goddess variety, all the green veggies take pasta salad's flavors, textures, and health specs to the next level.
Hero Ingredient: As the name denotes, we're using green goddess dressing. And yes, that means you should probably double (or triple!) your dressing. Trust me, you won't regret it. Use it on wraps, sandwiches, salads, crudités, roasted veggies, and more throughout the week. The pasta-bilities are endless.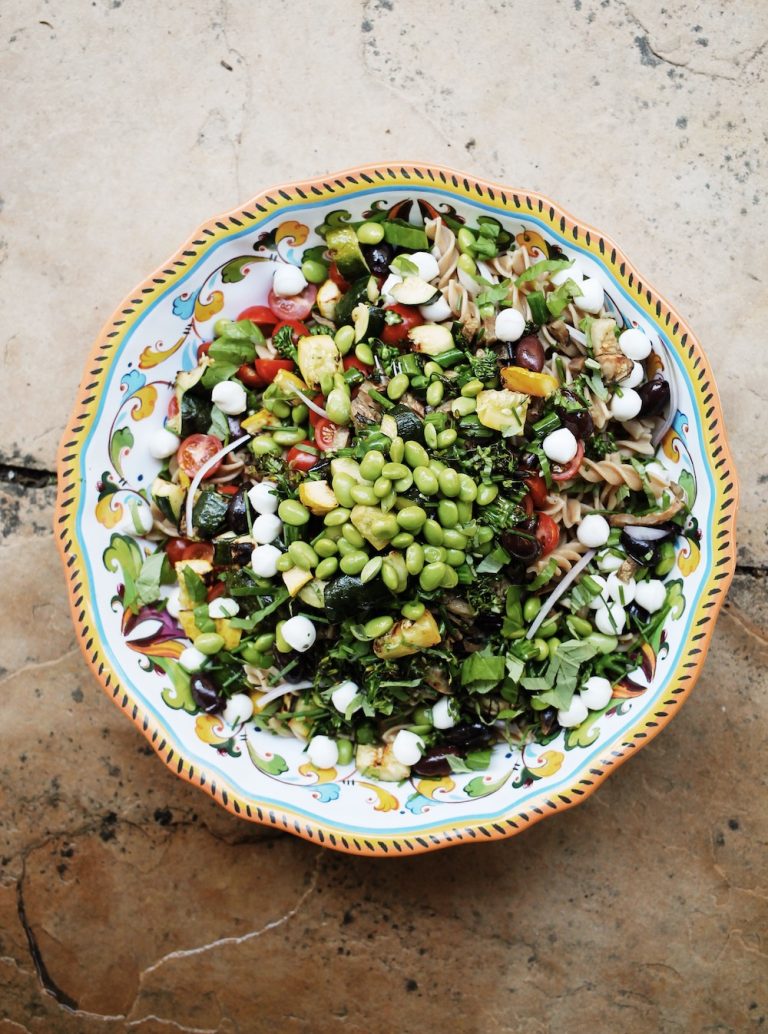 Why We Love It: Once again, pasta salad earns its stripes among vegan lunch ideas. This one is chock full of summer veggies that you can pick up from the farmer's market or grocery store alike and prep in a pinch. All this recipe involves is making your favorite seasonal selections to char up on the grill, prepping your noodles, and tossing everything together with a light vinaigrette to finish it off. It's a lunchtime stunner.
Hero Ingredient: To keep this one vegan, omit the mozzarella pearls.
Vegan Sandwiches and Toasts
Why We Love It: We all have our tried-and-true avocado toast variations. Personally, I gravitate toward a soft-boiled egg, everything seasoning, and lemon zest situation when I'm low on inspiration. However, I highly encourage you to take a step outside your comfort zone and give this kale pesto and fresh veggie combination a try. It's light and fresh and totally going to outshine your go-to avo toast. I don't make the rules.
Hero Ingredient: To fulfill the "crunchy veggie" category, you can use fresh radish, thinly-sliced cucumber, or another crisp veggie of choice.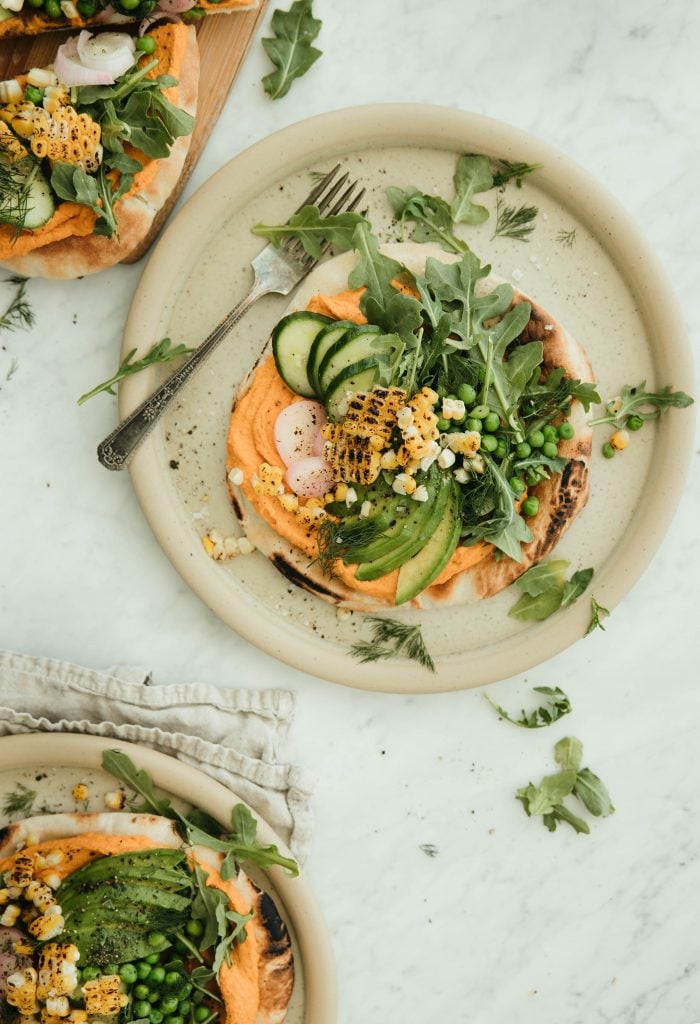 Why We Love It: With pita at the base, you're almost always in good hands. And that's exactly the case with this vegan flatbread. You'll start by warming your pita (or charring on an open flame), smearing with a dreamy carrot hummus, and topping with any fresh veggies you have on hand. This recipe is tailor made for emptying your veggie drawer, so feel free to get creative! It makes the process that much more rewarding.
Hero Ingredient: You've gotta make extra carrot hummus. It's so nice to have on hand for wraps, sandwiches, veggie dipping, and appetizers for the rest of the week.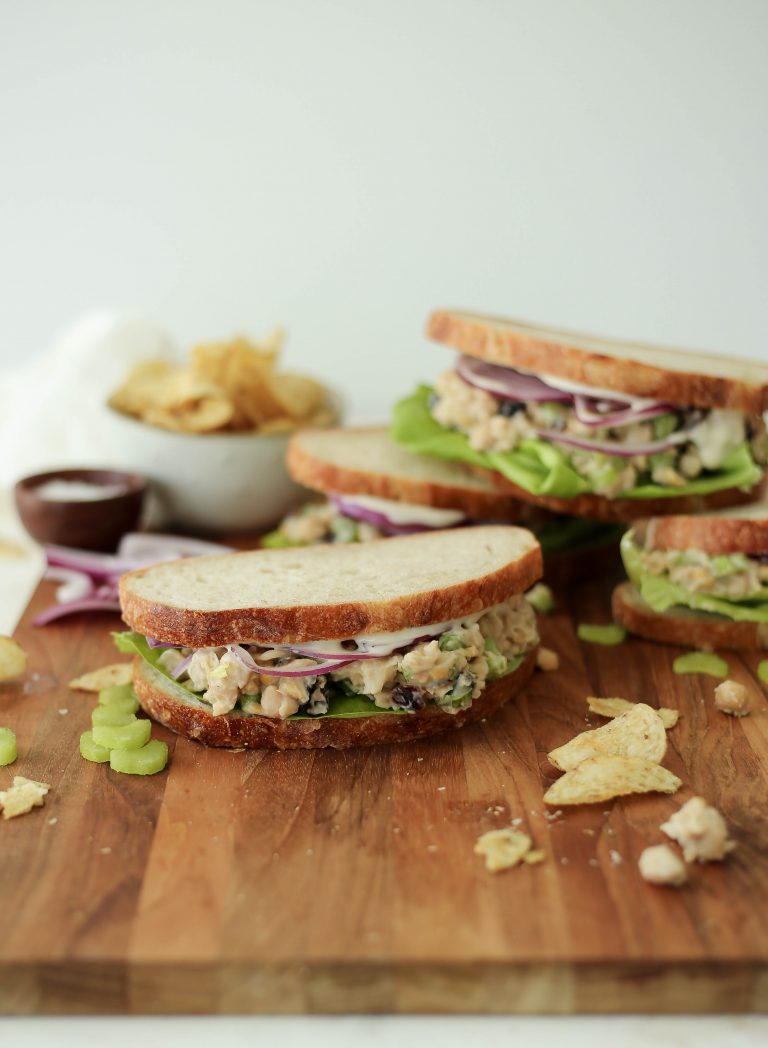 Why We Love It: Hearty and healthy, chickpea salad is the perfect vegan lunch. The texture is so spot on and it's simply unbeatable when layered between soft sandwich bread. The upgraded vegan mayo amps up the creaminess, while celery and onion bring a savory bite to the mix. Then, you've got dried cranberries adding just the right amount of tang and sweetness to take the salad to the next level. It's exactly what you want in your fridge for a quick and healthy lunch on the go.
Hero Ingredient: Cannellini beans amplify the creamy texture to the max and make things all the more satisfying.
Why We Love It: We'll never stop loving mushrooms for their plethora of vitamins, antioxidants, and more. In this toast, the funghi are celebrated for the mighty heroes they are. They sit atop a toasty piece of sourdough that's smeared with vegan ricotta, lemon zest, red pepper flakes, olive oil, and lemon juice. The entire thing is ready in almost no time, making it that much better.
Hero Ingredient: I love that the arugula is served warm on this toast. It's a welcome change from arugula salads which, while we love them in the summertime, can get old if you don't switch it up.
Why We Love It: Bruschetta for lunch is the biggest treat to yourself. Trust me, I've tried it. Fresh, juicy tomatoes combined with shreds of straight-from-the-garden basil are one of nature's biggest gifts. And when they're layered over crisp sourdough? Game over.
Hero Ingredient: I love a drizzle of balsamic glaze over the top. It's magical.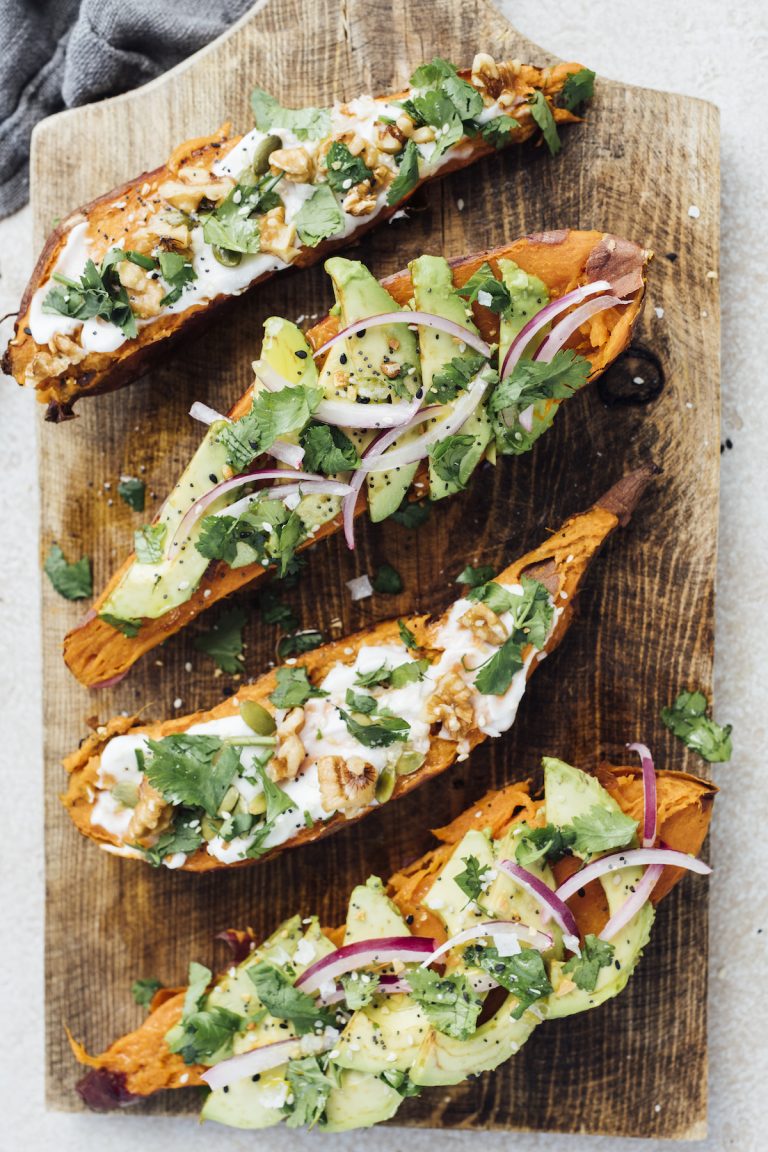 Why We Love It: A bread-free toast look-alike? We'll take it, because there are few things more satisfying than the humble sweet potato. It's beautifully simple and makes the perfect base for all the toppings your heart desires. The best part? You can throw one in the oven about an hour before lunch and come back to an almost-ready meal. In this case, all you have to do is slice up some avocado and red onion, assemble, and top with fresh herbs and everything seasoning. Vegan lunch ideas never felt so good.
Hero Ingredient: When you slice your potato open, it's a good idea to add a little olive oil and salt. This adds a nice flavor without much effort.
Vegan Soups and Stews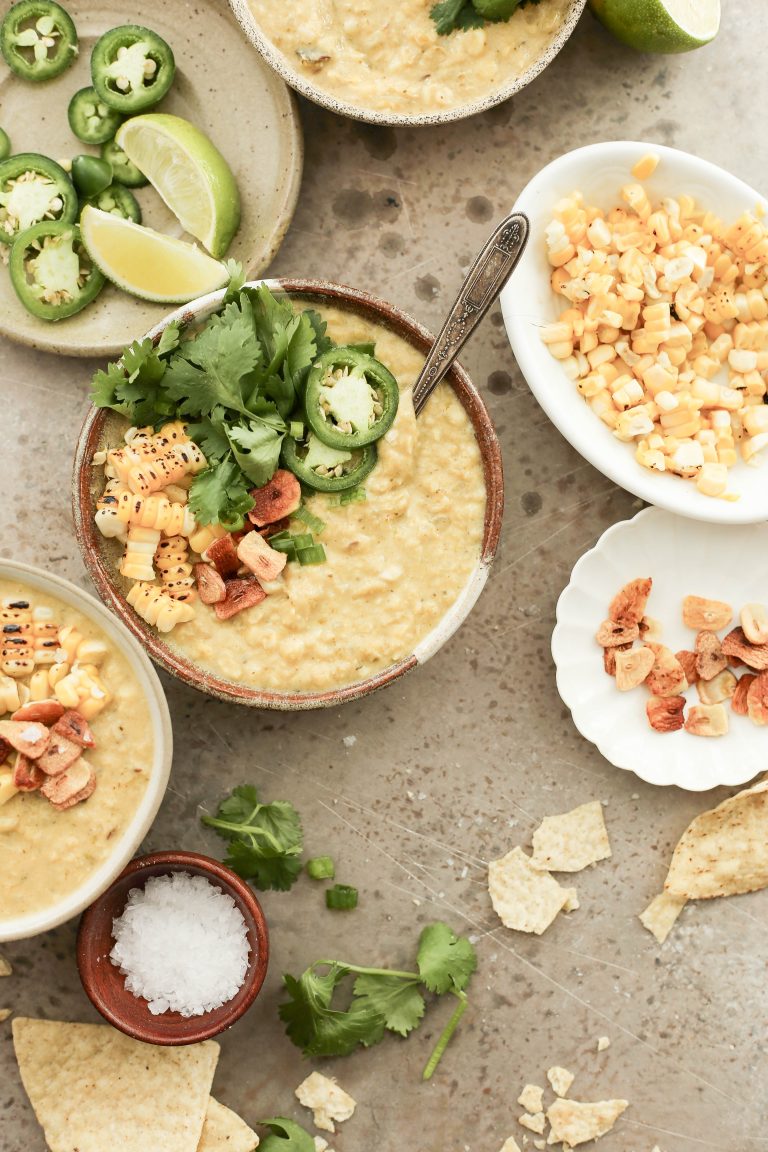 Why We Love It: Summer is peak corn season, which means it's time to celebrate it to its fullest. In this soup, corn shines as the namesake ingredient it is. This recipe is another one-pot wonder that you can whip up at the beginning of the week to enjoy in no time. It's got a healthy dose of heat, which combats corn's natural sweetness to keep things interesting.
Hero Ingredient: The texture here is what makes it. The coarseness is really enjoyable, as it makes the soup feel heartier.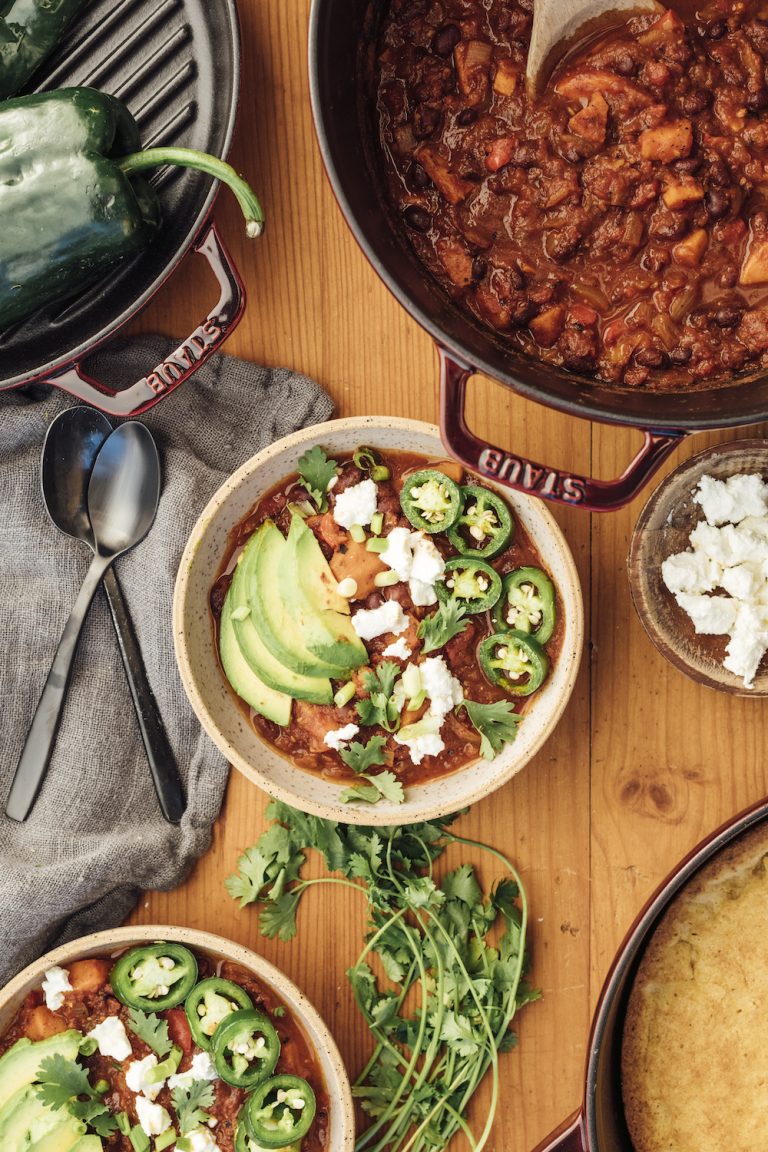 Why We Love It: I repeat for emphasis: sweet potatoes are heavenly. In this chili, they're joined by black beans to create a hearty and healthy soup you can enjoy all week long. It's full of more plant-based protein, fiber, vitamins, and minerals than you could count, and it tastes so delicious that you won't even bother. Just know they're there.
Hero Ingredient: A couple of subs here: instead of honey, you'll want to use agave. And be sure to leave off the goat cheese or replace it with your favorite vegan-friendly alternative. It's equally tasty any way you slice it.
Why We Love It: If you're not familiar with the idea of a detox soup, allow me to introduce you. This butternut squash soup is the reset you didn't know you needed—until now. It works behind the scenes to deliver some anti-inflammatory bliss and a healthy dose of veggies in the most appealing format ever. Skip the juice cleanse and head straight to this soup cleanse… you'll be glad you did.
Hero Ingredient: The coconut milk makes the soup so creamy without any actual cream.
Why We Love It: Nisha Vora graciously shared her go-to vegan chickpea stew recipe with us, and we're forever thankful. It's the coziest vegan meal to have on hand for a quick lunch. With bold Indian flavors coming together in a wholesome plant-based form, this simple stew is exactly what vegan lunch ideas called for.
Hero Ingredient: Cabbage (yes, cabbage) takes the cake here. Before I lose you, it's not rubbery or bland, but instead takes on a buttery texture that's so rich and succulent. Dig it.
Why We Love It: The weather might be warming up, but there's nothing wrong with sitting down to lunch with a cozy bowl. In this case, it's a one-pot wonder you can batch cook in about an hour at the beginning of the week. From there, all that's left to do is reheat for a vegan lunch you can savor.
Hero Ingredient: The abundant spices are just perfect.
Vegan Tacos and Rolls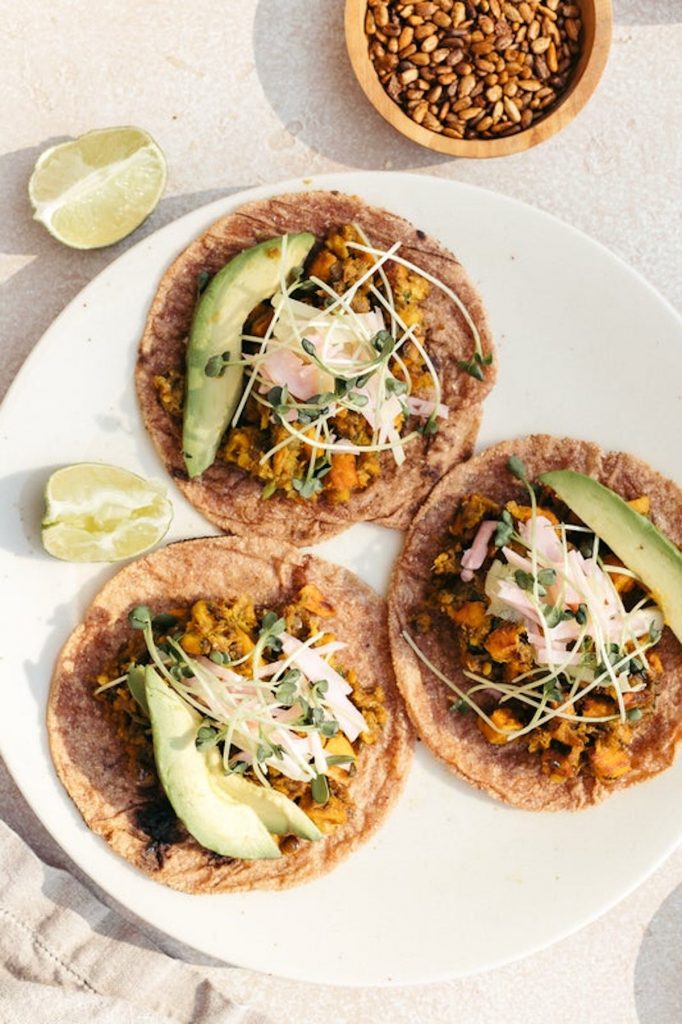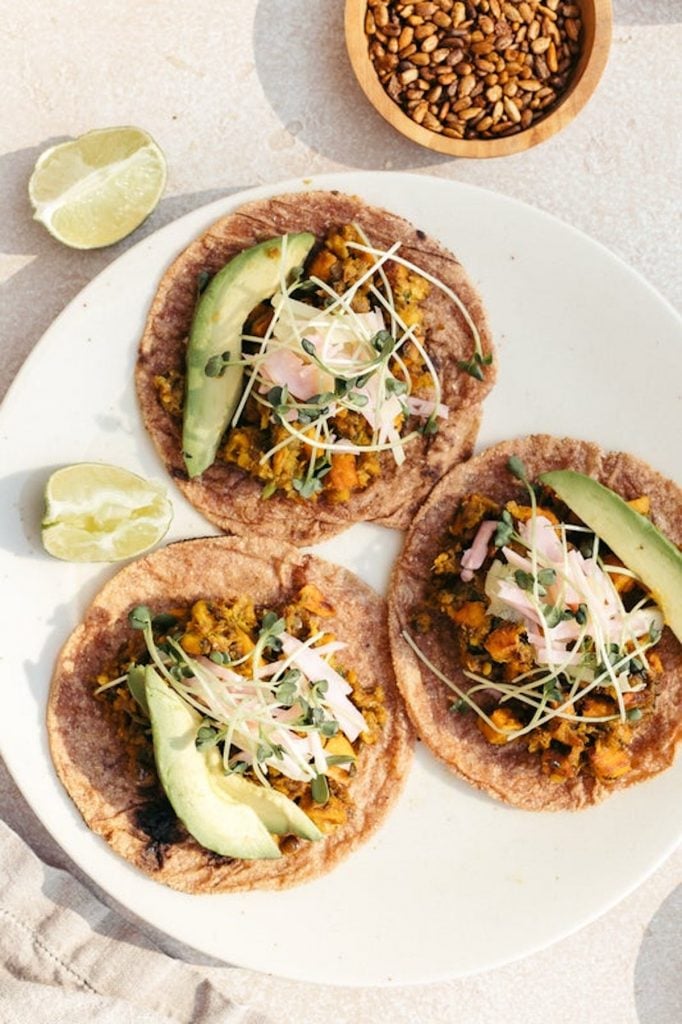 Why We Love It: Wrapped in a cassava flour tortilla, chickpea and lentil "chorizo" is the main component of these inventive vegan tacos. Lentils and chickpeas are sautéed with apple cider vinegar, cayenne pepper, herbs, and a chorizo oil that's liquid gold. It adds just the right amount of umami flavor to keep these vegan tacos very interesting.
Hero Ingredient: Seriously, the chorizo oil is amazing. It's made from garlic, cumin seeds, paprika, turmeric, jalapeño, and olive oil to perfectly infuse a little heat into this dish.
Why We Love It: Cauliflower has come a long way since its days of being sad, boiled, and bland. Instead, these tiny trees are beautifully charred and caramelized before making waves in taco form. Layered with sliced avocado, cilantro pesto, pickled red onion, and sliced peppers, the cauliflower is the perfect vegan taco base.
Hero Ingredient: The cilantro pesto really elevates things here. It's full of fresh herbs that breathe life into the tacos. Dollop generously.
Why We Love It: More vegan tacos for all! Like those that came before, this vegan taco recipe is a stunner. With antioxidant-rich mushrooms and fiber-laden black beans, these tacos are just as good on the inside as they are at face value. The simple veggie base is layered with creamy avocado, fresh cilantro, and pickled red onions before being wrapped in a warm corn tortilla blanket. It's a heavenly combination that deserves to be savored.
Hero Ingredient: The pickled red onions bring the most beautiful bite and dash of acidity to cut through those rich main ingredients.
Why We Love It: This unbeatable taco features roasted Brussels sprouts, mashed avocado, crisp radish, and a spicy peanut sauce you'll want to drink. For meal-prepping purposes, feel free to prep everything beforehand, but save assembly for lunchtime. That way, everything tastes as fresh as possible.
Hero Ingredient: Pickled red onion is a non-optional (but optional) topping that elevates things to the next level. The vinegar-laced bite seals the deal on these tacos' unbelievable flavor.
Why We Love It: I'm all about a handheld lunch situation and these spring rolls are the perfect iteration. Not only are they fun to eat, but they're so fun to make and leave you with a veggie-powered lunch you'll be excited to enjoy. They have rice noodles, tempeh, and any fruit/veggie combo you can dream up. Cucumbers, mango, cabbage, carrots—you name it.
Hero Ingredient: Be sure to sub in agave for the honey if you're keeping it vegan.