Ahhh… the sweet taste of a new season is in the air and we're salivating over all the spring produce we get to play with in the kitchen. Think asparagus, artichokes, arugula, mint, peas, and radishes—there's so much to explore. But just because it's getting warmer doesn't mean we have to take one of our favorite meals off the menu. Enter: spring pasta recipes. Loaded with all the freshest green vegetables and herbs, these delicious dishes will make you feel just as good as they taste.
There's something about pasta in warm weather that makes us crave a trip to Italy. I think it's safe to say we're all feeling the travel bug (and have been for a while), but who says you need to get on an airplane to be transported to the Italian coastline? Why not book a ticket to the food capital of the world via your tastebuds? It's as simple as that.
Featured image by Michelle Nash.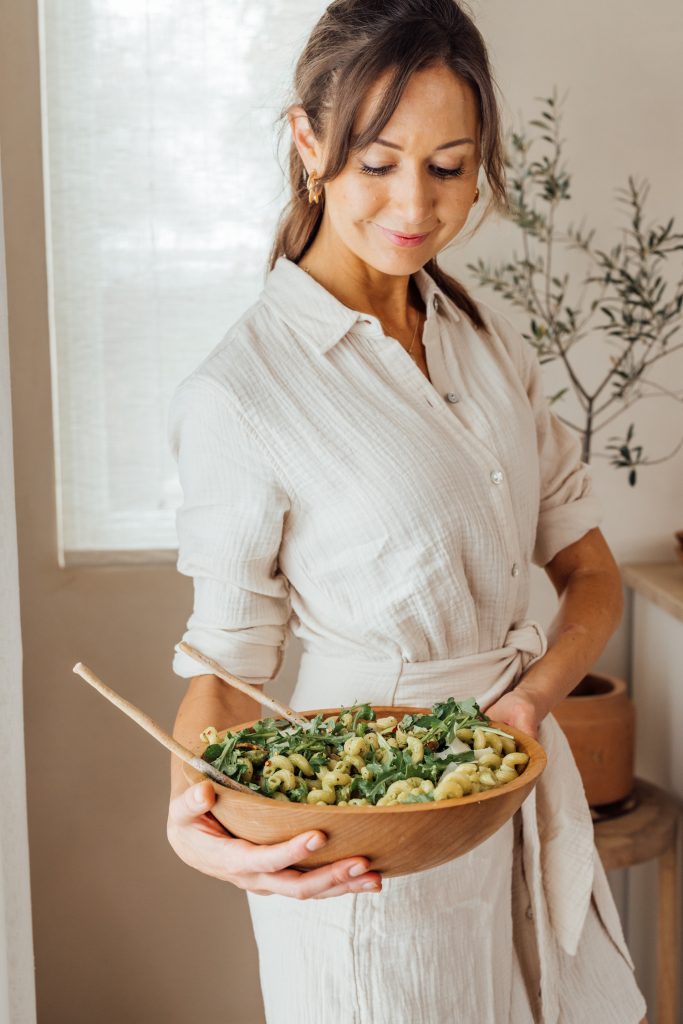 16 Spring Pasta Recipes to Celebrate Fresh, Seasonal Veg
If, like us, you're longing for an Italian jaunt, then head to the farmer's market this week and pack your pasta with all the incredible seasonal ingredients to make these spring pasta recipes. After that, it's just a matter of closing your eyes and letting your senses take you away. We'll see you there!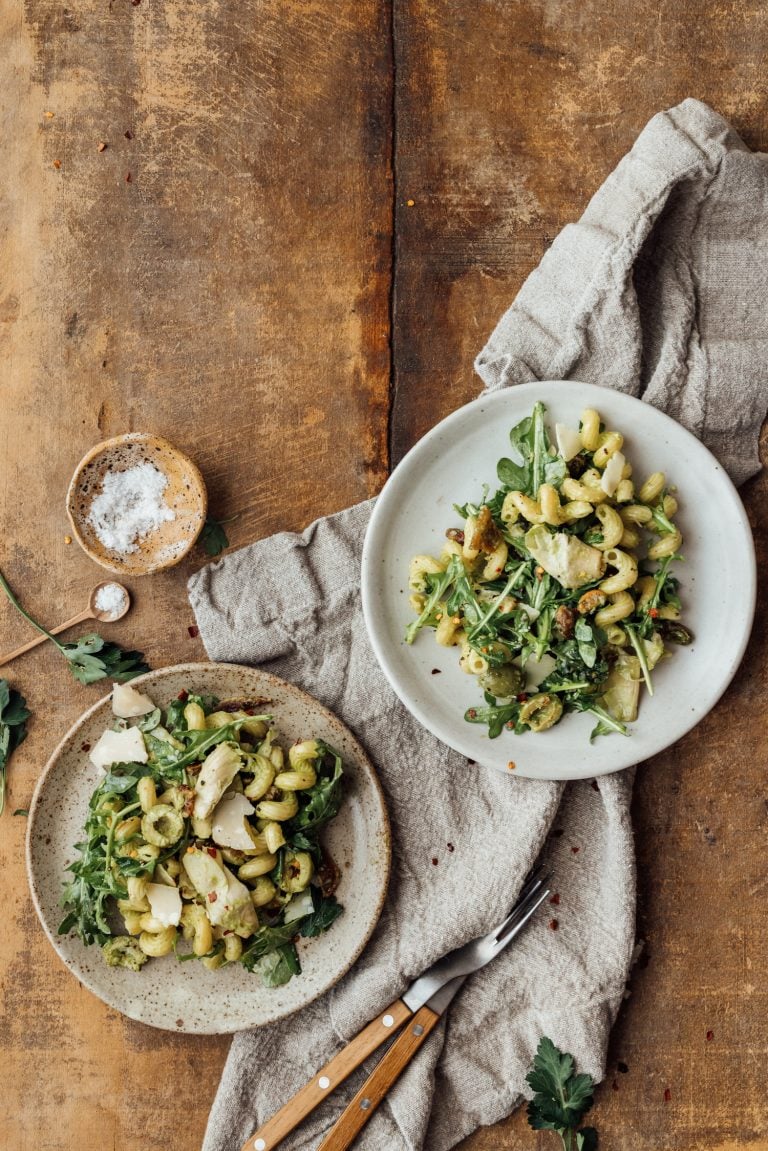 Why We Love It: While we haven't ever met a pasta we didn't like, our favorite recipes are the simple, fast, and delicious ones. This perfect-for-spring pasta is all of that: 30 minutes, a blender dressing, and ingredients you'll likely have on hand. But… it's also on our list of top spring pasta recipes because it has plenty of what we love: crispy bacon, briny artichoke hearts, and plenty of peppery arugula. We guarantee you'll eat it with your eyes first.
Hero Ingredient: Two tablespoons of honey in the dressing might come as a surprise, but it adds the perfect balance of sweetness to this brightly-flavored dressing.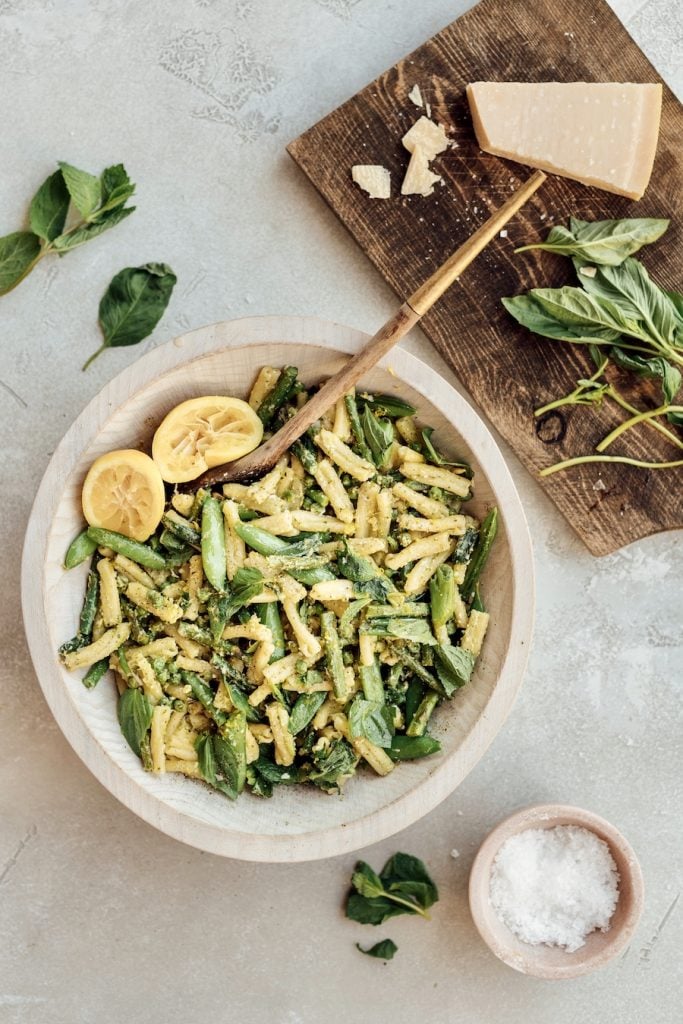 Why We Love It: I love a good alliteration, especially when it comes to three words that describe my perfect meal. This recipe is always Camille's answer when the inevitable what should I make for dinner? question strikes. It's light but satisfying and easy enough to whip up any night of the week. Mondays included.
Hero Ingredient: Frozen peas are the secret weapon of many a simple (but stunning!) weeknight meal.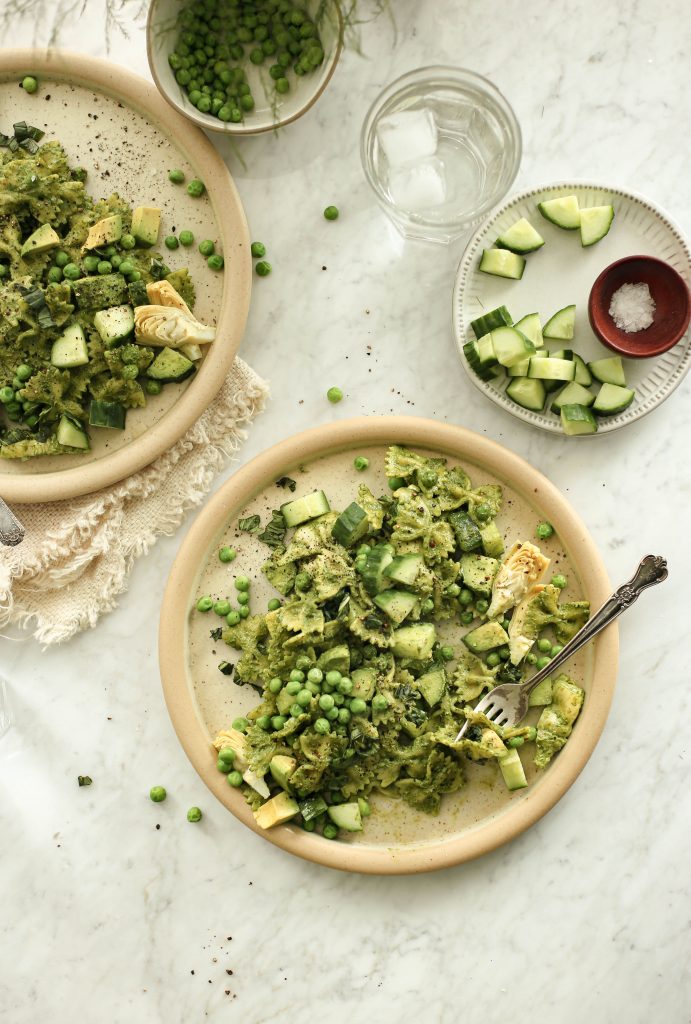 Why We Love It: This deliciously easy vegan option is perfect for spring holiday gatherings because you can make it ahead of time. It's also loaded with in-season vegetables, chickpeas, and a dressing that's bursting with fresh goodness (basil, spinach, chives, and green onions). Spring pasta doesn't get much better than this.
Hero Ingredient: If you're looking for a plant-based solution to fulfill your cheesy cravings, nutritional yeast is always the answer.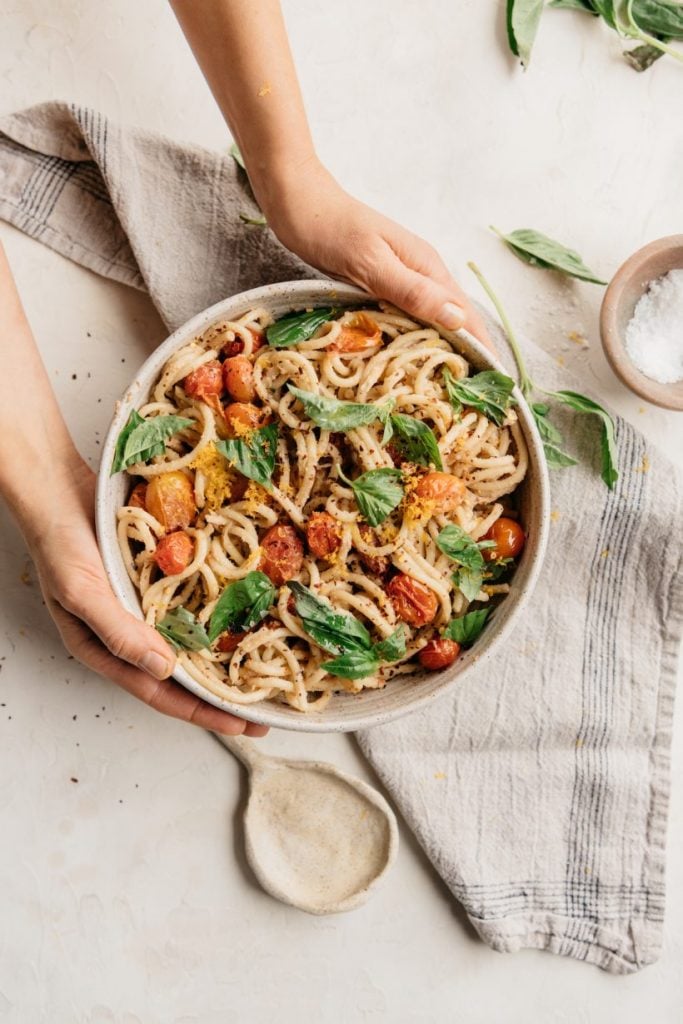 Why We Love It: Creamy and vegan? Better believe it. Inspired by Amy Chaplin's gorgeous cookbook Whole Food Cooking Every Day, Camille set out to make her own version of the cookbook's walnut sauce. With zero dairy required, this sauce still manages to coat every noodle with creamy goodness. Oh, and if you needed any more convincing: the sauce can be made ahead of time.
Hero Ingredient: Garnishing your pasta with just a little lemon zest keeps its final flavor bright and balanced.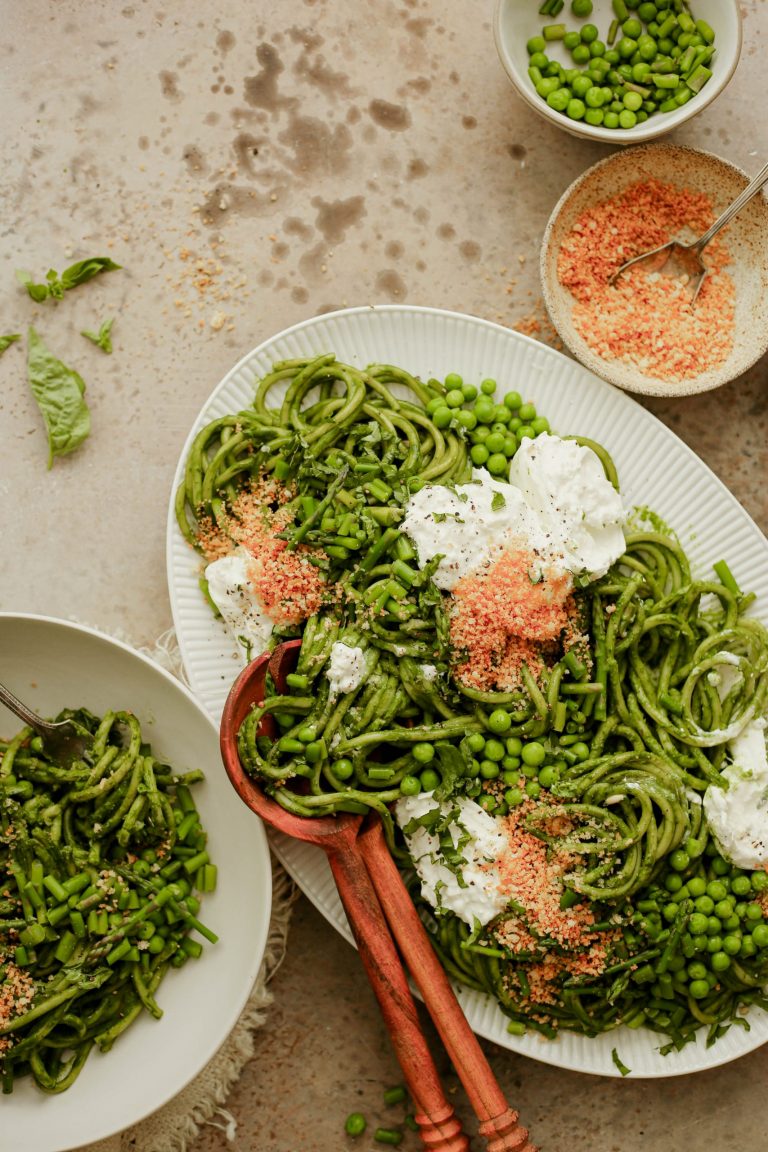 Why We Love It: When it comes to pasta, anything green immediately cues my mind to pesto. But this five-ingredient sauce gets the job done with its own creative take on the classic. The basil and parmesan are to be expected, but peas, asparagus, and spinach send this pasta's vibrant green hue home. Pasta perfection? You bet.
Hero Ingredient: Throughout spring and beyond, basil is hands down my favorite herb. It's sweet and slightly spicy while still feeling light. I love how it incorporates seamlessly into this sauce.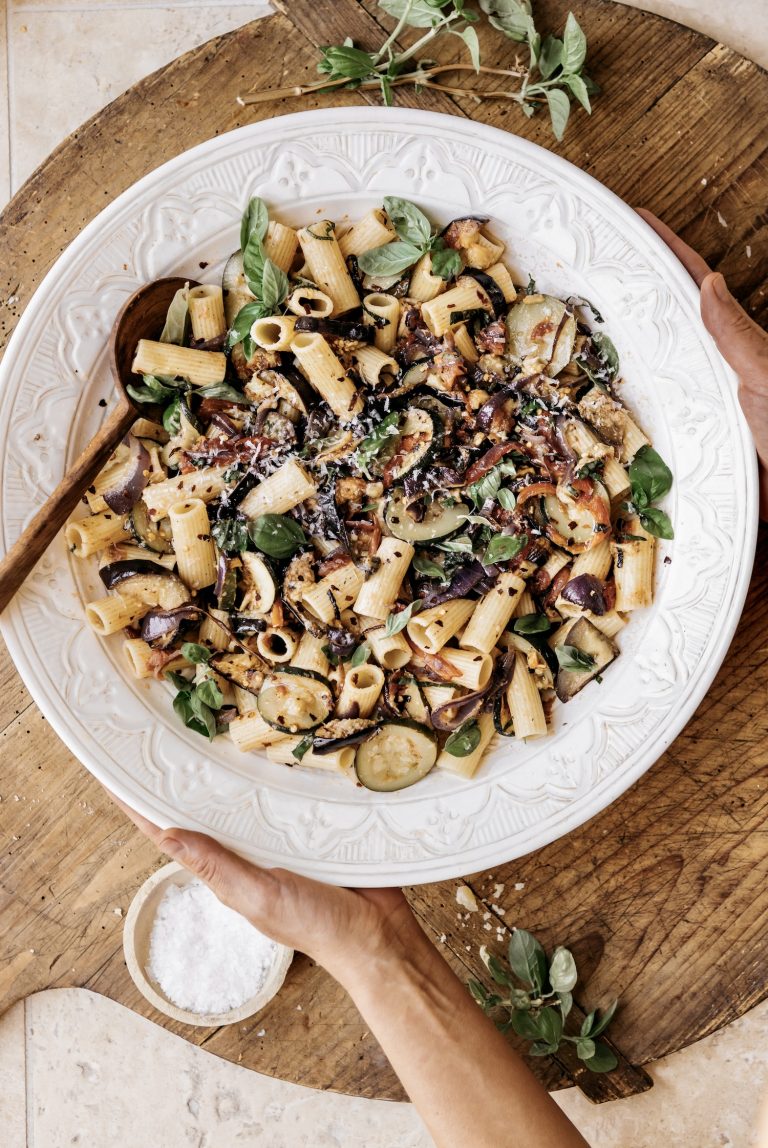 Why We Love It: With the warmer weather comes outdoor gatherings, and after a few (long) months indoors, we're ready for a party. While this pasta does require a little more prep than the other spring pasta recipes on this list, we can say without a doubt that it's totally worth it. If only to see your dinner guest's eyes light up at every plate's veggie-filled beauty.
Hero Ingredient: Opt for Italian seasoning or Herbes de Provence. Whichever you choose, it's the key to tying this dish together.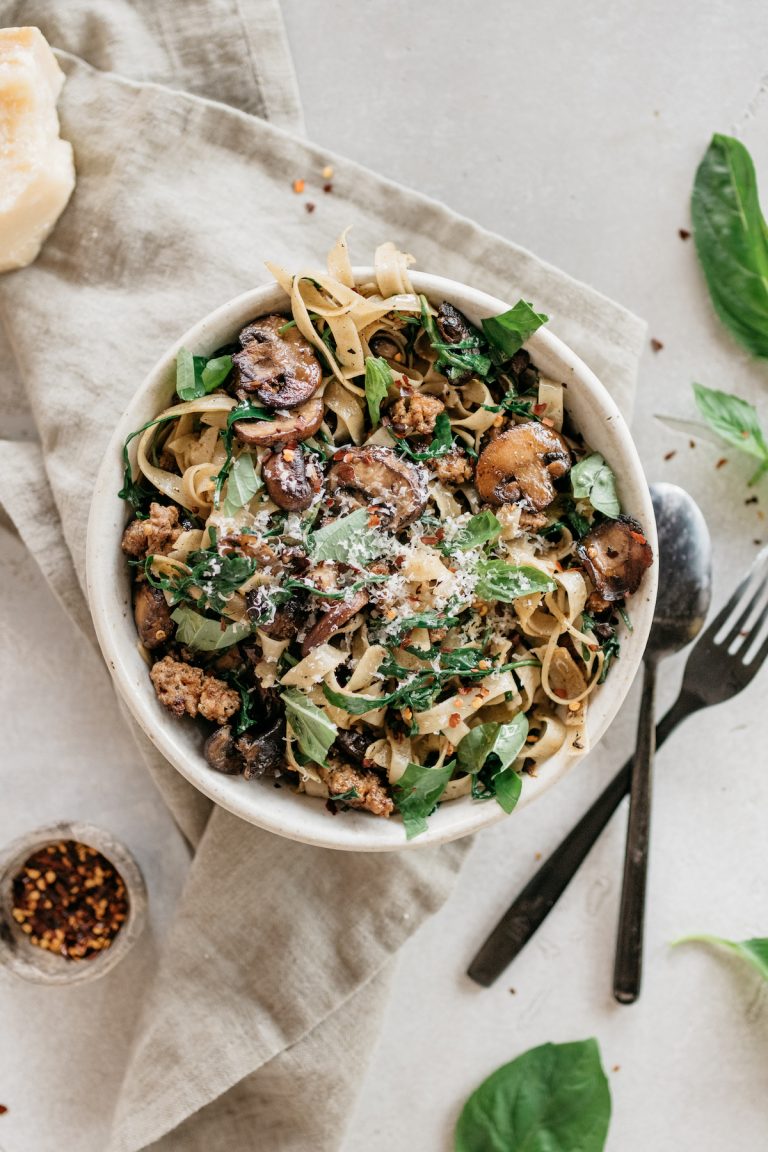 Why We Love It: "Garlicky" is my new favorite adjective. I'm a forever fan of its pungent, borders-on-spicy flavor. It's a surefire way to bring a bright, punchy flavor to your pasta. Oh, and if you'd prefer a pasta that's fully plant-based, feel free to omit the sausage. The pound of baby bella mushrooms are meaty enough. Consider your carb cravings satisfied.
Hero Ingredient: Even if it's not the primary flavor, the lemon juice and zest help enhance all the many flavors this pasta packs.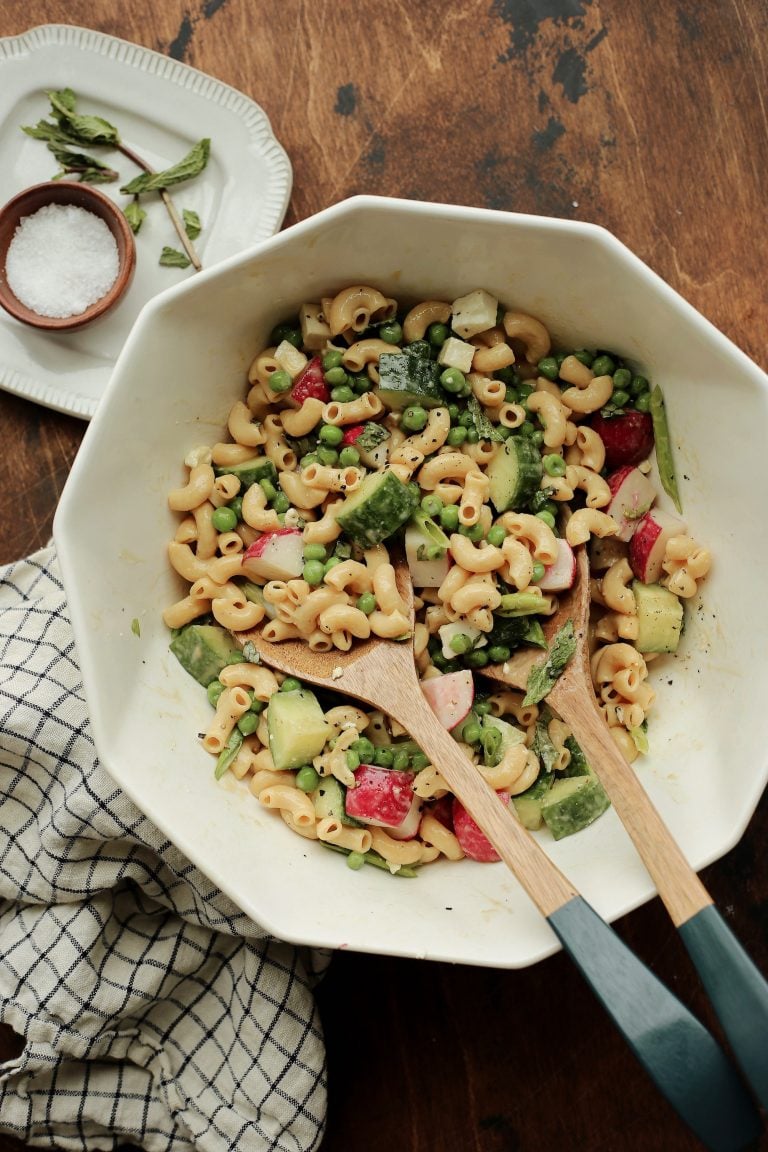 Why We Love It: Summer or spring, the beauty of this pasta salad is that it's tasty all throughout the year's warmer months. At first glance, tahini might seem like an odd addition to a pasta sauce. (We're not making hummus here, after all.) But it's thanks to the Middle Eastern condiment that you get an umami-filled, super smooth pasta salad dressing that's 100% plant-based. And it plays perfectly well with the salty feta and citrus flavors.
Hero Ingredient: The cucumber cools the entire dish down with a lovely refreshing bite.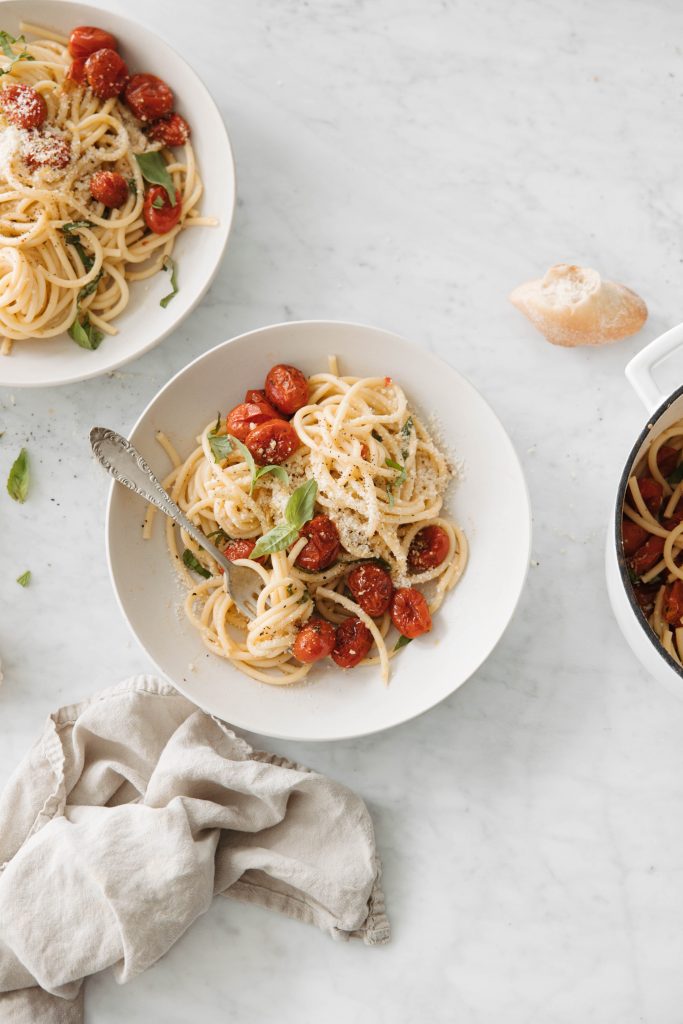 Why We Love It: Low effort, high reward. This is one of the easiest meals to throw together, but it tastes like a hundred bucks. The trick to filling this pasta with flavor is slow-roasting the tomatoes and garlic in lots of olive oil. You'll bring out all their sweet, caramelized goodness. Who doesn't love a soft and succulent tomato that bursts in your mouth?
Hero Ingredient: Miso is the ultimate umami booster.
Why We Love It: If you're looking for spring pasta recipes that double as comfort food then look no further than this genius pasta that fuses Italian and Indian cooking. For the food purists at heart, you're missing out. Expect plenty of heat, flavor, and saucy goodness. If you need a shake-up in your spring dinner routine, this is the perfect solution fit for any night of the week.
Hero Ingredient: The spices are unmatched—and each delivers something a little different to the resulting dish. Cinnamon, turmeric, red chili powder, coriander, cardamom, cumin, and garam masala. This is the perfect pasta for those spring snow days that take you by surprise.
Why We Love It: As you can tell by the "vegetarian" label, this is not your typical bolognese. And while the sauce is easy, it's far from basic. Tofu, carrots, celery, and mushrooms are the plant-based answer to perfecting this classic Italian pasta. It's proof that you really don't need to spend hours in the kitchen to make a delicious meal either. If you want to level up, use freshly sweet, sun-ripened tomatoes. But know that canned tomatoes also work in a pinch.
Hero Ingredient: Use a heavy hand when topping your pasta with (freshly grated) parmesan.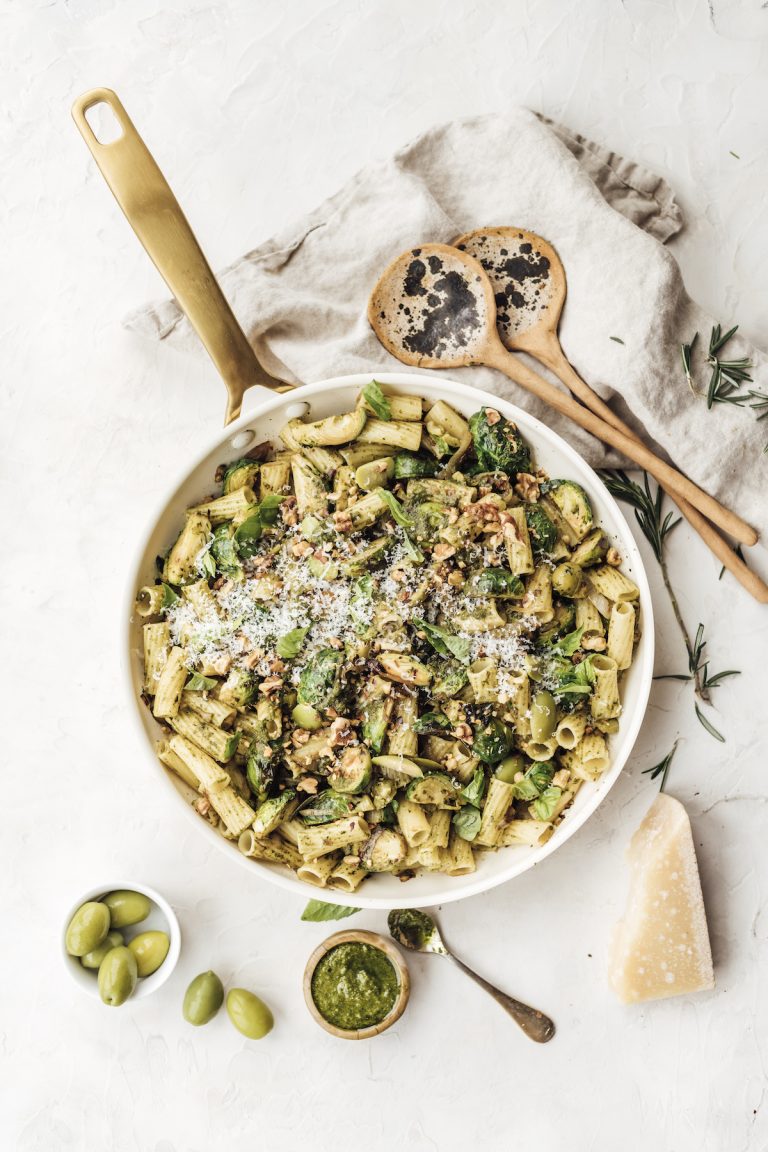 Why We Love It: Brussels sprouts may lean more toward winter, but the burst of fresh flavors and the verdant color is all spring, baby. The kale pesto infuses this delightful spring pasta recipe with all the flavors of the season, but with a carby, comforty twist. Oh, and it takes just 15 minutes to make from start to finish. Have we convinced you yet?
Hero Ingredient: Rigatoni gives the kale pesto something to grip onto, resulting in perfect, lightly-coated tubes of pasta.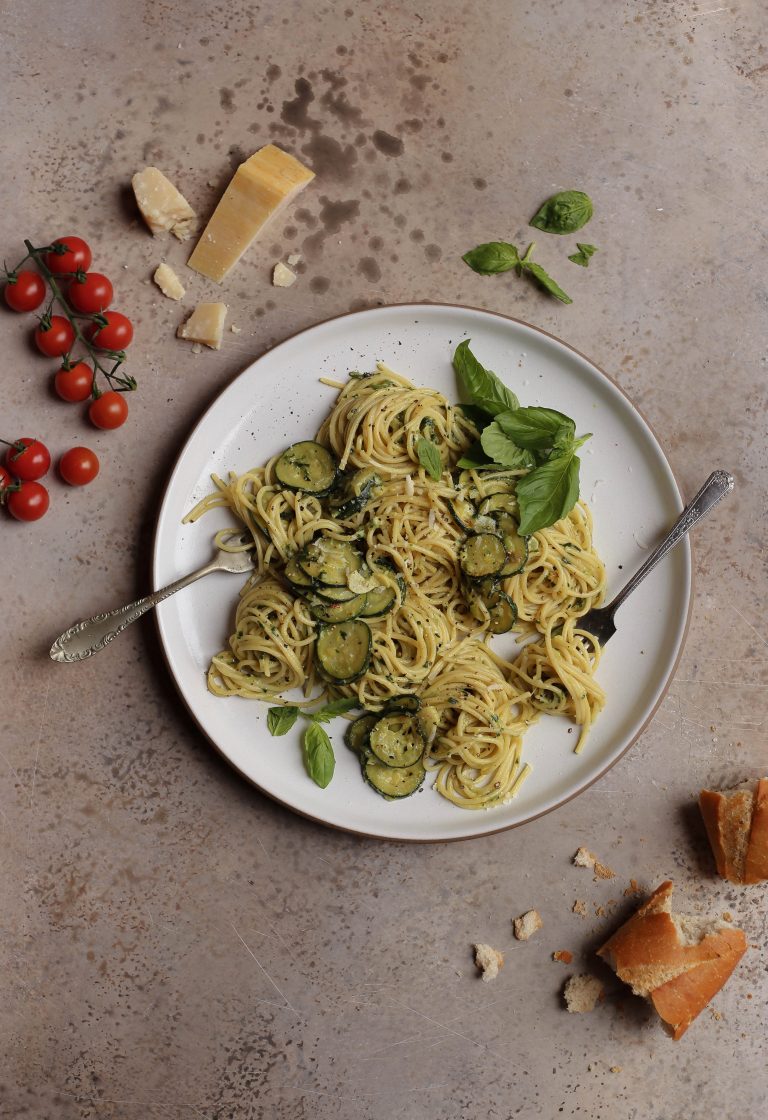 Why We Love It: After watching Stanley Tucci's Searching for Italy, Camille Styles food editor Suruchi was prompted to create her own version of the famous Spaghetti alla Nerano—and she did not disappoint. This pasta will transport you to the Amalfi Coast with its delicious Italian-inspired flavors.
Hero Ingredient: While we might think of zucchini as only a stand-in for pasta, pan-frying it with shallots and garlic and tossing with your noodles does the veggie justice.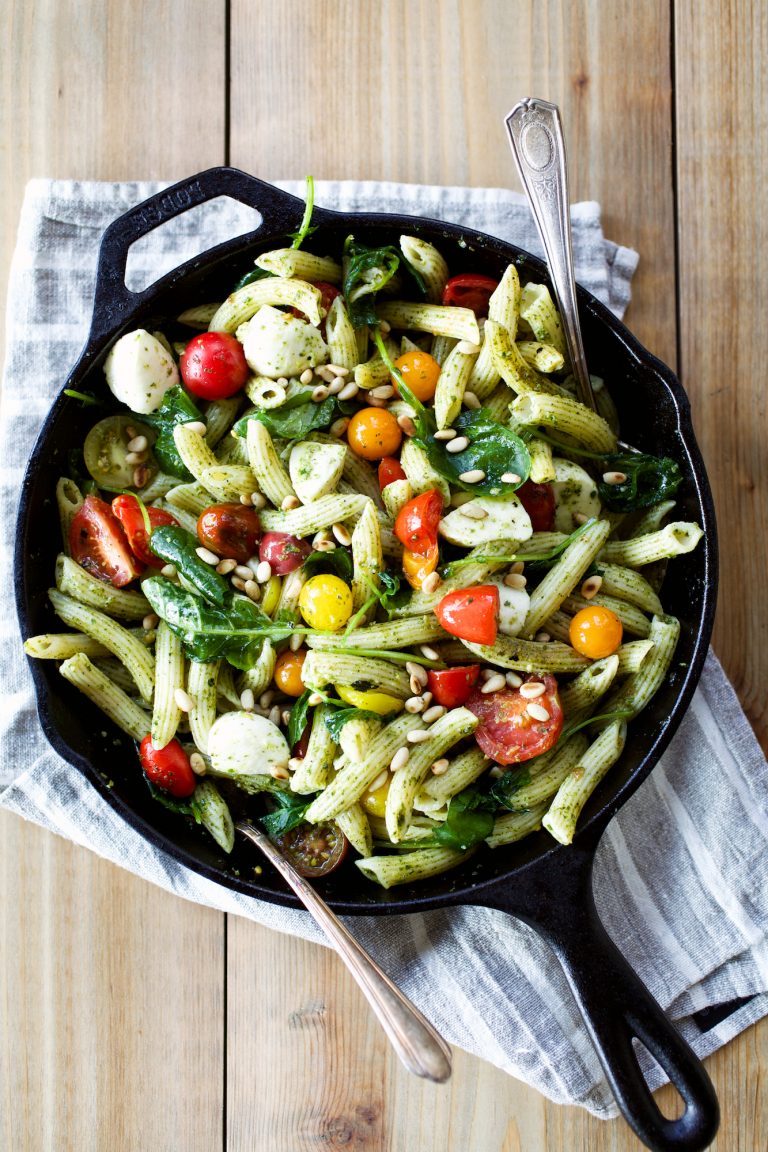 Why We Love It: Transport yourself to the island of Capri with this spin on the famous caprese salad. Bursting with our favorite fresh flavors, we've all made it a part of our weeknight rotations. It literally takes 10 minutes to prep from start to finish. Truly, what's not to love? (FYI—If you're looking to build your repertoire of caprese pasta, we're also obsessed with Half-Baked Harvest's Caprese Pesto Pasta, too!)
Hero Ingredient: The key to emulating the Italian version is to use the creamiest, most mouthwatering buffalo mozzarella you can find.
Why We Love It: It was during Camille's first evening in Italy when she twirled a strand of al dente pasta and bit into the most perfect carbonara that this recipe was born. Maybe it was the fact that she was sitting in a vineyard in Italy, or maybe it was actually the perfect spaghetti carbonara recipe passed down from the chef's Nonna, but she's been chasing those flavors ever since. Whatever the inspiration, this is the recipe she concocted to replicate that magical pasta.
Hero Ingredient: We recommend you make it with bucatini pasta. It looks like thick spaghetti from the outside, but the inside is hollow, meaning it fills up with sauce. Nope, you're not dreaming!
Why We Love It: The secret to taking your pesto to the next level? Blanching the herbs and garlic first before adding to the rest of the ingredients totally enhances the flavor and removes bitterness. I love this recipe's interpretation of the classic pesto. While the basil helps it retain the original's recognizable bright bite, the two bunches of mint lend it all a little freshness.
Hero Ingredient: The mint is unexpected but totally brilliant.
This post was originally published on April 15, 2021 and has since been updated.