This year, like every year, we're all about taking the stress out of the holiday season. We're saying yes to shortcuts and no to the things that zap our energy. While the kitchen is arguably the center of the holiday action, we're using all the time-saving hacks we can find to help us spend more time by the fire with friends and family. The key to a smooth-sailing Christmas? It all lies in the amount of prep you can tackle beforehand, starting with breakfast. To share some inspiration for getting your to-do's out of the way, we're sharing our favorite make-ahead Christmas breakfast ideas. Because doing all the hard work in advance makes for a much happier holiday.
There's nothing better than lounging around in our pajamas with a big cup of coffee on Christmas morning. While a younger version of myself was quick to hop out of bed at 4 a.m. (that's not a joke) and run downstairs to revel in the magic of a twinkly, present-flocked tree, I take things muuuuuch more leisurely now as an adult. You can catch me on Christmas puttering around in my slippers, happy to move about the house at a snail's pace. In other words: slowly. Very slowly.
Featured image by Michelle Nash.
Image by Anastasiya Pudova.
The Best Make-Ahead Christmas Breakfast Ideas
If "make-ahead recipes" caught your eye, I imagine the same might be true for you. The key to making your tranquil Christmas morning dreams a reality? It's all about the prep, y'all. Whether you prefer savory or sweet, meat or meat-free, healthy or… indulgent, do I have options for you. Consider this roundup your ticket to soaking up the magic of the morning and still having a big delicious breakfast for the whole fam to devour. Just wake up, pop your dish in the oven and get ready to dig in. Here we go.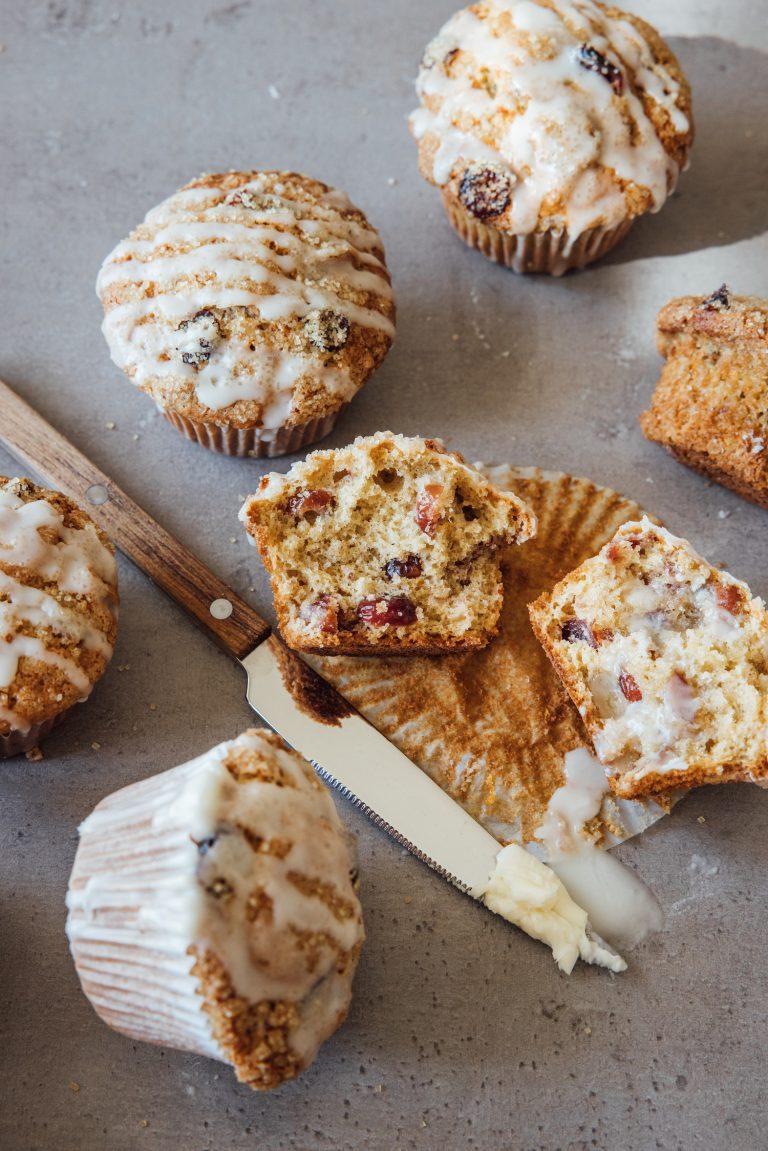 Why We Love It: It's the night before Christmas, and you can bet I have dreams of these muffins dancing in my head. I love the pairing of bright, fresh orange with tart and jammy cranberries. These are great on their own, but to send things over the top, I recommend enjoying your muffins with a little butter and orange-spiked glaze.
Hero Ingredient: Adding Greek yogurt introduces creaminess and moisture to your batter, giving your muffins a tender crumb. It also weaves in a little added tang to complement the cranberries. No yogurt? No worries—just swap in sour cream.
Why We Love It: We had been begging Camille to share her mom's famous Almond Kringle, and readers, she's finally done it! Does your perfect Christmas breakfast involves something warm and sweet served alongside a cup of strong coffee? Then this is the recipe to make. If you know and love the scent of an almond filling wafting through the kitchen as I do, then you'll be happy to see that this recipe calls for it times three: almond paste, sliced almonds, and almond extract. How could you go wrong?
Hero Ingredient: Let's go for a hero method instead. Camille's mom suggests breaking out the food processor to mix your dry ingredients, then pulsing in the butter until it's the size of small peas. Don't forget: you want all your ingredients (and tools) to be really cold before you get started. This will keep your dough from sticking.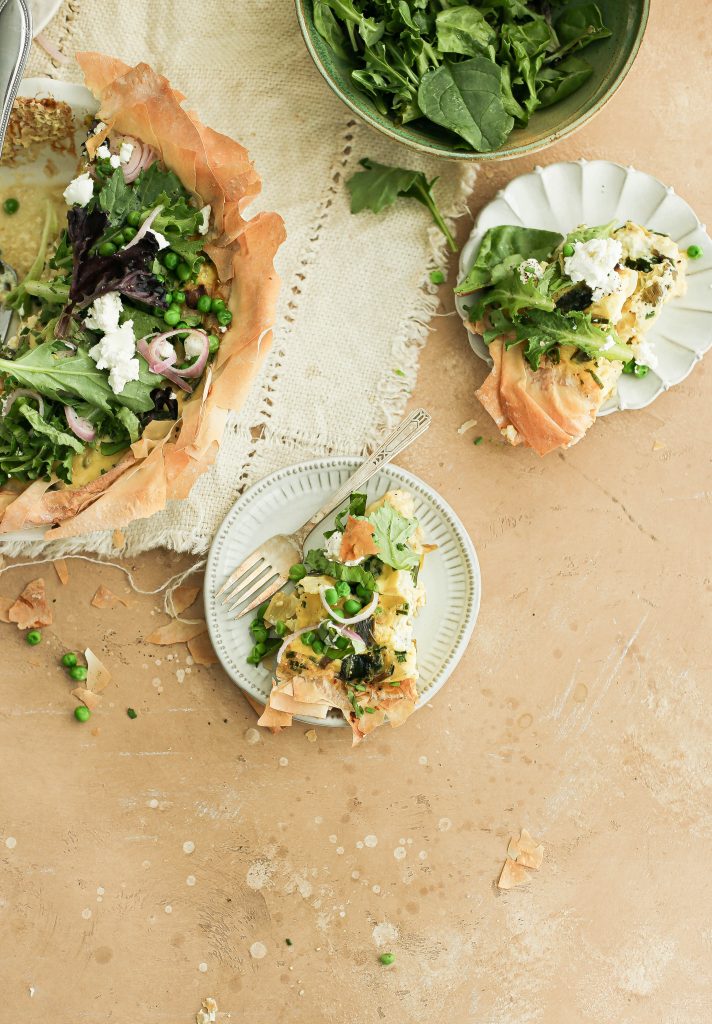 Why We Love It: Quiche has the ability to taste deliciously indulgent while also feeling light. Not only that, but this recipe brings a healthy dose of both color and nutrition to your Christmas breakfast table. (Alongside an addicting flavor, who could argue with that?) To whomever might consider themselves a skeptic, this dish includes everything we love: a crispy, flaky crust, a rich and creamy custard, and a rainbow of veggies. To make it ahead of time, simply follow the recipe all the way through, allow it to cool, then store in the refrigerator. You're also welcome to do all the assembly in advance and bake it when you're ready to serve.
Hero Ingredient: A salad on top of your quiche? Brilliant.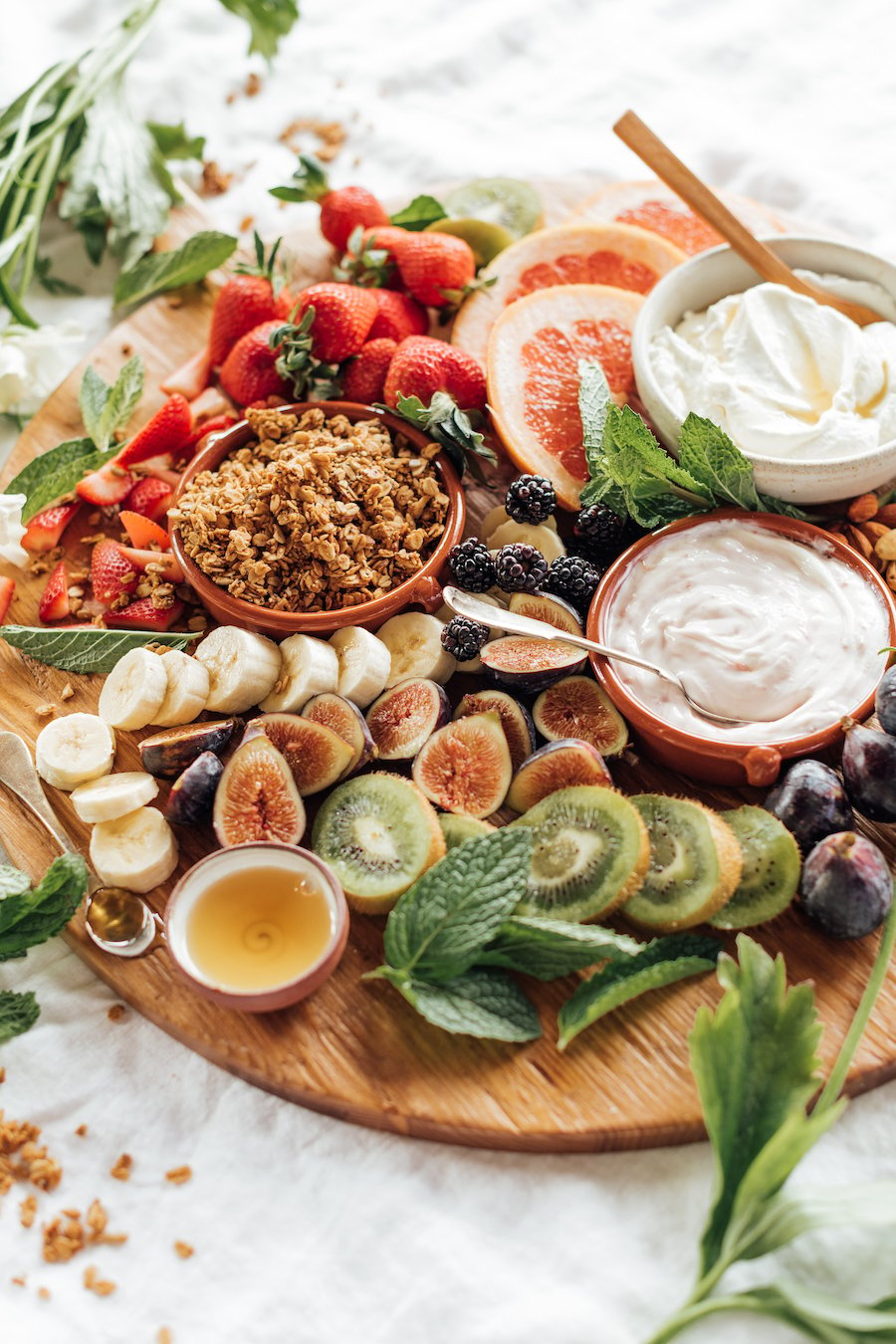 Why We Love It: Yogurt and granola is a classic pairing. But when you arrange it on a beautiful board, there's nothing better. Simply chop up your fruits and portion out your yogurt, granola (store-bought or homemade), and other fix-ins into bowls the night before. Before you serve, engage your inner artiste and lay out all of your ingredients aesthetically on your board. Guests will love building their own bowls and selecting their ingredients as they go.
Hero Ingredient: Everything's fair game here, but I have to say, it's a pro move to offer multiple kinds of yogurt. Just sayin'.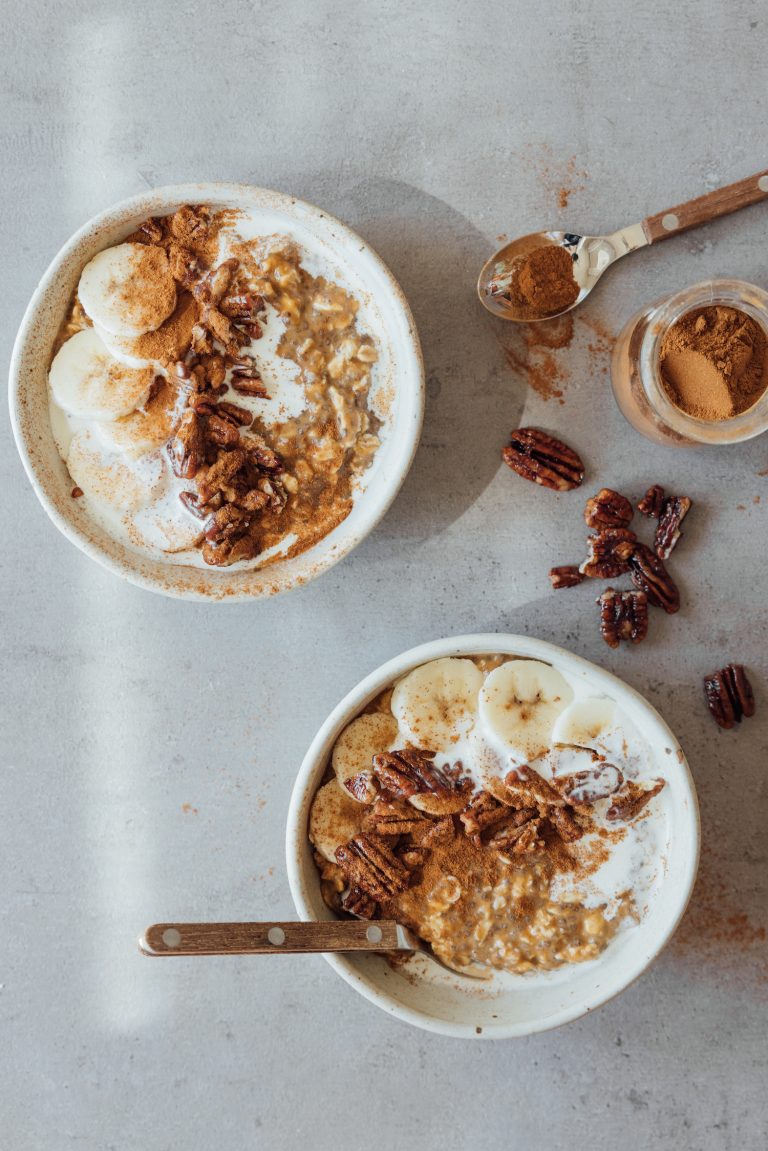 Why We Love It: I'm a big overnight oats fan over here. And while it might not seem celebratory at first, one spoonful of these oats and I can guarantee you'll change your tune. As for flavor, these oats are like pumpkin pie in breakfast form. And as someone who's known for indulging in pie breakfast around the holidays, this is like a dream come true.
Hero Ingredient: With anything pumpkin, it comes down to the spices. Here, Camille likes to keep it simple with just a hint of cinnamon—the perfect amount of warmth to offset all the cozy, pumpkin and maple syrup flavor.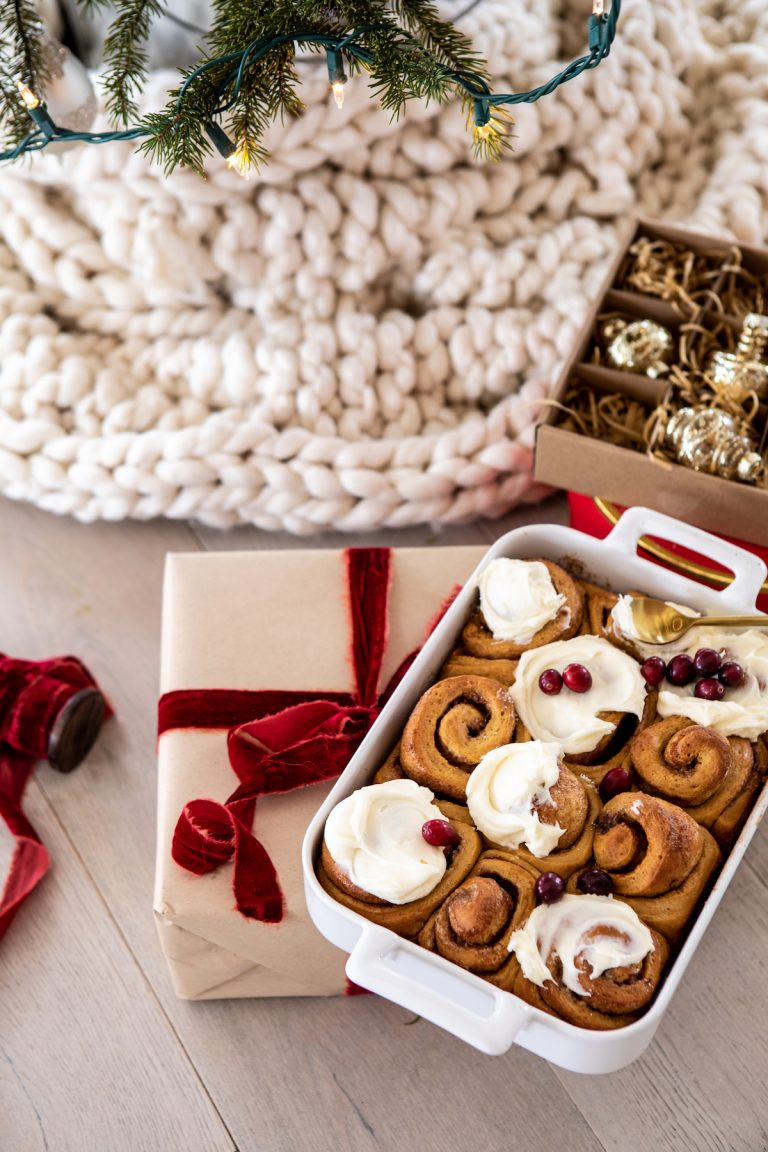 Why We Love It: These delights are proof that crowd-pleasing cinnamon rolls can be made ahead of time and with ease. While I've tried other recipes and the result has been a less-than-fluffy disappointment, this Christmas spin on the classic surpasses the softness of almost every other cinnamon roll I've tried. These can be made the night before, a few days in advance, or even frozen for cinnamon rolls whenever you want them. And on Christmas morning, you can bet it's these Gingerbread Cinnamon Rolls that are calling my name.
Hero Ingredient: Incorporating molasses into the cinnamon roll dough ensures that these boast an unmistakable gingerbread flavor.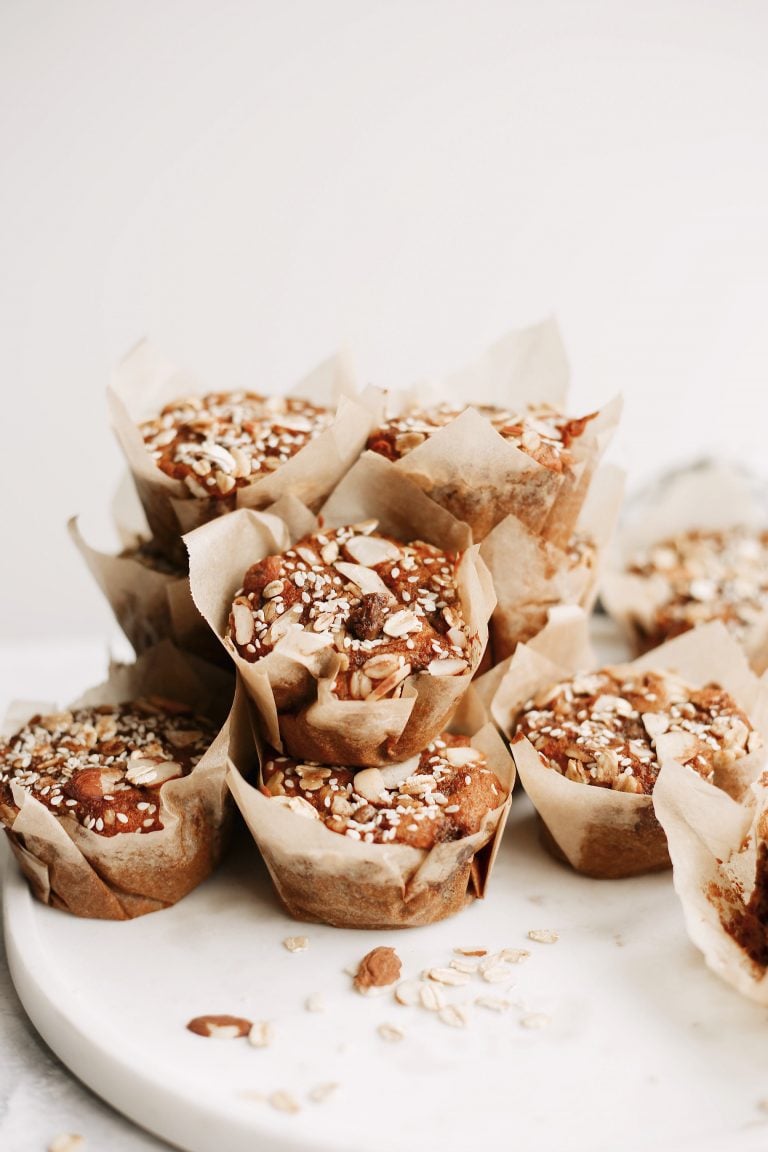 Why We Love It: Like the best coffee shop muffins you've ever had, minus the dairy. These are beyond moist, perfectly nutty, and feature the tastiest crumble topping. I love making muffins for a celebratory meal (as you can surely tell by the number of muffin recipes I included in this roundup). You can either bake and freeze them or portion your batter into muffin tins and set in the fridge the night before. In the morning, simply pop them in the oven and your whole house will be filled with the smell of baked banana bliss.
Hero Ingredient: These muffins get their nutty flavor from the addition of tahini in the batter. The sesame seed paste balances the bananas' sweetness and lends everything a nice toasted, earthy flavor.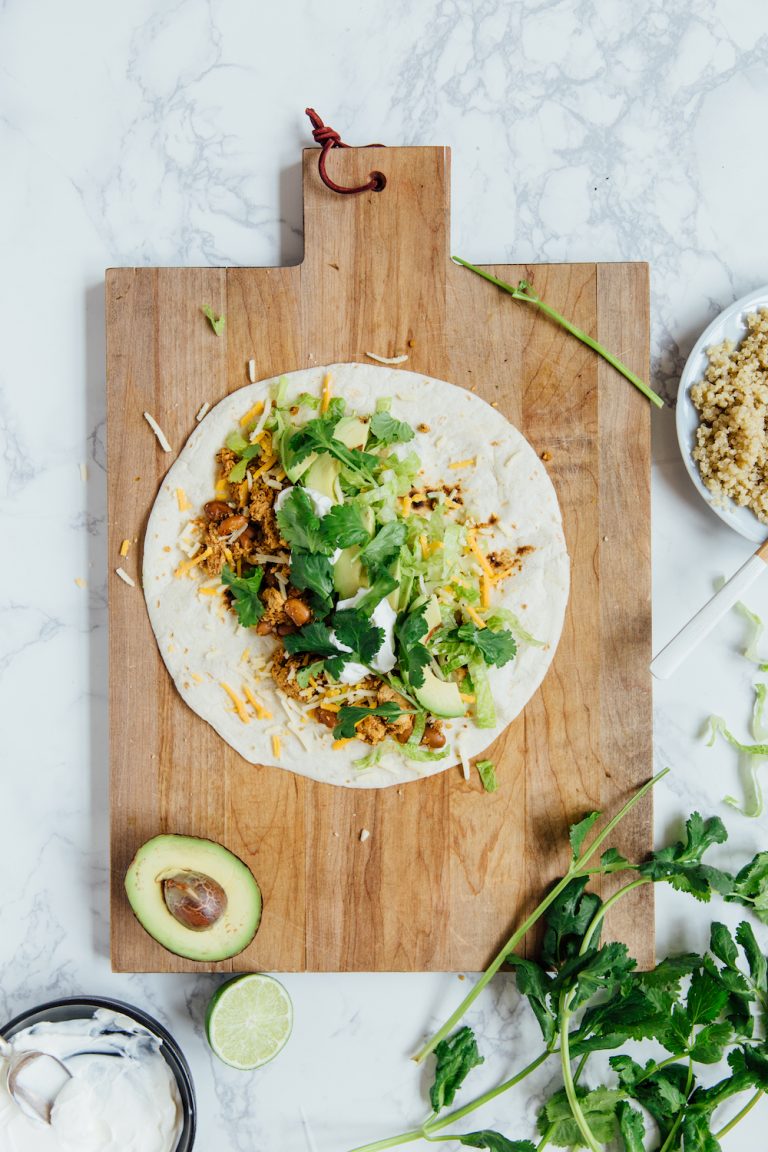 Why We Love It: Burritos might not be your typical Christmas morning breakfast, but I'd argue that it's time to make them a part of your tradition. The tofu scramble can be cooked in advance and placed in an air-tight container in the fridge. When it's time to serve, simply reheat on the stovetop and set out all the fix-ins. Guests can line up to assemble their burritos at their leisure. Bonus: These are vegan, so everyone can enjoy!
Hero Ingredient: Nutritional yeast is a vegan power-hitter for giving plant-based meals a distinctive cheesy flavor without any dairy in sight. What's more, if we're talking wellness during the holidays, it's also a complete protein and contains all nine essential amino acids. Win-win!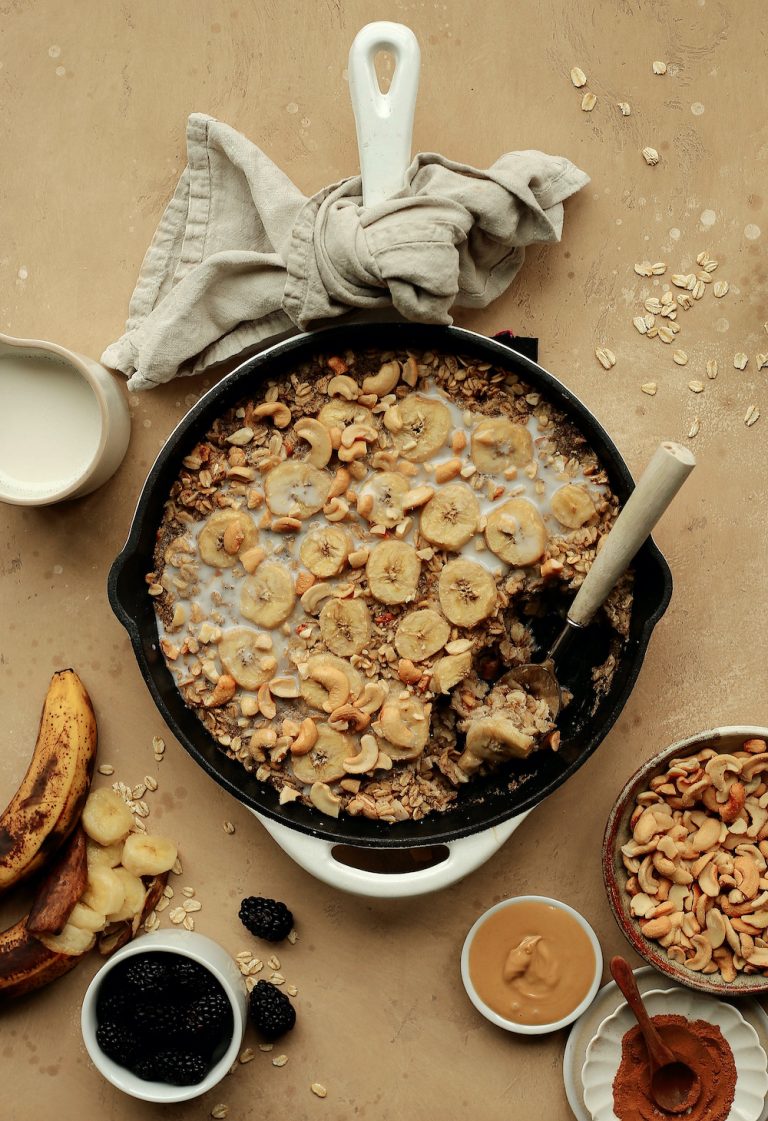 Why We Love It: If your run-of-the-mill, weekday overnight oats don't seem special enough for the Christmas festivities, it's time to make this recipe. Bananas, cinnamon, maple syrup, peanut butter, and honey make these the ultimate oats. They're make-ahead, healthy, and a creamy-and-dreamy dish. What's not to love?
Hero Ingredient: Coming from a born-and-bred New Englander, there's nothing better than the distinct, caramelized flavor of maple syrup. It improves just about any sweet breakfast—this oatmeal included.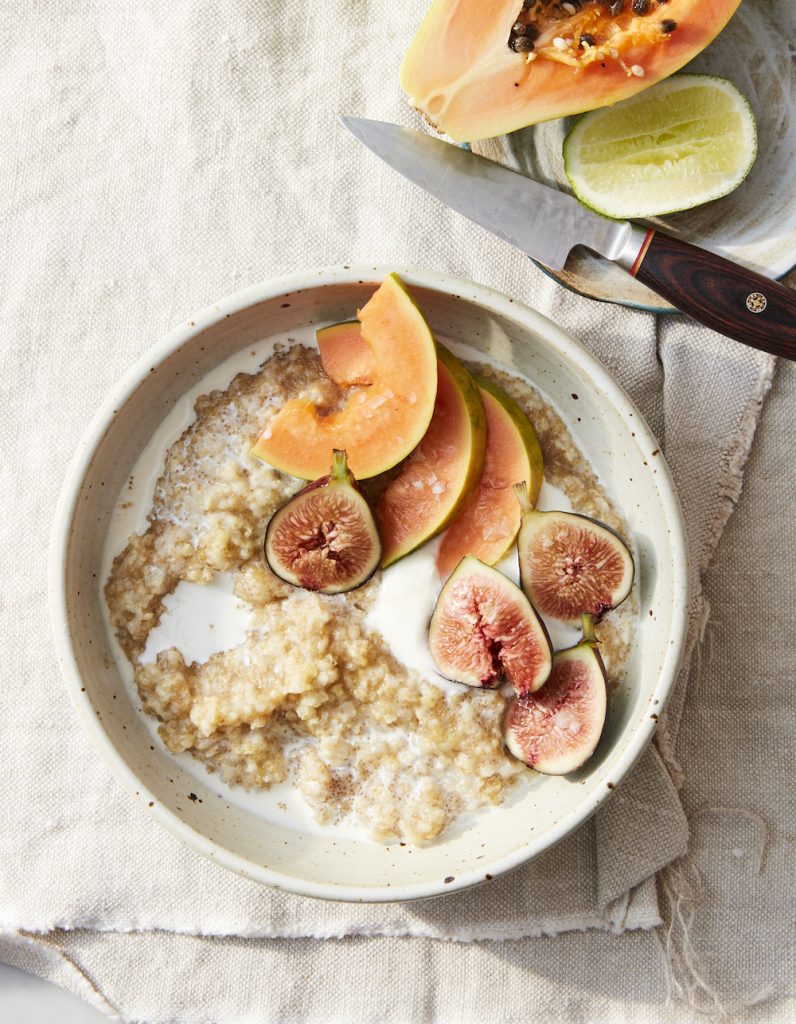 Why We Love It: Easy, energizing, and able to keep you full for hours, porridge is a great option for a healthier Christmas breakfast. The porridge base can be made in the slow cooker or the instant pot on Christmas Eve. On Christmas morning, simply reheat and set out bowls filled with mix-ins and toppings (yogurt, granola, and fresh fruit is perfect) for people to mix and match as they please.
Hero Ingredient: Millet and amaranth are equal heroes here. As recipe creator, Sarah Copeland writes, "Millet and amaranth are high-nutrient, texture-rich grains that cook into a creamy porridge and take on almost any flavor you want to bestow upon them." Fully here for it.
Why We Love It: Making a frittata for breakfast lets you have the eggs you love without having to hover over the stovetop all morning. Instead, you can whisk your eggs and mix-ins in advance, then pop a pyrex dish or cast-iron skillet full of your frittata mixture in the oven. Pour yourself a cup of coffee while you wait—or maybe a mimosa. This frittata is worth celebrating.
Hero Ingredient: Crumbled goat cheese lends your frittata that craveable bit of tang that gives every bite next-level flavor.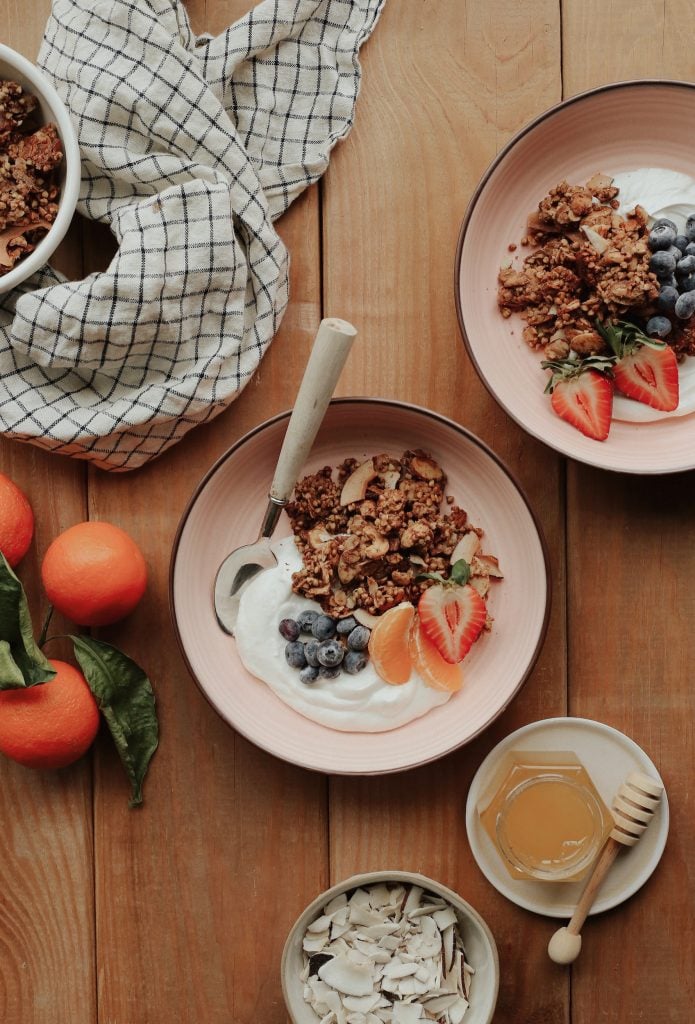 Why We Love It: Granola is the perfect, multi-dimensional breakfast. Meaning? It can be enjoyed in just about any way you can think of. Have it with milk, spoon it over yogurt, top pancakes and waffles, or just toss back a few handfuls. I love baking a few sheet pans of granola the day before, storing them in air-tight containers, and setting them out at the breakfast buffet in big bowls for guests to serve themselves. From there, the possibilities are endless.
Hero Ingredient: The secret to getting chunky granola without all the sugar? Combine your oil and maple syrup with nut butter! It acts as the glue that holds everything together.
Why We Love It: Just when you thought you'd seen everything, along comes a healthier version of your favorite sweet breakfast. If 2020 showed you just how comforting banana bread can be, then there's no better option for cozying up with loved ones on Christmas morning. I love too, that this banana bread specifies that it's "healthyish" meaning we're not cutting any corners here. There's still a whole lotta indulgence to be found.
Hero Ingredient: The mix-ins are no joke. Chocolate chips on Christmas? Not optional.
Why We Love It: If you're already committing to your New Year's intention to feel your best in 2023, these muffins will aid in your efforts. They're packed with anti-inflammatory superstar turmeric as well as other nutrient-dense ingredients like walnuts, chia seeds, oats, raspberries, and blueberries. I don't know about you, but I'll be baking a double batch for the new year and beyond.
Hero Ingredient: Cardamom is the perfect complement to turmeric's warming, savory spice. Its flavor is complex, with a strong but sweet aroma.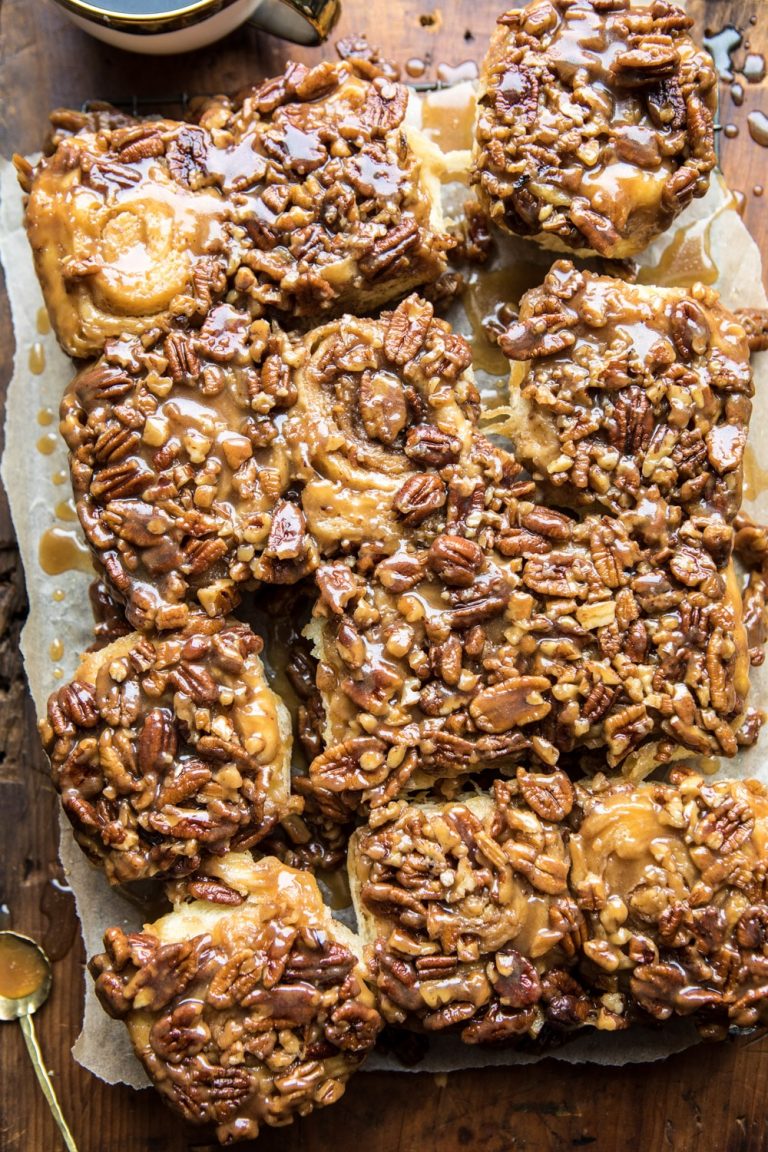 Why We Love It: I'm always either craving cinnamon rolls (the reason this round-up includes two recipes) or sticky buns. When I'm wanting the latter, this is the recipe I turn to. They're super sticky, extra maple-y, and swirled with cinnamon sugar. If you're ready to go all out with a special and celebratory Christmas breakfast, these need to be on your table.
Hero Ingredient: The secret to the stickiest sticky bun sauce? Two sticks of butter. But hey, it's Christmas.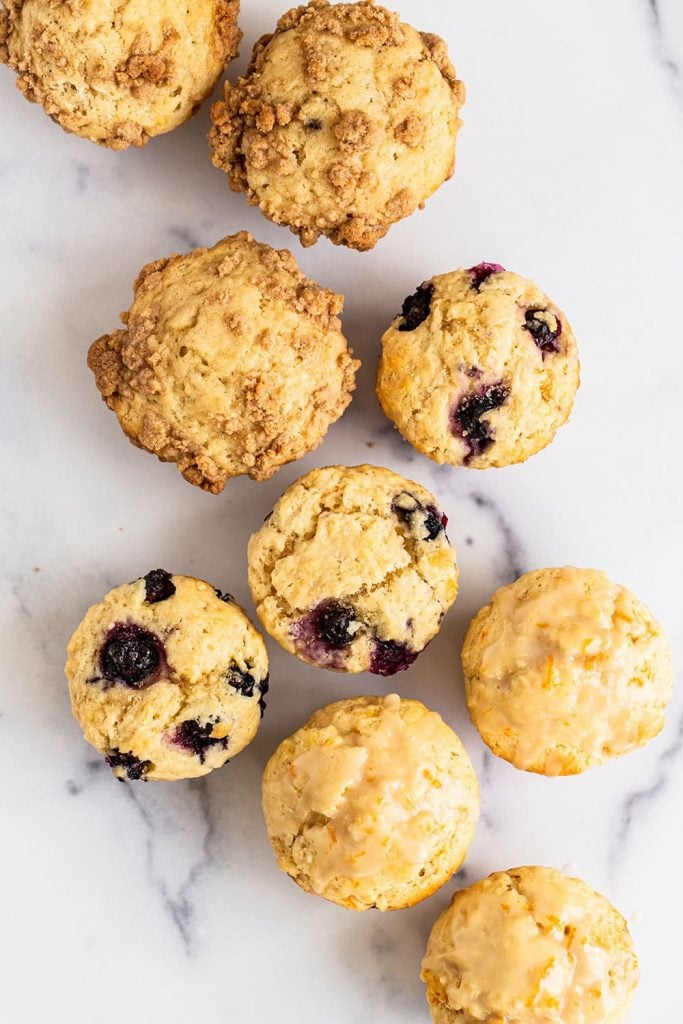 Why We Love It: Time to get nostalgic: Muffins were the first thing I ever baked as a kid. While I took pride in my pre-teen skill, it's true that muffins are also amazingly easy to make. With a few tips and tricks added in, this recipe will help you get the towering, golden-domed goods that make muffin tops so enjoyable. Want a sneak peek into the secret? It's all about giving your batter the time to rest overnight. (Seriously, check out the recipe's side-by-side photos—this step makes all the difference.)
Hero Ingredient: This is your basic muffin recipe, giving you the opportunity to add whatever fruit, nuts, or other ingredients you'd like. And while it's more of a template, I'm all for its use of buttermilk that'll make your muffins super tender and moist.
This post was originally published on December 20, 2021, and has since been updated.